FOX NEWS FIRST: Terrorism not ruled out in deadly Toronto van crash; Homeland Security warns 'caravan'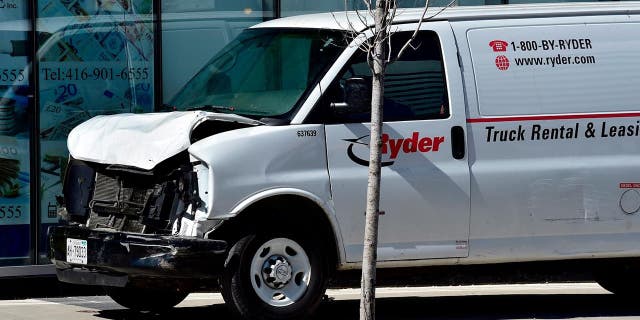 Welcome to Fox News First. Not signed up yet? Click here.
Developing now, Tuesday, April 24, 2018
Toronto investigators are not ruling out terrorism as they search for a motive in a van crash that killed 10 and left 15 injured
Mike Pompeo barely avoids a rare rebuke as the Senate Foreign Relations Committee narrowly votes to recommend him for secretary of state
Former President George H.W. Bush is recovering from a blood infection after being hospitalized Sunday, the day after his wife Barbara's funeral
Homeland Security Secretary Kirstjen Nielsen threatens the 'caravan' of Central American migrants arriving at the U.S.-Mexico border with prosecution, detention and deportation if they enter the U.S. illegally
A Pennsylvania jury will start deliberating Bill Cosby's fate Tuesday in the legendary comedian's sexual assault retrial
THE LEAD STORY - Police in Toronto are not ruling out terrorism as they search for a motive and investigate the background of the suspected driver of a van that rammed into a crowd of pedestrians Monday, killing 10 and injuring 15 ... Authorities identified the suspected driver as Alek Minassian, 25, of Richmond Hill, north of Toronto, police said. Minassian is accused of driving into dozens of people intentionally in a chaotic, deadly scene in Toronto. "We don't rule out anything," Toronto Police Service Chief Mark Saunders said in a Monday evening news conference. "We need to follow what we have. "Based on witness accounts, it's very clear the actions definitely looked deliberate," Saunders said. He said Minassian had not been known to police previously.
CLOSE CALL FOR POMPEO: Mike Pompeo, President Trump's pick for secretary of state, barely avoided a rare rebuke from the Senate Foreign Relations Committee after unexpected last-minute drama ... The panel had deadlocked on a party-line vote after Georgia Republican Sen. Johnny Isakson, who had been expected to vote for Pompeo, missed the committee meeting because of a funeral. But the committee then voted favorably on his nomination after Delaware Democratic Sen. Chris Coons, who opposes Pompeo, agreed to vote "present" instead of "no" because of Isakson's situation. The final tally was 11 to 9 with 1 present. Isakson was allowed to vote by proxy in this particular case. Despite the committee drama, Pompeo still appears poised to secure the necessary 51 votes for confirmation from the entire Senate, with three red-state Democrats also saying they will support him.
NEW HEALTH SCARE FOR GEORGE H.W. BUSH: Former President George H.W. Bush was hospitalized on Sunday, one day after the funeral for his wife, former first lady Barbara Bush, for an infection he contracted that spread to his blood, his spokesman said ... "President Bush was admitted to Houston Methodist Hospital yesterday morning after contracting an infection that spread to his blood," spokesman Jim McGrath said in a statement. "He is responding to treatments and appears to be recovering. We will issue additional updates as events warrant." Barbara Bush died on April 17 at the age of 92, shortly after her family announced she was in failing health and would decline further medical treatment in favor of "comfort care." The former president was hospitalized twice last year for pneumonia.
'CARAVAN' WARNED: Homeland Security Secretary Kirstjen Nielsen warned the "caravan" of Central American migrants arriving at the southern U.S. border that they could face prosecution, detention and deportation, as President Trump called on the agency to block the group ... The announcement came as a group of about 50 migrants who left southern Mexico in March reportedly reached the U.S. border, planning to seek asylum. "DHS continues to monitor the remnants of the 'caravan' of individuals headed to our Southern border with the apparent intention of entering the United States illegally," Nielsen said in a statement. "A sovereign nation that cannot—or worse, chooses not—to defend its borders will soon cease to be a sovereign nation. The Trump administration is committed to enforcing our immigration laws – whether persons are part of this 'caravan' or not."
COSBY JURY WILL SOON DECIDE: The jury that will start deliberating Bill Cosby's fate on Tuesday has heard the comedian described over the past two weeks both as a "serial rapist" and a con artist's victim ... They have seen a parade of accusers testify that the man once revered as "America's Dad" had a secret life of drugging and violating women. And they have heard from a witness who says his chief accuser talked about framing a high-profile person to score a big payday. Now, seven men and five women who have been kept in a suburban Philadelphia hotel, away from family, friends and daily routines, will get to have their say in the first big celebrity trial of the #MeToo era. Jurors could be in for a marathon.
AS SEEN ON FOX NEWS WEEKEND
'IT'S A FRAUD': "[It] had nothing to do with collusion from the beginning." – Former federal prosecutor Joe diGenova, on "Tucker Carlson Tonight," saying Special Counsel Robert Mueller's probe into alleged Russian collusion is a "fraud" after the lawyer purportedly at the center of the case said she has yet to be contacted by investigators. WATCH
KANYE VERSUS THE MOB: "He challenged the mob. Their goal is to stigmatize. Smears always shut down debate."– Greg Gutfeld, on "The Five," explaining why rapper Kanye West defense of conservative black activist Candace Owens against attacks over her political ideology was a "big deal." WATCH
TRENDING
Second Amendment-supporting Parkland student says school security questioned him for visiting gun range with his dad.
Kanye West professes 'love' for Donald Trump, criticizes Obama, radio host says.
Former Texas official slammed for asking biracial Harvard teen if he was admitted 'on merit or quota.'
THE SWAMP
Goodlatte, Gowdy say they struck deal with DOJ for Hillary Clinton probe documents.
Colorado Supreme Court kicks GOP Rep. Lamborn off primary ballot.
Ariz. Congressional Special Election: Who is Debbie Lesko? | Who is Hiral Tipirneni?
ACROSS THE NATION
Yeti calls NRA claims 'inaccurate' says it has 'unwavering' belief in Second Amendment.
Waffle House shooter arrested, after cops say he stole BMW days before deadly rampage.
Florida girl, 4, fighting for her life after 'inhaling' pool water.
MINDING YOUR BUSINESS
Andy Puzder: Why America's CEOs must speak out.
Short Facebook and bet on energy ETF, billionaire Jeffrey Gundlach says.
What should you know about permanent life insurance?
Amazon limits reviews of Comey's book.
FOX NEWS OPINION
F.H. Buckley: Supreme Court and the Trump travel ban case: What's really at stake is our country's future.
Cal Thomas: Are today's Evangelicals following Jesus or following Trump?
Behnam Ben Taleblu: Iran spreads lies, claiming America supports terrorists after U.S.-led attack on Syria.
HOLLYWOOD SQUARED
'Smallville' star Allison Mack's bizarre blog details life in alleged sex cult.
Verne Troyer reportedly had 3 times the legal limit of alcohol in his system at the time of his death
Stan Lee sued by massage therapist for alleged sexual misconduct.
DID YOU HEAR ABOUT THIS?
12-year-old boy steals family credit card to book Bali vacation after fight with his mom.
Here's how we know the Big Bang happened.
Veteran who survived blast receives first complete penis transplant.
STAY TUNED
On Fox News:
Fox & Friends, 6 a.m. ET: Conservative commentator Candace Owens on continuing to face backlash after Kanye West responds to her message to Black Lives Matter; Andy Puzder, President Trump's former labor secretary nominee, on the left's efforts to undermine the Trump economy; Waffle House hero James Shaw Jr. reflects on Sunday's deadly shooting; Dr. Oz explains how he helped students escape a raging bus fire.
Tucker Carlson Tonight, 8 p.m. ET: Tentative guests include: Rep. Jim Jordan; Fox News senior political analyst Brit Hume.
On Fox Business:
Mornings with Maria, 6 a.m. ET: House Ways and Means Committee Chair Kevin Brady; Sen. Rand Paul; Adrienne Elrod, former director of strategic communications for the Hillary Clinton presidential campaign.
Varney & Co., 9 a.m. ET: Art Laffer, former economic adviser under President Reagan; Ari Fleischer, former White House press secretary.
Cavuto: Coast to Coast, Noon ET: Herman Cain.
Risk & Reward, 5 p.m. ET: Marc Lotter, former special assistant to President Trump; former Fla. congressman Allen West.
On Fox News Radio:
The Fox News Rundown podcast: A mass shooting at a Waffle House is raising more questions about the issues of gun possession and mental health. Fox News' Jonathan Serrie gives the latest update from Antioch, Tenn. The people of Syria have been living in a war zone for almost 10 years. Fox News foreign affairs correspondent Benjamin Hall reported from the Syrian border after the suspected gas attacks in early April. He will describe his experience and the people he met along the way. Plus, commentary by Fox News contributor Jessica Tarlov.
Want the Fox News Rundown sent straight to your mobile device? Subscribe through Apple Podcasts, Google Play, and Stitcher.
The Brian Kilmeade Show, 9 a.m. ET: Charles Payne guest-hosts; Andrew Puzder on the left's efforts to undermine the Trump economy; Harry Kazianis on the latest on a prospective Trump-Kim Jong Un summit; Allen West on North Korea and French President Macron's visit to the U.S.
#OnThisDay
2008: The White House accuses North Korea of assisting Syria's secret nuclear program, saying a Syrian nuclear reactor destroyed by Israel in 2007 was not intended for "peaceful purposes."
1877: Federal troops are ordered out of New Orleans, ending the North's post-Civil War rule in the South.
1800: Congress approves a bill establishing the Library of Congress.
Fox News First is compiled by Fox News' Bryan Robinson. Thank you for joining us! Enjoy your day! We'll see you in your inbox first thing Wednesday morning.