FOX NEWS FIRST: Remembering Barbara Bush - A classy straight-shooter; Pompeo meets with Kim Jong Un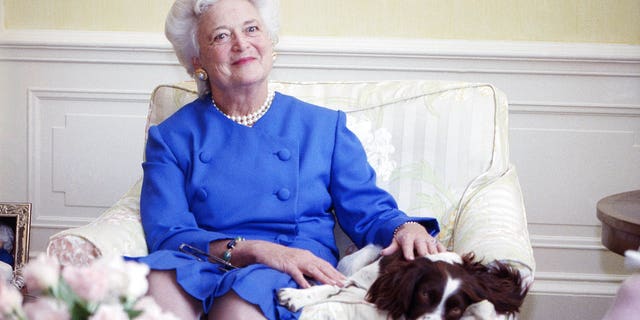 Welcome to Fox News First. Not signed up yet? Click here.
Developing now, Wednesday, April 18, 2018
Former first lady Barbara Bush died Tuesday at age 92; dignitaries across the nation and around the world are remembering her grace, dignity and devotion to her husband, former President George H.W. Bush, and her family
CIA Director Mike Pompeo met with Kim Jong Un over Easter weekend to discuss the upcoming meeting between North Korean dictator and President Trump, Fox News has confirmed
Investigators are working to find out what caused an engine on a Southwest Airlines jet to blow in midair, setting off a deadly accident that left one woman dead and seven passengers injured
ICE arrests 225 illegal immigrants, many with criminal records, in raids across New York state
THE LEAD STORY - REMEMBERING BARBARA BUSH: Former first lady Barbara Bush, who died Tuesday at age 92, is being remembered for her strong presence, grace, dignity and unwavering devotion to her husband, former President George H.W. Bush, and their family ... Bush died days after her family announced she was in failing health and would decline further medical treatment in favor of "comfort care." Her funeral will take place Saturday at St. Martin's Episcopal Church in Houston, which she and her husband regularly attended. She will be laid to rest on grounds of the Bush library at Texas A&M University in College Station. With her cloud of snow-white hair, signature three strand pearls and compelling presence, Barbara Bush's image was what she laughingly called "everybody's grandmother." But she was also feisty, outspoken, a tireless advocate for literacy and both wife and mother of a U.S. president. George H.W. Bush was "brokenhearted" over the loss of his "beloved Barbara" and was said to have held her hand all day. He was "at her side" when she passed away, his chief of staff said.
PREPARATIONS FOR TRUMP-KIM SUMMIT: CIA Director Mike Pompeo met with North Korean dictator Kim Jong Un over Easter weekend in an effort to lay the groundwork for a summit between Kim and President Trump, Fox News has confirmed ... Pompeo's trip, which was first reported by the Washington Post, came to light hours after Trump told reporters that the U.S. and North Korea are holding direct talks at "extremely high levels" in preparation for what would be an extraordinary meeting following months of heated rhetoric over Pyongyang's nuclear weapons program. The White House and CIA declined to comment to Fox News about Pompeo's visit.
PERIL AT 32,000 FEET: Investigators from the National Transportation Safety Board have begun their probe into what caused an engine on a Southwest Airlines jet to blow at 32,000 feet, killing one passenger and injuring seven ... The faulty engine sent shrapnel flying into the plane window, setting off a desperate scramble by passengers to save a woman from being sucked out a broken plane window. Passengers managed to pull the woman back into the plane, but she was gravely injured and later died. The plane, a twin-engine Boeing 737 bound from New York to Dallas, made an emergency landing in Philadelphia.
An engine cowling belonging to the Southwest Airlines jet has been found in Bernville, Pa., about 70 miles west of Philadelphia, the NTSB said late Tuesday. A preliminary investigation reportedly showed signs that one of the engine's fan blades had separated and induced "metal fatigue," NTSB Chairman Robert Sumwalt said. A full investigation could take 12 to 15 months, officials said.
ICE RAIDS TARGET CRIMINAL ALIENS: Agents from U.S. Immigration and Customs Enforcement (ICE) have arrested 225 illegal immigrants in New York State as part of a six-day operation called "Operation Keep Safe" ... The detainees, from numerous countries, were taken into custody in New York City, Long Island and the Hudson Valley, according to a news release published Tuesday. New York has long been considered a sanctuary state for illegal immigrants as local politicians created initiatives that hinder the cooperation with federal authorities. ICE officials said that more than 180 of those detained in "Operation Keep Safe" were convicted criminals or had criminal charges pending and more than 80 of them had been issued a final order of removal and failed to leave the U.S. voluntarily -- or had been previously removed from the U.S., but illegally returned.
AS SEEN ON FOX NEWS
GROWING QUESTIONS ABOUT THE SUSPECTED CHEMICAL ATTACK IN SYRIA: "Ten guys with machine guns are much more lethal than this attack was."– Sen. Rand Paul, on "America's Newsroom," saying he is skeptical over whether President Bashar al-Assad was responsible for a suspected recent chemical attack on his own people, arguing that either Assad did not carry out the attack, or he "is the dumbest dictator on the planet Earth." WATCH
'FEIGNING MORAL OUTRAGE': "They are frauds, they are partisan hacks, and nothing more than an extension of the Democratic Party." – Sean Hannity, in his monologue on "Hannity," firing back at mainstream media personalities attacking him after his name came up in a court proceeding involving President Donald Trump's personal attorney, Michael Cohen. WATCH
THE TRUMP ADMINISTRATION
Nikki Haley responds after Larry Kudlow claims she was 'confused' about new Russia sanctions.
Trump says he doesn't like Trans-Pacific Partnership for U.S. | Trump tweets support for jailed pastor
EPA defends Pruitt amid report he used four government email accounts.
SCANDALS
Who is Kimba Wood? Judge on Michael Cohen case officiated Soros wedding, was Clinton failed attorney general pick.
Michael Cohen case: What comes next?
Rep. Meadows: Documents show 'concerning level of coordination' between FBI, DOJ in Clinton email probe.
ACROSS THE NATION
Philadelphia Starbucks employee's phone call to police released.
Body in Pacific was Hart child, 12, authorities confirm.
Sandy Hook families file suit against Infowars' Alex Jones.
MINDING YOUR BUSINESS
Taxpayers get one-day reprieve after IRS site crashes.
8,000 Starbucks stores to close May 29 for racial bias training.
Toys 'R' Us rejects bid from billionaire Isaac Larian: report.
FOX NEWS OPINION
John Stossel: The great American tax rip-off.
Harry Kazianis: U.S.-Japan summit underway with Trump and Abe showcases 'special relationship'
Todd Starnes: It's time to make a shocking confession about Chick-fil-A.
HOLLYWOOD SQUARED
Jurors hear from lurid 2005 Cosby deposition in sex assault retrial.
'Roseanne' recap: David returns along with Beverly for a very serious episode.
Jordan Peele teams up with BuzzFeed for expletive-laden Obama fake news video.
DID YOU HEAR ABOUT THIS?
Texas teen takes mom to prom, goes viral.
What the heck are these 520-million-year-old blobs?
Hundreds of 30-foot sharks swimming in massive swarms baffle scientists.
STAY TUNED
On Fox News:
Fox & Friends, 6 a.m. ET: The Rev. Franklin Graham on former first lady Barbara Bush's faith. Is San Antonio Spurs Gregg Popovich forcing pro-Trump fans to choose between their team and the president? "Fox & Friends" takes a closer look; Rep. Ron DeSantis on his quest to have Obama-era officials held accountable for lingering scandals.
Tucker Carlson Tonight, 8 p.m. ET: In the next installment of his special series on colleges in America, Tucker takes a look at affirmative action.
On Fox Business:
Mornings with Maria, 6 a.m. ET: Guests include: Former President George W. Bush and former first lady Laura Bush; Ross Perot Jr.; Robert Kaplan, president and CEO of Federal Reserve Bank of Dallas; Kevin Johnson, Starbucks CEO; Ken Paxton, Texas attorney general; Ed Lazear, former chief economic adviser for President George W. Bush.
Varney & Co., 9 a.m. ET: Rep. Dave Brat; Sara Fischer. Axios media reporter; Rick Smith, Axon CEO; Troy Edgar. Los Alamitos, Calif., mayor.
Cavuto: Coast to Coast, Noon ET: Rep. Thomas Massie
On Fox News Radio:
The Fox News Rundown podcast: Dana Perino reflects on the life and legacy of Barbara Bush, who died Tuesday at age 92. U.S. relations with Russia are even more strained after the airstrikes in Syria last week. Bill Courtney, former ambassador to Georgia and Jonathan Wachtel, former spokesman for U.N. Ambassador Nikki Haley, discuss the history behind today's tension. Plus, commentary from Brian Kilmeade.
Want the Fox News Rundown sent straight to your mobile device? Subscribe through Apple Podcasts, Google Play, and Stitcher.
The Brian Kilmeade Show, 9 a.m. ET: A tribute to Barbara Bush with the following guests: Maria Bartiromo; Dana Perino; John Sununu Sr.; Jane Hampton Cook; plus, Washington Times columnist Charlie Hurt on CIA Director Mike Pompeo meeting with Kim Jong Un.
The Tom Shillue Show, 3 p.m. ET: Tom will have the latest reaction to CIA Director Mike Pompeo's secret meeting with Kim Jong Un with Marie Harf.
#OnThisDay
1938: Superman makes his debut as the first issue of Action Comics goes on sale.
1923: The first game is played at the original Yankee Stadium in New York; the Yankees defeat the Boston Red Sox 4-1. (The Yanks previously shared the Polo Grounds with the New York Giants, 1913-22.)
1775: 'The British are coming' - Paul Revere begins his famous ride from Charlestown to Lexington, Mass., warning colonists that British Regular troops were approaching.
Fox News First is compiled by Fox News' Bryan Robinson. Thank you for joining us! Enjoy your day! We'll see you in your inbox first thing Thursday morning.