FOX NEWS FIRST: Ohio special election in spotlight; Attack on conservative stars unmasks 'Maxine Waters' America'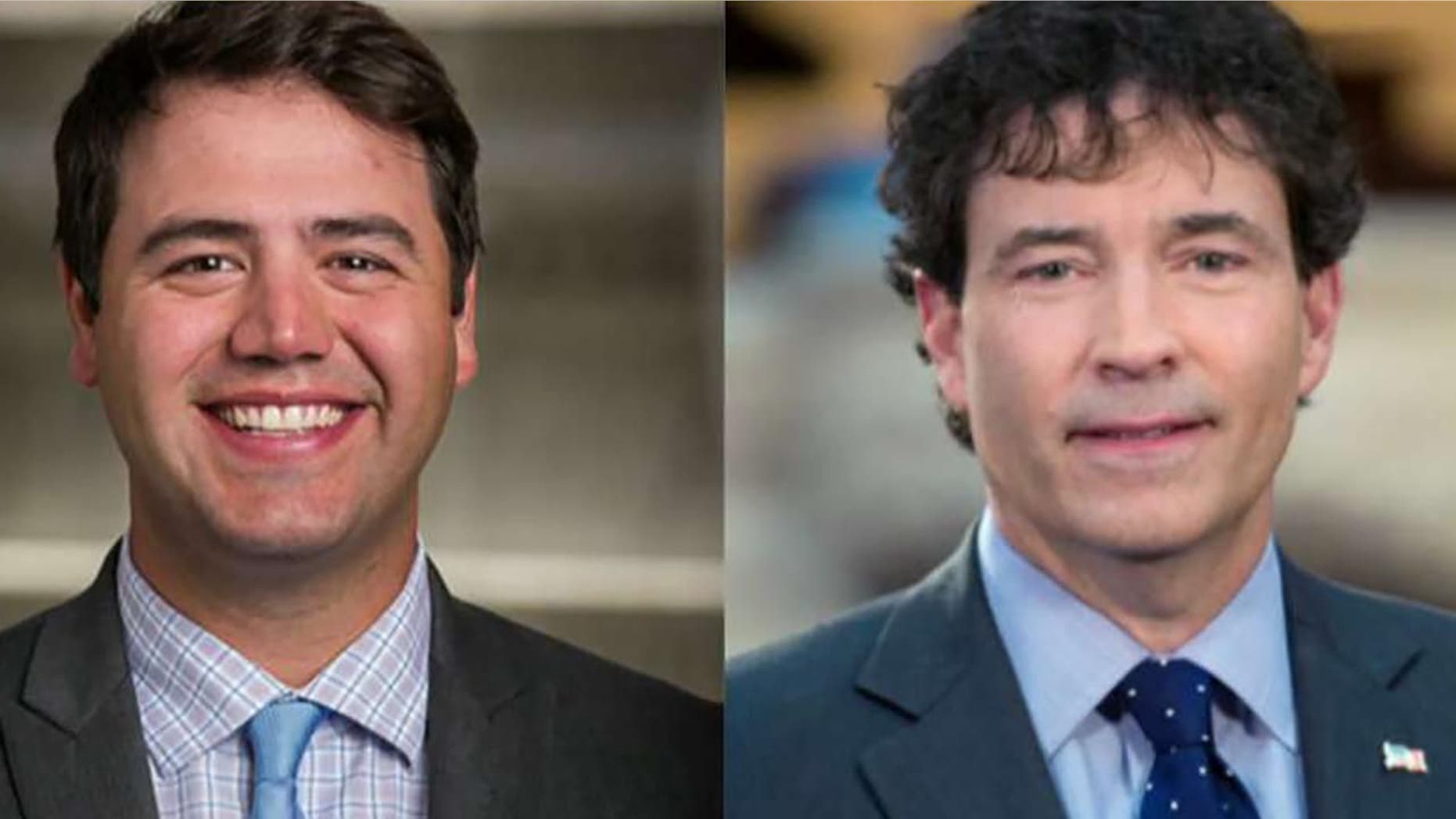 Welcome to FOX News First. Not signed up yet? Click here.
Developing now, Tuesday, August 7, 2018
Several states will hold primary votes on Tuesday, but all eyes will be on Ohio's pivotal congressional special election, which could provide a preview of the November midterms
Rick Gates, Paul Manafort's ex-business partner, testified that he and the former Trump campaign manager conspired to commit fraud and admitted embezzling from Manafort
Under an executive order by President Trump, the first set of U.S. sanctions against Iran eased under the Obama nuclear deal went back into effect early Tuesday
In an interview with FOX News' Sean Hannity, prominent conservatives Charlie Kirk and Candace Owens spoke out on being harassed by alleged Antifa associates while trying to eat breakfast on Monday
Twin wildfires blazing in Northern California have become largest in state history
Rosie O'Donnell and Broadway stars led a sing-a-long protest against President Trump outside the White House Monday night
THE LEAD STORY - THE BUCK STOPS WITH THE BUCKEYE STATE: Democrats hoping for a major upset victory in a pivotal Ohio special election Tuesday touted a new poll suggesting the House race is a virtual tie, while Republicans made an all-out final push to avert a potentially embarrassing loss in a district they have controlled for decades ... Several other states will head to the polls for key primary fights on Tuesday, including Missouri, Michigan, Kansas, and Washington. But the tight race for Ohio's wealthy and highly educated 12th Congressional District, which has had a Republican representative for more than 35 years, is seen as a particularly crucial indicator of how President Trump's progress in office could be faring with conservatives.
Tuesday's contest in Ohio is not a primary, but a special election to determine who will take the House seat held by retired Rep. Pat Tiberi. A poll conducted earlier this month by the Emerson College Polling Society and released Monday found that the upstart Democrat in the race, 31-year-old Danny O'Connor, is holding onto a one-percentage point lead over two-term Republican State Senator Troy Balderson, 56, with seven percent of very likely voters still undecided. Trump, who won the wealthy and highly educated district by double-digits in 2016, went all-in for Balderson with a last-minute rally on Saturday night.
A STAR WITNESS AND FIREWORKS AT MANAFORT TRIAL: Rick Gates on Monday took the stand in the federal fraud case against his former business partner, ex-Trump campaign chairman Paul Manafort, testifying that he and Manafort conspired to commit bank and tax fraud -- and that he embezzled hundreds of thousands of dollars from Manafort ... "Were you involved in criminal activity when you worked for Paul Manafort?" federal prosecutor Greg Andres asked Gates after he took the stand. "Yes," Gates replied. "Did you commit crimes with Mr. Manafort?" Andres asked. "Yes," Gates said.
Manafort, facing charges of bank and tax fraud related to his work in Ukraine, has pleaded not guilty to the charges. Gates, considered a star witness against Manafort, struck a plea deal with prosecutors to cooperate in the case against his former business partner. The usually bearded Gates appeared in court clean-shaven on Monday. The day ended with the judge in the case ripping into prosecutors, telling them to expedite their case.
IRAN SANCTIONS RESTORED: The first set of strict economic sanctions against Iran took effect midnight Tuesday and target transactions that involve U.S. dollars, as well as the country's automotive sector, the purchase of commercial planes and metals including gold ... President Trump on Monday signed an executive order to restore some of the sanctions that were lifted under the 2015 nuclear deal during the Obama administration. Iranian President Hassan Rouhani responded Monday, "If someone has knife in the hand and seeks talks, he should first put the knife in his pocket."
'THIS IS MAXINE WATERS' AMERICA': Two rising conservative star activists who were harassed Monday while trying to eat breakfast have a message for their foes: We're not going to back down ... Turning Point USA founder Charlie Kirk and communications director Candace Owens were accosted outside a Philadelphia restaurant by a group of profanity-hurling protesters allegedly aligned with Antifa. They were attempting to eat breakfast at the Green Eggs Café near Center City, when the group gathered outside and aggressively harassed them. In video footage posted on Owens' Twitter page, the protesters can be seen shouting and blowing whistles in the conservative commentators' faces while chanting "F--- white supremacy." (Owens is black, by the way.)
"We're not going to play the victim card here. That's what the left does all the time," Kirk told FOX News' Sean Hannity on "Hannity" Monday night. "But this was a warning here."  "This is Maxine Waters' America," Owens added. "This was an important moment to show America this is what we're fighting. Because not many Americans understand ... this is real."
Monday's incident in Philadelphia is the latest in a series of public attacks on conservative officials and commentators in recent months as the divide over President Trump's policies continues to widen. Conservatives have pinned the blame for such confrontations in part on Democratic Rep. Maxine Waters, who urged supporters to swarm Cabinet members at gas stations and anywhere else they're seen.
A GRIM MILESTONE: Two wildfires blazing in California, known as the Mendocino Complex fire, became the largest recorded in state history on Monday, crossing a grim milestone ... The fire, in Colusa, Lake and Mendocino counties, has killed two people and burned almost 283,800 acres as of Monday. It has destroyed at least 143 structures, including 75 homes, according to Cal Fire officials. More than 9,000 structures remain under threat. The Mendocino complex fires, which encompass an area the size of Los Angeles, surpassed the Thomas wildfire in Ventura and Santa Barbara counties, which burned 281,893 acres last year. The Northern California fires are burning a few miles apart and have been ablaze since July 27, officials said.
ROSIE'S BACK: Rosie O'Donnell and cast members from some of Broadway's biggest musicals led a sing-along protest against President Trump outside the White House ... O'Donnell spoke to protesters, some clutching signs with the word "Treason" spelled out, before the group broke into a rendition of "America the Beautiful" on Monday night. The actress told the crowd it was important to make sure their voices were heard so that Trump would know that they were not going away. The trip was organized by Seth Rudetsky and James Wesley, the host and producer of Sirius XM's "On Broadway."
AS SEEN ON FOX NEWS
NO MORE 'PRETENDING' FROM DEMOCRATS - "Centrism got associated with the Clinton kleptocracy. They've had it with the whole Clinton thing of pretending to be [moderate]." – Author and political commentator Mark Steyn, on "Tucker Carlson Tonight," saying much of the Democratic Party appears to be shedding an alleged longtime facade of centrism and embracing "the romanticism of the far-left." WATCH
DONALD JR IN LEGAL JEOPARDY? -  "The president should be worried about his son." – Judge Andrew Napolitano, on "The Story with Martha MacCallum," taking a closer look at the potential crimes committed in the Trump Tower meeting involving Donald Trump Jr., Paul Manafort, Jared Kushner and Russian nationals promising dirt on Hillary Clinton in June 2016. WATCH
THE SEARCH FOR MOLLIE TIBBETTS
Mollie Tibbetts' dad: I believe she's still alive, and with somebody she knows.
Body found miles from where Mollie Tibbetts was last seen not missing college student, police say.
Mollie Tibbetts' disappearance: Timeline of events.
TRENDING
West Hollywood passes resolution to remove President Trump's Hollywood Walk of Fame star.
Howard Stern says CBS' Leslie Moonves 'tried to ruin my life' in expletive-laced tirade.
Woman buys coffee for man short on cash, turns out to be Keith Urban.
NBC News slammed in new exposé as 'boys' club' that knew about Matt Lauer allegations.
THE SWAMP
Sessions rips federal judge for 'improperly' reinstating DACA, 'eviscerating' executive power.
Ronald Vitiello nominated by Trump to run ICE.
Pentagon restricts fitness trackers, mobile devices using GPS functions citing 'significant risk' to deployed forces.
ACROSS THE NATION
Paul Laxalt, former GOP Nevada governor and close ally to Reagan, dead at 96.
Iraqi refugee charged in Colorado cop shooting had 'lengthy criminal background,' but was never deported, DHS official says.
Moms arrested after 11 children found in 'filthy' New Mexico compound with armed Muslim 'extremists,' cops say.
MINDING YOUR BUSINESS
Carl Icahn to voice opposition to $54 billion Cigna-Express Scripts deal.
Warren Buffett's Apple bet is paying off.
Here's how long $1 million in retirement savings will last in your state.
These four industries struggle to recruit new employees.
Zillow stock plummets as company buys mortgage lender.
Billy Joel's agent makes history - standing beside the 'Piano Man.'
More older Americans filing for bankruptcy.
FOX NEWS OPINION
Matthew Soerens: President Trump can solve the immigration crisis with legislation that died in 2013.
Frank B. Atkinson: Representative government in America began this week -- 399 years ago.
Nigel Farage: If Twitter wants to target conservative speech then treat it like the biased publisher it is.
HOLLYWOOD SQUARED
'Homeland' coming to an end after eighth season.
Man accused of destroying Trump's Hollywood Walk of Fame star charged with vandalism.
Disney's Winnie the Pooh film 'Christopher Robin' denied release in China.
DID YOU HEAR ABOUT THIS?
Extremely rare medieval bible that 'bears witness' to Christian history re-discovered.
Texas student plays with giant gator in graduation pictures: 'He's a real life dinosaur.'
Snake eats pigeon on busy London sidewalk as horrified crowd watches.
STAY TUNED
On Facebook:
Check out 'FOX News Update,' our new Facebook-exclusive news program  hosted by Shepard Smith, Carley Shimkus and Abby Huntsman!
On FOX News: 
FOX & Friends, 6 a.m. ET: Turning Point USA's Charlie Kirk and Candace Owens detail how they were accosted by alleged Antifa protesters while trying to have breakfast in Philadelphia Monday. Rob Tibbetts on the search for his missing daughter Mollie. National Security Adviser John Bolton and Amb. Dennis Ross, former American envoy to the Middle East, on the message behind President Trump's sanctions on Iran. Plus, former Florida State football head coach Bobby Bowden.
The Ingraham Angle, 10 p.m. ET: Exclusive - House Majority Whip Steve Scalise details new death threats he has recently received.
FOX News @ Night, 11 p.m. ET: Special guests include: Texas Attorney General Ken Paxton.
On FOX Business:
Mornings with Maria, 6 a.m. ET: Special guests include: National Security Adviser John Bolton; Paul Bonicelli, former President George W. Bush foreign policy adviser; Mike Ryan, UBS head chief investment officer; Rep. Lee Zeldin; Ray Kelly, former NYPD commissioner.
Varney & Co., 9 a.m. ET: Steve Hilton, host of "The Next Revolution"; Brad Blakeman, former deputy assistant to President George W. Bush; Jim Anderson, Socialflow CEO; Glenn Jacobs, AKA WWE Superstar Kane, Knox County, Tenn. mayor-elect.
Cavuto: Coast to Coast, Noon ET: John Hannah, former national security adviser to Vice President Dick Cheney; Larry Glazer, Mayflower Funds manager.
The Intelligence Report, 2 p.m. ET: Kelli Ward, Arizona Senate candidate; Kayleigh McEnany, RNC national spokesperson; Capri Cafaro, American University School of Public Affairs Executive in Residence.
On FOX News Radio:
The FOX News Rundown podcast: At least 70 people were shot and more than 10 were killed in a violent string of violence last weekend in Chicago. FOX News contributor Gianno Caldwell and FOX News Radio's Jeff Monosso, weigh in. A growing labor shortage in the trucking industry could be an indicator of a change in attitude of workers during this booming economy. FOX News White House correspondent Kevin Corke discusses the shortage's potential wide-ranging impact on the U.S. economy. Plus, commentary by Brian Kilmeade.
Want the FOX News Rundown sent straight to your mobile device? Subscribe through Apple Podcasts, Google Play, and Stitcher.
The Brian Kilmeade Show, 9 a.m. ET: Special guests include: National Security Adviser John Bolton; Allen West; Pete Hegseth, Candace Owens; New York Post columnist Karol Markowicz on Democratic Socialists; and Purple Heart Foundation Chair Bill Wroolie on the anniversary of the Purple Heart.
Benson & Harf, 6 p.m. ET: Don't miss Guy Benson's interview with former Trump White House director of communications, Anthony Scaramucci!
#OnThisDay
1782: Gen. George Washington creates the Order of the Purple Heart, a decoration to recognize merit in enlisted men and non-commissioned officers.
1998: Terrorist bombs at U.S. embassies in Kenya and Tanzania kill 224 people, including 12 Americans.
2007: San Francisco Giants slugger Barry Bonds hits home run No. 756 to break Hank Aaron's storied record.
FOX News First is compiled by FOX News' Bryan Robinson. Thank you for joining us! Enjoy your day! We'll see you in your inbox first thing Wednesday morning.