FOX NEWS FIRST: Missing Iowa student possibly sighted in Missouri; Trump thanks Kim for keeping promise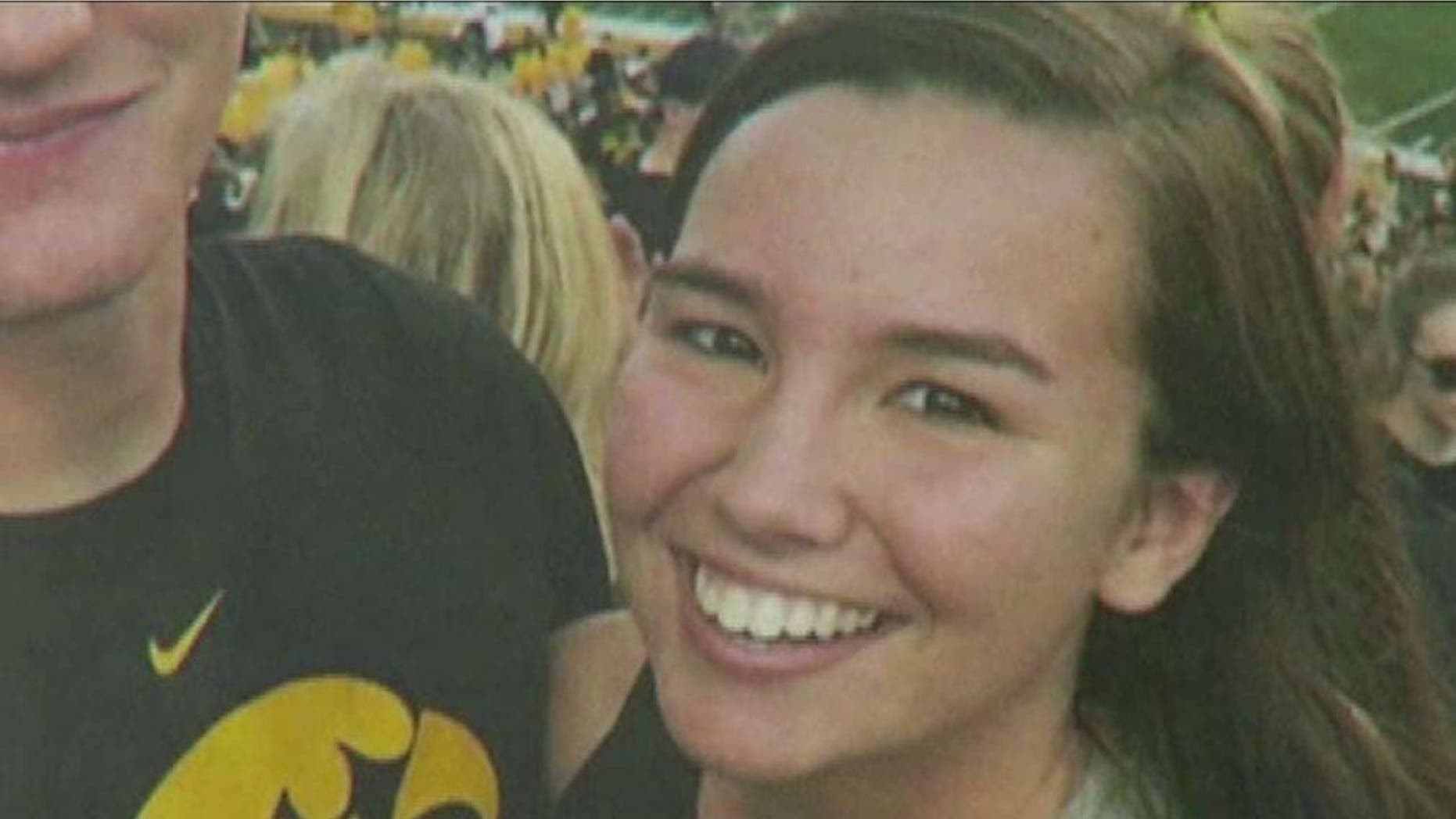 Welcome to FOX News First. Not signed up yet? Click here.
Developing now, Thursday, August 2, 2018
A missing Iowa college student may have been seen near Kansas City last week, police say, as the small town where she vanished struggles to cope with unwanted spotlight
The presumed remains of 55 U.S. service members killed in the Korean War are back on American soil as President Trump thanks Kim Jong Un for keeping his promise and Vice President Mike Pence hails their return as progress in relations with North Korea
Special Counsel Robert Mueller has offered to limit the number of questions in a renewed bid to interview President Trump in his Russia collusion probe
The judge in former Trump campaign manager Paul Manafort's federal fraud trial repeatedly rebuked Mueller's prosecutors Wednesday, suggesting potential holes in their case
Voters in Tennessee will go to the polls Thursday to decide primary elections where the governor's contest and the race to replace retiring Republican Sen. Bob Corker take center stage
THE LEAD STORY – WHERE IS MOLLIE TIBBETTS? -  A missing Iowa college student who vanished two weeks ago may have been seen last week in the Kansas City area, police said Wednesday ... Kearney, Mo., police said 20-year-old Mollie Tibbetts, who's been missing since July 18, was possibly spotted eight days later, July 26, at a local truck stop near the intersection of Interstate 35 and Highway 92, FOX4 Kansas City reported.
Meanwhile, residents of the Iowa town where Tibbetts vanished told FOX News on Wednesday they're still trying to come to grips with the dramatic case as police search for the student who was last seen on July 18 ... FOX News has confirmed that police have taken copies of all surveillance tapes associated with Tibbetts' disappearance from Casey's General Store. She was last seen on July 18 when she left her boyfriend's home to jog. The boyfriend, Dalton Jack, whom police have cleared as a possible suspect, shares the home with his brother and his fiancée, and Tibbetts was staying there to watch his dogs while he was out of town on business.
'CHAIRMAN KIM KEPT HIS WORD' – Both President Donald Trump and Vice President Mike President have praised North Korean leader Kim Jong Un for returning the remains of 55 Americans who were presumed dead from the Korean War … "Thank you to Chairman Kim Jong Un for keeping your word & starting the process of sending home the remains of our great and beloved missing fallen!" Trump tweeted early Thursday morning. "I am not at all surprised that you took this kind action."
Vice President Pence said Wednesday the return of the remains was a sign of "tangible progress in our efforts to achieve peace on the Korean Peninsula" ... "I know President Trump is grateful that Chairman Kim kept his word," Pence said. "But today is just a beginning, and our work will not be complete until all our fallen heroes are accounted for." Pence, whose father fought in Korea, spoke at a ceremony at Hawaii's Hickam Air Force Base to mark the arrival of the remains on U.S. soil and the beginning of long process to identify them.
North Korea handed over the remains last week. A U.S. military plane made a rare trip into North Korea to retrieve 55 cases containing the remains. Hundreds of U.S. and South Korean troops gathered for a repatriation ceremony at the Osan base in South Korea before the cases were put on military planes bound for Hawaii.
MUELLER-TRUMP NEGOTIATIONS ONGOING: Special Counsel Robert Mueller has finally responded to a letter from President Trump's outside attorneys about what the scope and format of a potential interview with the president would be, sources familiar with the investigation told FOX News ... The sources said Mueller has agreed to cut the number of questions for Trump from an initial list of 49 and is willing to have some questions answered in writing – though he wants other questions answered orally.
However, the sources added that Mueller has not agreed to the president's demands to limit his questioning to matters related to allegations of collusion between the Trump campaign and Russia. The special prosecutor still wants to ask the president about obstruction of justice and other topics. The sources also said talks with the special counsel about a possible interview are continuing, but as one source said: "There is still a long way to go."
'WE DON'T CONVICT PEOPLE ... FOR HAVING A LOT OF MONEY': The federal judge presiding over the fraud trial of ex-Trump campaign chairman Paul Manafort rebuked Special Counsel Robert Mueller's team repeatedly on Wednesday, highlighting potential vulnerabilities in the first prosecution arising out of the ongoing Russia probe ... The 78-year-old Reagan-appointed judge, T.S. Ellis, sent jurors out of the courtroom several times as he reminded prosecutors that Manafort is not on trial for simply having a "lavish lifestyle."
Prosecutors have introduced a bevy of exhibits and are in the process of calling several witnesses as part of their effort to paint Manafort as a tax scofflaw who failed to report money spent on luxury items --  then lied to get bank loans when his foreign consulting work dried up. But the Mueller team was rebuffed by Ellis when it tried to introduce photos of Manafort's closets, filled with suits and other high-end articles of clothing.
TENNESSEE TOSS-UP? - Tennessee's Senate race has heated up, Thursday's primary elections will solidify which two candidates will face each other in November … Rep. Marsha Blackburn leads the GOP field vying for the seat being vacated by retiring Sen. Bob Corker, also a Republican. She has been endorsed by President Trump who traveled to Tennessee in May to campaign for her.
As for the Democrats, former Gov. Phil Bredesen has emerged as his party's leader. He leads Blackburn by less than 5 points, according to Real Clear Politics' polling average. This Senate race is considered a toss-up by Fox News. It is among several races crucial to Trump's plans to maintain control of the Senate, where Republicans are defending a narrow two-seat majority.
Meanwhile, the contest to succeed popular term-limited Republican Gov. Bill Haslam has attracted four leading Republicans: U.S. Rep. Diane Black, former state economic development chief Randy Boyd, businessman Bill Lee and state House Speaker Beth Harwell. Together, they have put some $40.2 million of their own money into the race and have spent a record $45.7 million total.
With the spending spree, the candidates have fought over who is more loyal to the president and his tough-on-immigration priorities. Vice President Mike Pence has offered his support for Black. But Trump has stopped short of endorsing her, despite keeping her by his side and praising her during several events.
AS SEEN ON FOX NEWS 
A HOMECOMING LONG OVERDUE: "Some have called the Korean War the 'forgotten war.' But today, we prove these heroes were never forgotten. Today, our boys are coming home." – Vice President Mike Pence, hailing the return of the remains of 55 Americans presumed killed in the Korean War, during a ceremony at Hawaii's Hickam Air Force Base. WATCH
JUSTICE ISN'T ALWAYS BLIND: "The plan for Paul Manafort is to ensure he dies in prison. Mueller's lead prosecutor, Andrew Weissmann, is working hard to make that happen. If you were at Hillary Clinton's Election Night party in New York City, you may recognize Weissman. He was there, hoping to celebrate Hillary's victory. Now he's doing the next best thing: Avenging her defeat." –Tucker Carlson, in his opening monologue on "Tucker Carlson Tonight," slamming the prosecution of ex-Trump campaign manager Paul Manafort. WATCH
TRENDING
'Calexit' co-founder: Elizabeth Warren might not be 'allowed in' proposed California spinoff reserved for Native Americans.
'Benson & Harf' Interview: Twitter CEO Jack Dorsey on shadow banning allegations: 'It's not acceptable for us to create a culture like that.'
Bush-bashing professor shares messages she's received from critics.
PHOTO: 'Angel' cloud appears over Texas skyline.
DRAMA IN THE DEMOCRATIC PARTY
Feinstein was 'mortified' by FBI allegation that staffer was spy for China: report.
Maxine Waters hit with FEC complaint over mailer money.
Gillibrand fires back at Soros over her calls for Franken to resign.
Obama endorses dozens of Dems, snubs Ocasio-Cortez.
Democratic Socialist candidate insists feds can fund 'Medicare for all.'
THE SWAMP
Trump 'sanctuary cities' executive order is unconstitutional, U.S. appeals court rules.
Trump administration sanctions Turkish officials over detained American pastor.
Iran planning Gulf 'swarm' drill involving 100 gun boats within days, U.S. officials say.
ACROSS THE NATION
Suspect identified in murder of George H.W. Bush's former doctor.
USC facing 300 plaintiffs in lawsuit against ex-gynecologist; faculty wants embattled president gone.
Woman enraged by Trump bumper sticker intentionally rammed into car, police say.
Pet pig scares off would-be robbers at Indiana home, police say.
MINDING YOUR BUSINESS
Fed keeps interest rates unchanged, says U.S. economy 'strong.'
Kennedy: Why Canada's Universal Basic Income was a bust.
How much does financial independence cost?
White House needs to increase tariffs on Chinese goods: Wilbur Ross.
Congress passes bill forcing tech companies to disclose foreign software probes.
Buffett's Berkshire Hathaway grants $2B loan to Sears property owner.
Top five states with highest, lowest student loan debt.
FOX NEWS OPINION
3D guns: Despite the complaints of gun-control advocates, these weapons are protected by the Bill of Rights.
Tammy Bruce: Liberals still hysterical over Hillary Clinton's loss get their own 'disease.'
Nick Gillespie: 3D guns and the truth -- Don't get bent out of shape by newfangled weapons.
HOLLYWOOD SQUARED
CBS hires law firms to lead Moonves sexual misconduct probe; embattled exec departs from outside boards.
McCartney or Lennon? Harvard statistician's algorithm determines who wrote famous Beatles hits.
New 'Terminator' image features Linda Hamilton in iconic role.
DID YOU HEAR ABOUT THIS?
Georgia man reveals 100-pound weight loss after training to become cop.
Great white shark attacks seal off Massachusetts coast as surfers scramble to shore, video shows.
Stray dog runs half-marathon, gets a medal.
STAY TUNED
On Facebook:
Check out 'FOX News Update,' our new Facebook-exclusive news program hosted by Shepard Smith, Carley Shimkus and Abby Huntsman!
On FOX News: 
FOX & Friends, 6 a.m. ET: Pete Hegseth interviews Vice President Mike Pence. Former homicide detective Ted Williams on the latest in the search for Mollie Tibbetts. Political commentator Tammy Bruce on "Trump Anxiety Disorder." Other special guests include: Judge Andrew Napolitano; Acting ICE Director Ronald Vitiello; actress Lori Loughlin.
President Trump's Rally in Pennsylvania, 7 p.m. ET - Stay with FOX News for full coverage and analysis!
Hannity, 9 p.m. ET: Special guests include: Eric Trump and "Life Liberty & Levin" host Mark Levin.
On FOX Business:
Mornings with Maria, 6 a.m. ET: Special guests include: U.S. Commerce Secretary Wilbur Ross; Brian White, Monness, Crespi, Hardt & Co. analyst ; Krishna Memani, OppenheimerFunds chief investment officer.
Varney & Co., 9 a.m. ET: Alex Azar, U.S. Secretary of Health and Human Services; Rep. Lou Barletta, GOP Pennsylvania Senate candidate; Rep. Tom Reed.
Cavuto: Coast to Coast, Noon ET: Former U.S. Sen. Tom Coburn.
The Intelligence Report, 2 p.m. ET: Rep. French Hill; Austan Goolsbee, former Obama economic adviser; Scott Bolden, former DC Democratic Party chairman.
Countdown to the Closing Bell, 3 p.m. ET: T.J. Rodgers, Cypress Semiconductor co-founder and CEO; David Sampson, former deputy commerce secretary under President George W. Bush.
On FOX News Radio:
The FOX News Rundown podcast: President Trump tweeted on Wednesday he would prefer that Attorney General Jeff Sessions end the Russia election meddling probe. Rep. Scott Perry and Alan Dershowitz discuss the president's tweet and the possibility of impeaching U.S. Deputy Attorney General Rod Rosenstein.
According to the California Department of Forestry and Fire Protection, as of Aug. 1, California has been scorched by more than 4,000 fires, which have burned over 400,000 acres. John Cox, California's Republican candidate for governor, and Scott McLean, a fire captain with Cal Fire, discuss the intensity of this year's fires. Plus, commentary by Judge Andrew Napolitano.
Want the FOX News Rundown sent straight to your mobile device? Subscribe through Apple Podcasts, Google Play, and Stitcher.
The Brian Kilmeade Show, 9 a.m. ET: Special guests include: Steve Doocy, Jonathan Cheng, and Rep. Adam Kinzinger.
#OnThisDay
2000: Republicans award Texas Gov. George W. Bush their 2000 presidential nomination at the party's convention in Philadelphia and ratify Dick Cheney as his running mate.
1939:  Albert Einstein signs a letter to President Franklin D. Roosevelt urging creation of an atomic weapons research program.
1876:  "Wild Bill" Hickok is shot and killed while playing poker at a saloon in Deadwood, Dakota Territory, by Jack McCall, who was later hanged.
FOX News First is compiled by FOX News' Bryan Robinson. Thank you for joining us! Enjoy your day! We'll see you in your inbox first thing Friday morning.