FOX NEWS FIRST: Dems fear losing voters over census question; California sanctuary city backlash escalates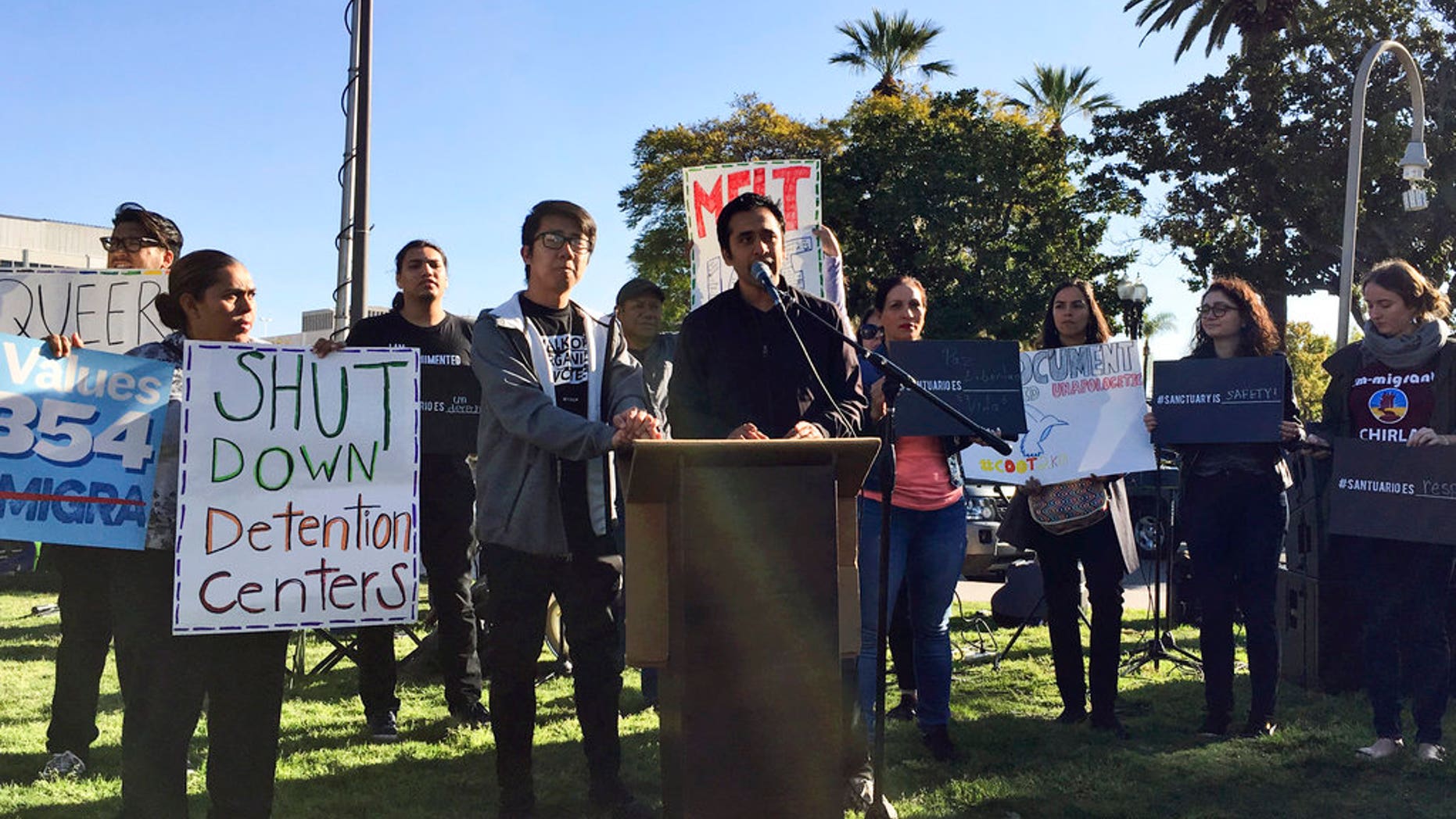 Welcome to Fox News First. Not signed up yet? Click here.
Developing now, Wednesday, March 28, 2018
California's 'sanctuary city' laws face backlash as Orange County officials join the Trump administration's lawsuit over the Golden State's immigration policies
Democrats fear immigrants will avoid the U.S. Census after the Trump administration seeks a U.S. citizenship question for the 2020 survey
President Trump considers using the Pentagon budget to pay for his long-promised U.S.-Mexico border wall
North Korean dictator Kim Jong Un met with China's leader in an 'unofficial' visit, Chinese state media says
The Supreme Court will hear its second major redistricting case of the term Wednesday, this time with an appeal coming from Maryland Republicans
The number of agents responding to a House subpoena of documents on the Hillary Clinton email probe, potential FISA abuses and the firing of FBI Deputy Director Andrew McCabe will double, FBI Director Christopher Wray says
THE LEAD STORY - SANCTUARY CITY BLOWBACK: Officials in California's Orange County voted Tuesday to join a lawsuit from the Trump administration fighting the state's "sanctuary city" laws, hours after the county sheriff's department announced its own methods of pushing back against the legislation aimed at protecting illegal immigrants ... Meanwhile, California Attorney General Xavier Becerra would not rule out taking action of his own against officials who fight the laws, including the sheriff. One of the laws bars police in many cases from turning over suspects to federal immigration agents for deportation. Orange County officials moved earlier this week to improve communication with federal immigration agents by publishing the release dates of inmates online.
DEMOCRATS FEAR LOSING VOTERS OVER CENSUS: The Trump administration's decision to ask people about their citizenship in the 2020 census has sparked fear among Democrats that immigrants will avoid doing the survey altogether, potentially weakening political representation for states that tend to vote Democratic and robbing many communities of federal dollars ... According to the Congressional Research Service, the Census has not collected citizenship data from the whole population, rather than just a population sample, since 1950. The state of California has already filed a lawsuit over the Trump administration's decision to reintroduce the citizenship question to the census, with California, New York, New Jersey, Illinois, Massachusetts and Ohio expected to join.
'BUILD THAT WALL' ... WITH MILITARY FUNDS?: Still miffed about the budget deal he signed last week, President Trump has potentially planted the idea of using the Pentagon budget to pay for his border wall with Mexico ... Last weekend, Trump tweeted the following: "Because of the $700 & $716 Billion Dollars gotten to rebuild our Military, many jobs are created and our Military is again rich. Building a great Border Wall, with drugs (poison) and enemy combatants pouring into our Country, is all about National Defense. Build WALL through M!" (In the tweet, "M" refers to the military.) Trump raised the funding plan with House Speaker Paul Ryan at a meeting at the White House last week, a person familiar with the conversation told the Associated Press. However, this shift in spending would likely require approval from Congress.
KIM JONG UN GOES TO CHINA: North Korean dictator Kim Jong Un met with Chinese President Xi Jinping in an "unofficial visit" to Beijing, China's state-run media reported late Tuesday ... South Korea's Yonhap News Agency, citing North Korean state radio, reported that Kim had visited China between Sunday and Wednesday local time at Xi's invitation and was accompanied by his wife, Ri Sol Ju. Xi held talks with Kim at the Great Hall of the People in Beijing and he and his wife Peng Liyuan hosted a banquet for Kim and his wife, the official Xinhua News Agency said. They also watched an art performance together, the news agency said. Xi hailed Kim's visit as embodying the importance with which the North Korean leader regarded ties with China.
MARYLAND MAP REVISIONS?: The Supreme Court will take up its second big partisan redistricting case of the term Wednesday ... The justices are scheduled to hear in an appeal filed by Republicans in Maryland. The Maryland GOP complains that Democrats who controlled the state government in 2011 drew a congressional district for the express purpose of ousting the Republican incumbent and replacing him with a Democrat. On March 19, Supreme Court rejected a request from Pennsylvania GOP lawmakers to throw out a new congressional district map drawn by the state's highest court.
FBI PICKING UP THE PACE: FBI Director Christopher Wray announced plans to "double the number" of agents handling records for the House Judiciary Committee after it asked for documents on the Clinton email probe, potential FISA abuses and the firing of Deputy Director Andrew McCabe ...  According to a statement released by Wray, he believes the documents requested by committee Chairman Bob Goodlatte, R-Va., are "likely in the thousands" but that he agrees the "current pace of production is too slow." "We have dedicated 27 FBI staff to review the records that are potentially responsive to Chairman Goodlatte's requests," he wrote, adding he was "doubling the number of assigned FBI staff, for a total of 54, to cover two shifts per day from 8am to midnight to expedite completion of this project." But, a Justice Dept. insider told Fox News that Attorney General Jeff Sessions has voiced his concern over the "unacceptable" pace with which the FBI is working and is "done" seeing his department criticized over it.
_____________________________
Consider yourself an Influencer? Become a trusted advisor in our FOX News community and help guide our brand's future. Click here to find out how.
Members of FOX News Influencers:
Have the opportunity to be heard
Be part of a special network of peers
Get to influence new ideas and initiatives 
Receive updates on what we've learned and how your input has made impact 
Fill out our qualification survey and join us. Thank you for your continued support in our company's growth.
____________________________
AS SEEN ON FOX NEWS
'DUMBEST THING I'VE EVER HEARD': "There'll be a Civil War if you take away the Second Amendment. [The government would say] surrender your weapons or else." – Jesse Watters, on "The Five," reacting to an op-ed by retired Supreme Court Justice John Paul Stevens who said "March for Our Lives" participants should seek a repeal of the Second Amendment. WATCH
FACEBOOK THE PEEPING TOM: "When you look at what the search engines and the social media companies are doing with your information, that is the equivalent of a peeping Tom." – Rep. Marsha Blackburn, on "America's Newsroom," arguing that Facebook founder Mark "Universal Income" Zuckerberg should testify before Congress on its recent privacy scandal, comparing Facebook and other social media companies to a "Peeping Tom." WATCH
TRENDING
Here's how Facebook decides whether to brand you liberal or conservative | FTC investigating Facebook
Retired Supreme Court Justice Stevens says Second Amendment should be repealed.
Planned Parenthood branch deletes tweet calling for Disney princess who had abortion.
Here are the U.S. Olympians who plan to skip White House visit.
THE SWAMP
Reporter doubles down as outrage grows over alleged home invasion of Lewandowski's DC home office
In wild California Democratic primary, candidate sues over rivals' ballot entries, candidates eased out.
Spending bill passed by Congress could disarm some veterans, GOP lawmaker warns.
ACROSS THE NATION
Veteran kills himself in St. Louis VA hospital waiting room, report says.
Missouri man's sudden death during Colorado family ski trip sparks social media movement.
Elizabeth Smart claims in new book her kidnapper tried to abduct another girl.
Woman warns pet owners about poisonous 'Death Angel' mushrooms after two dogs found dead in backyard.
MINDING YOUR BUSINESS
Dow plunges 345 points as tech shares drag.
Tesla shares plummet as NTSB investigates fatal crash.
Will Buffett rescue GE?
Apple's new iPad: Five things to know.
FOX NEWS OPINION
Why 'GMO' is a meaningless term (and how to fix that).
Marc Thiessen: Trump's cabinet is not supposed to be a 'check' on him -- That's not how democracy works.
F.H. Buckley: Putin, Russia and the hard truth about election meddling.
HOLLYWOOD SQUARED
Harvey Weinstein's former assistant claims she tried to stop him in 1998.
Mark Hamill reveals 'Star Wars: Episode IX' ending George Lucas really wanted.
Kelly Ripa body-shamed for 'sexy' bikini picture.
DID YOU HEAR ABOUT THIS?
Walmart to remove Cosmopolitan magazine from checkout lines.
Amazing mummy discovery: 2,500-year-old Egyptian coffin was thought to be empty.
Blue moon to light up sky ahead of Easter.
STAY TUNED
On Fox News: 
Fox & Friends, 6 a.m. ET: Heineken is forced to pull an ad campaign after some call it racist. We'll take a closer look. Peter Navarro, director of White House's Office of Trade and Manufacturing Policy, breaks down President Trump's new trade deal. The State Department's Heather Nauert talks Russia relations and Kim Jong Un's secret trip to China. Plus, we're live from the floor of the New York Auto Show.
Tucker Carlson Tonight, 8 p.m. ET: In the final installment of his monthlong "Men in America" series, Tucker looks at how schools are contributing to the war on boys.
On Fox Business:
Mornings with Maria, 6 a.m. ET: Guests include: Michelle Malkin; Marc Lotter, former special assistant to President Trump and former press secretary to Vice President Pence; Jim Farley, Ford executive vice president and global markets president; Glenn Hubbard, former chairman of the U.S. Council of Economic Advisers under President George W. Bush.
Varney & Co., 9 am, ET: Rep. Steve Russell; NYC Councilman Rafael Espinal; Pa. Attorney General Josh Shapiro; Ed Lazear, former chairman of President Bush's council of economic advisers.
Cavuto: Coast to Coast, Noon ET: U.S. Sen. John Kennedy, R-La.
The Intelligence Report 2 p.m. ET: Weight Watchers CEO Mindy Grossman on Women's Month; Peter Schweizer, author of "Secret Empires: How the American Political Class Hides Corruption and Enriches Family and Friends"; Robert Wolf, CEO of 32 Advisors.
On Fox News Radio:
The Fox News Rundown podcast: Debate has flared up again over repealing the Second Amendment after retired Supreme Court Justice John Paul Stevens wrote a controversial op-ed. Shannon Bream, host of "FOX News @ Night," gives insight. China responded to President Trump's announcement of higher tariffs with threats of a trade war, which initially sent stocks tumbling. Early this week there's been some recovery. Fox Business anchor Maria Bartiromo joins the podcast to discuss. Also, commentary by "Fox & Friends" co-host Brian Kilmeade.
Want the Fox News Rundown sent straight to your mobile device? Subscribe through Apple Podcasts, Google Play, and Stitcher.
The Brian Kilmeade Show, 9 a.m. ET: Matthew Schrier, a photojournalist who escaped al Qaeda captivity, details his ordeal and reveals why he feels "betrayed" by the FBI; the Wall Street Journal's Dan Henninger on China tariffs and market volatility; Admiral James Stavridis on North Korea and Trump's expulsion of Russian diplomats.
The Tom Shillue Show, 3 p.m. ET: Some states are lining up to sue President Trump over his 2020 census citizenship question. Do they have a case? Judge Andrew Napolitano joins Tom.
#OnThisDay
1979: America's worst commercial nuclear accident occurs with a partial meltdown inside the Unit 2 reactor at the Three Mile Island plant near Middletown, Pa..
1898: The U.S. Supreme Court, in United States v. Wong Kim Ark, rules 6-2 that Wong, who was born in the United States to Chinese immigrants, is an American citizen.
1797: Nathaniel Briggs of New Hampshire receives a patent for a washing machine.
Fox News First is compiled by Fox News' Bryan Robinson. Thank you for joining us! Enjoy your day! We'll see you in your inbox first thing Thursday morning.