Florida authorities kill 8-foot gator that took elderly woman's arm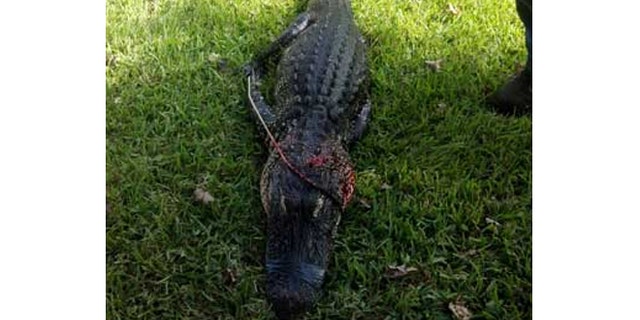 NEWYou can now listen to Fox News articles!
Sheriff's deputies in Florida said Wednesday that they tracked and killed an 8-foot alligator that earlier in the day attacked an elderly woman near a mobile home park in Lake County, MyFoxOrlando.com reported.
Carol Hough, 84, was found by a neighbor in a canal near the Cyrpess Creek Mobile Home Park, ClickOrlando.com reported. Her arm was badly injured.
The neighbor was unable to remove the woman from the canal but managed to hold her head above water until medical personnel arrived, the report said.
"The only thing she had to say was, 'Where's Bob? Where's Bob? And that's her deceased husband who passed away two to three years ago,"' Delmas Zickefoose, the neighbor, said, according to the report.
Doctors were unable to save Hough's arm and she was listed in stable condition at Orlando Regional Medical Center, the report said.
Click for more from MyFoxOrlando.com
Click for more from ClickOrlando.com