Fat cat who sits on hind legs seeks adoption in viral social media post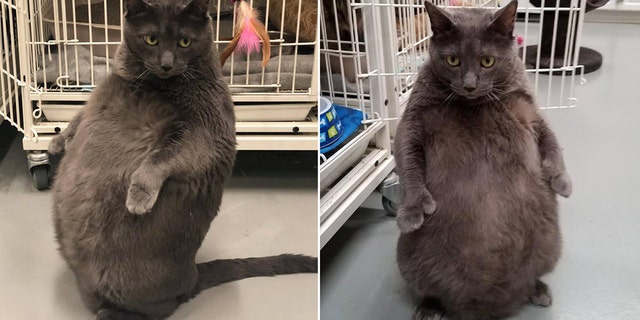 A quirky 7-year-old, 25-pound cat in the Chicago suburbs who sits up on his hind legs is getting a lot of attention after a shelter posted an online adoption ad, according to reports.
The ad for Bruno, a polydactyl Russian blue mix, appeared on the Facebook page of Wright-Way Rescue Wednesday and has since gone viral.
The shelter says Bruno is "too cool to be homeless." He talks a lot and loves to be petted when he eats—but don't pet his belly. He is also on a diet.
"When I first met him, he's a happy, goofy guy," Wright-Way manager Jason Abbas told WLS-TV. "Obviously he's very food motivated, so of course he learned quickly where his food is up on the counter."
Bruno's craving for food explains his ability to sit on his hind legs, according to the shelter.
The shelter has heard from people all over the U.S., Canada and Australia who say they want to adopt Bruno, the station reported.