Facebook tells Catholic priest to lose his title on site
NEWYou can now listen to Fox News articles!
Monsignor Charles Pope has held his title in the Catholic Church for 10 years.
"More people call me 'Monsignor' than call me 'Charles,'" the soft-spoken Washington, D.C.-area priest told FoxNews.com on Thursday.
So Pope was perplexed earlier this week when Facebook informed him, after six years using the social-networking service, that they didn't think he was using his real name.
"I thought it was a scam," Pope said.
It wasn't.
Facebook's policy is to not allow titles on personal site profiles, a spokesman explained, something that goes for religious figures just as much as for politicians and celebrities. There is more flexibility for a Facebook "page."
"I think Facebook is going to ultimately regret that they've become arrogant or abusive of their power"
"I thought, this is a strange abuse of power – and why should they care?" said Pope, who is assigned to Holy Comforter St. Cyprian Parish. "'Monsignor Charles Pope' is the name I routinely go by. I'm a priest and I'm always called 'Monsignor' or 'Father.' This is the name I go by."
Pope had been on the site with his title for a number of years, and said he sees other Christian, Jewish and Muslim figures use their titles on their personal profiles. While he said he doesn't believe he's being singled out for his religious beliefs, it does appear someone has personally flagged his profile. Facebook would only initiate a name change such as the one that happened to Pope if another user reported the breach of the site's "community standards."
"Facebook is entitled to do whatever they want," Pope said. "I just think it's incredibly foolish on their part to try and treat people this way. I can understand if people have something ugly or nefarious or scurrilous in their name."
The name dispute is all the more puzzling considering Facebook's emphasis on allowing users to express their identities, whatever that may be. The company's Chief Product Officer, Chris Cox, wrote a public apology to "drag queens, drag kings, transgender" and other members of the LGBT community in a 2014 Facebook post focusing on the site's "real-name policy."
"Our policy has never been to require everyone on Facebook to use their legal name," Cox wrote. "The spirit of our policy is that everyone on Facebook uses the authentic name they use in real life. For Sister Roma, that's Sister Roma. For Lil Miss Hot Mess, that's Lil Miss Hot Mess."
Facebook also offers users a choice of dozens of gender identity options.
When asked about Facebook's inclusive spirit and whether that could be applied toward figures with religious titles, a spokesperson for the site said the current policy stood and was not up for review.
"I just think we need to start migrating away from these big things that become so abusive," Pope said. "I think Facebook is going to ultimately regret that they've become arrogant or abusive of their power."
He added: "This is insulting the way they're treating some of us."
Pope said, at the urging of others, he supplied several forms of identification to Facebook and his service had been restored as of Wednesday night – with a noticeable caveat: he now logs in as "Charles Pope."
But Pope has maintained his online identity in another way, changing his cover photo to a photo of the inside of a church with "Msgr. Charles Pope" laid over it in large white letters.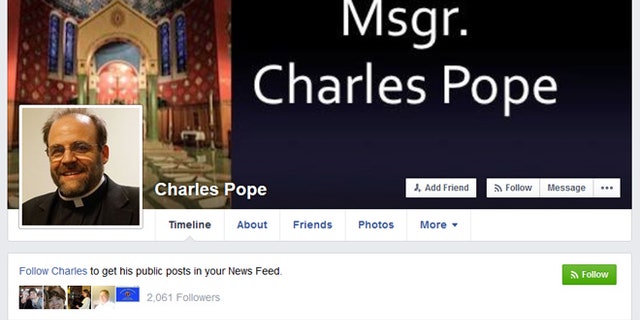 "I'm going to stay in this conversation," he said. "I'm not going to go away quietly."