Ex-Boyfriend Charged With Murder of Teenage Girlfriend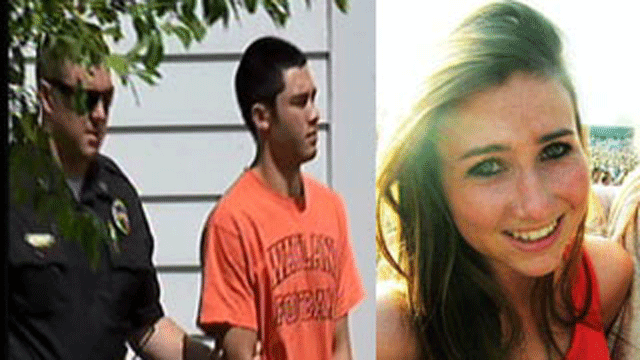 The ex-boyfriend of an 18-year-old Wayland woman killed over the holiday weekend was held without bail after being arrested Tuesday and charged with her death.
Nathaniel Fujita, 18, was arraigned Tuesday in Framingham District Court on a murder charge in connection with the death of Lauren Astley.
Astley's body was found by a bicyclist Monday morning in a marshy area off Route 27., prosecutors said. She was reported missing by her father Sunday after failing to return home from her job at a clothing store at the Natick Collection mall. Her car was found several miles away at the town beach.
Authorities say there were signs of a cover-up. Blood was found in the garage, on doors, in the kitchen bathroom, on the floor and in the sink. Bungie cords were discovered in the garage. A bungie cord was also found around the victim's neck.
In a bedroom, there was a crawl space where a bag of dirty clothes consistent with the swampy area where sneakers were found.
The victim's family spoke to Fujita three times before Astley's body was found. Each time, Fujita said he had seen Astley when she came to his home earlier. The victim's father spoke with the suspect just 30 minutes before her body was discovered.
Astley's co-workers at the Natick Mall revealed she had made plans to see the suspect. There was also a series of phone calls and text messages between the victim and suspect around 6:30.
Fujita and Lauren had both just graduated from Wayland High School and were "close," said her father, Malcolm Astley.
"When we fall in love, we allow ourselves to become vulnerable and we lose perspective," a sobbing Malcolm Astley said.
An autopsy is scheduled to determine a cause of death. Authorities did not disclose a motive for the slaying.
The cause and manner of death remains under investigation and an autopsy will be conducted today by the Office of the Chief Medical Examiner. In a news release announcing the arrest, the Middlesex District Attorney's Office said Astley had "an obvious wound to the neck."
Lauren Astley, an only child, played tennis and was a member of the a cappella group in high school, her father said. She planned on studying fashion or anatomy at Elon University in North Carolina this fall, he said.
"I miss her terribly," her father said.
A message left at Fujita's home was not immediately returned. Fujita played receiver on the football team and ran track in high school.
"I share a sense of angst with his parents," Malcolm Astley said.
Wayland Police and State Police assigned to the Middlesex District Attorney's Office are continuing to investigate the circumstances of the death.