Dramatic video captures woman dragged by car on California freeway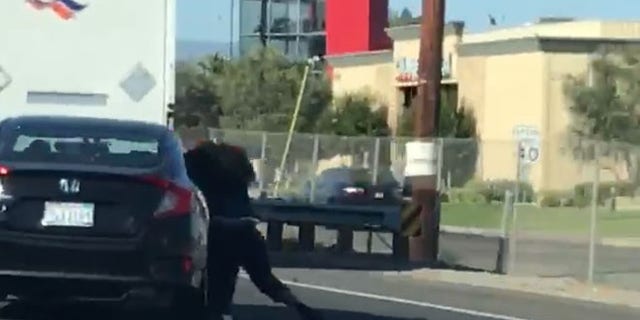 NEWYou can now listen to Fox News articles!
A woman in California was dragged by a car in Orange County for several seconds during rush-hour traffic.
The incident, caught on camera, occurred Monday around 5 p.m. on the northbound 55 Freeway in Santa Ana.
Joshua Molesky, who shot the video, said that the woman, for reasons unknown, jumped out of a car and went after someone in the passenger seat of a black Honda Civic, NBC Los Angeles reported.
The woman pounded on one of the windows of the Honda and then the driver hit the gas – so the woman held on to the side of the car as it moved along the traffic-choked highway. The woman's feet could be seen skidding along the freeway as a white truck whizzes by, inches from her.
A few seconds later, she lets go of the car and walks along the side of the highway. The Honda drove off.
NY OFFICER DRAGGED BY CAR, CRITICALLY INJURED
A witness said, "as scary as it was, I'm just glad she didn't get hurt and nobody else got hurt," Fox 11 reported.
The California Highway Patrol was investigating incident.