Dow plunges nearly 400 points as oil prices sink
The Dow Jones Industrial Average dropped almost 400 points Friday, falling below 16,000, as oil prices sank below $30 a barrel.

The index fell to 15,988 at the closing bell, down more than 390, or 2.39%.
"Oil is the root cause of today," said Dan Farley, regional investment strategist at the Private Client Reserve at U.S. Bank. "People are uncertain, and when they're uncertain they're scared."
The price of crude oil fell to its lowest level since 2003. Benchmark U.S. crude fell $1.62, or 5.2 percent, to $29.58 a barrel in New York. Brent crude, a benchmark for international oils, fell $1.43, or 4.6 percent, to $29.45 a barrel in London.
The steep slump in crude from over $100 a barrel in the summer of 2014 has erased energy company profits and made it much harder for them to pay off their debts.
Stocks were coming off a broad rally on Thursday that gave the S&P 500 index its biggest gain since early December. That gain was a reversal from a day earlier, when the market turned in its worst day since September.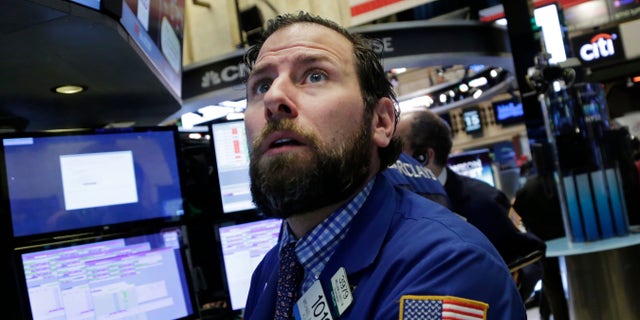 In China, the Shanghai Composite Index finished down 3.6 percent, sliding to its lowest close since Dec. 8, 2014. China's official Xinhua News Agency reported that banks' new loans during the last month fell over a year earlier, in a sign that momentum for the credit that fuels economic growth was slowing.
Also Friday, the Federal Reserve said U.S. industrial production, which includes manufacturing, mining and utilities, dropped in December for the third month in a row. A separate report from the Commerce Department indicated U.S. retail sales dipped last month. And a measure of inflation before it reaches consumers declined in December.
The Associated Press contributed to this report.