Dog owner who used pet-sitting service says he found shirtless men, lube in living room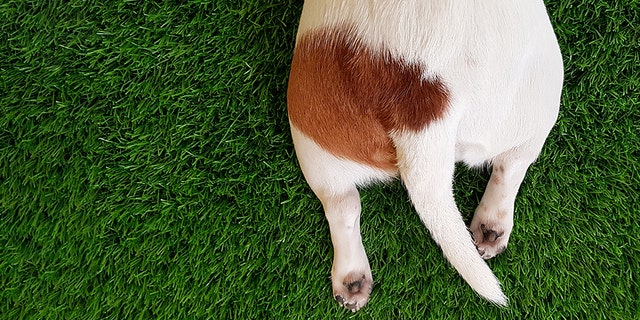 A dog owner in Colorado claims that when he used a dog-sitting service to care for his dog while he was away, he came home to find shirtless men, a bottle of lubricant and a camera in his living room.
Klete Keller, of Colorado Springs, told Fox 21 that upon his return home on Monday around 1 a.m., he came home to several strange things, and his dog nowhere in visible sight.
Two shirtless men were sitting on his living room couch, Keller said. When he asked them to leave he noticed "there was an open bottle of personal lubricant and a camcorder on the end table."
Jimbo, Keller's dog, was reportedly found locked inside a bedroom, where he was sitting in his own urine.
KANSAS WOMAN REUNITED WITH LOST DOG WEEKS AFTER HE WAS THROWN FROM VEHICLE IN FATAL CRASH
"It's pretty self-explanatory what was going on," Keller said. "There is also, what I can only assume, are bodily fluids on the couch."
The unidentified dog-sitter — who Keller said he learned was showering in his house when he got home — told the news station she didn't have knowledge of "bodily fluids on the couch." She added she used the lubricant to remove her keys, which were stuck in her car.
"So I ended up grabbing what I had in my car, for things, that you know, I do on my personal time," the sitter said. "I didn't think to put it back in my car."
Keller said the scene was "just a total mess and I can only imagine what poor Jimbo saw in there."
Wag, the dog-sitting service which Keller said he used to find someone to watch his pup, told Fox News that they launched an investigation into what allegedly took place in Keller's home and have suspended the dog-sitter.
TIMES SQUARE STREET SHUT DOWN AFTER BEES SWARM HOT DOG STAND
"We have launched an investigation into this incident and have suspended the sitter from our platform. The circumstances around this incident are unacceptable, and we expect everyone on our platform to conduct themselves in a professional manner," the statement read. "We have worked closely with the dog's owner to restore his trust in Wag! and appreciate his understanding. The trust and safety of the Wag! community is very important to us."
The company also said they use a thorough vetting process for their dog walkers and sitters, which includes a social security number trace and several criminal checks.
Keller's dog-sitter, who had a 4.96 out of 5 star rating on Wag and had a combined total of 305 dog walks and sittings, passed all of the background checks, the company said.