Deadly wildfires charge across Western states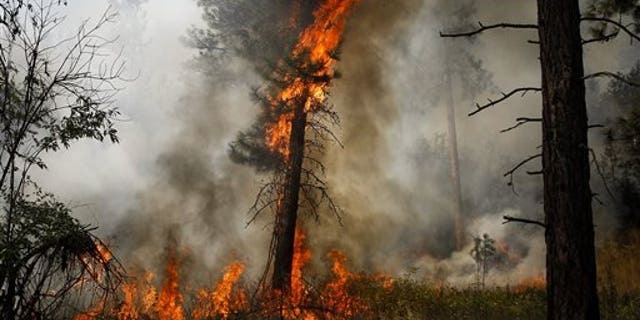 NEWYou can now listen to Fox News articles!
Wildfires raging in Washington, Idaho, Oregon and California have officials in the drought-plagued Western states struggling to contain the flames that have forced thousands from their homes and led to the deaths of three firefighters.
In northern Washington, officials are hoping a break in the weather will allow firefighters to gain control of a series of wildfires in the northern part of the state that have left three firefighters dead and injured several others.
The Washington State Department of Health said that should nearby wildfires reach the site of a now-defunct uranium mine in Stevens County in eastern Washington, the smoke won't be any more toxic than the standard smoke from a wildfire.
In an announcement, the department said that radioactive materials at the Midnight Mine, which is about three miles northwest of Wellpinit on the Spokane Reservation, "won't exacerbate the dangers of wildfire smoke if the fires overtake the site as the naturally occurring radioactive material stays in its original rock form and does not burn."
Nevertheless, the department said, people in the area should take the same precautions as they would with any other kind of smoky air. "People are encouraged to remain indoors to avoid breathing smoky air, which can cause coughing, chest pain and shortness of breath in healthy people," the announcement said.
Three firefighters — Tom Zbyszewski, Richard Wheeler and Andrew Zajac — died Wednesday when flames consumed their crashed vehicle as they tried to escape the fire. Another firefighter remains in critical condition with burns over 60 percent of his body.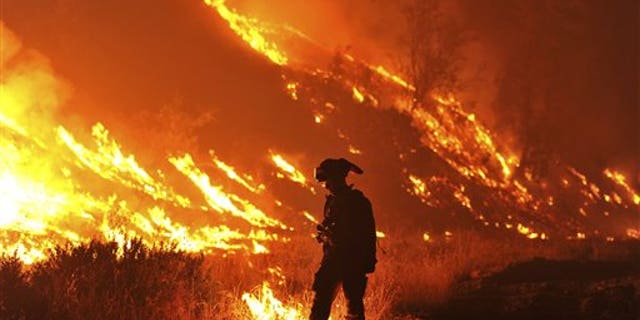 The crews fighting the massive Okanogan Complex wildfires are under such tremendous pressure that fire officials are training volunteers with heavy equipment to help extinguish the giant fires that currently cover 355 square miles. It is the first time in state history that residents are being asked to help operate backhoes and bulldozers to dig fire lines, KING-TV reported.
Thousands of area residents remain under evacuation orders, while some were escorted back to their homes Saturday, according to officials cited the station.
"If people want to help, we'd like them to contact our coordinators so we can work on getting them safely and appropriately involved," said Commissioner of Public Lands Peter Goldmark. "We appreciate all offers of qualified and trained support. Safety for everyone is our highest priority," the Washington Department of Natural Resources said in a statement.
The massive cloud of smoke began to lift over Washington wildfires by Sunday afternoon. But as air quality improves, the fire's behavior could become more erratic and intense, fire officials said.
"It's like a flue opening in a fireplace," said Suzanne Flory, spokeswoman for the U.S. Forest Service and the Rocky Mountain Incident Management Team. "Smoke serves as a cap on the fire."
The Okanogan Complex of wildfires was measured at 374 square miles Sunday morning, after growing more than 100 miles larger Saturday in what fire officials said was a relatively calm fire day.
Once the smoke lifts, humidity drops, heat rises and fires can flare up.
Flory said they would not know until Sunday night or early Monday how much the fire had grown on Sunday, but as of late afternoon, fire activity had been relatively quiet. Visibility and air quality improved Sunday.
The complex of fires was estimated to be about 10 percent contained as of Sunday morning, fire spokesman Dan Omdal said.
Containment does not mean the fire has stopped burning. It means it has run out of fuel to burn in that area, either because it has hit a man-made fire line, a drop from airplanes of fire retardant, a road or a lake.
Some of the land within the fire lines is still burning, but other sections have burned out.
"We call it a wildfire, but much of the fire has been tamed," Omdal said. "We are making progress,"
Washington Emergency Management reported, according to KING-TV:
As of Saturday afternoon, 590,000 acres burned across Central and Eastern Washington
An extra 200 Guardsmen will arrive Sunday, bringing the total to 700 members of the Washington National Guard
At least 276,000 gallons of water have been dumped by Blackhawk helicopters
Help is on the way from Minnesota, Wyoming and Colorado
By Sunday there should be 10 Blackhawks helping
In California, more than 12,000 firefighters are battling 17 wildfires across the state.
A fire that has burned for nearly three weeks on the western slope of the Sierra Nevada grew to 73 ½ square miles near Kings Canyon National Park and was bearing down on popular Hume Lake. Firefighters focused on defending Hume Lake Christian Camps on Saturday.
"We're at the very brink as I understand it."
Planes and helicopters are making major liquid drops on a wildfire that broke out near a ski resort in the San Bernardino Mountains, bringing the first gains against the blaze.
The U.S. Forest Service says the fire that broke out Sunday afternoon near Snow Summit Ski Resort south of Big Bear Lake has forced evacuation orders for about 400 homes, many of them cabins and vacation houses.
It has grown to 100 acres, but it is 20 percent contained.
Water cannons from the ski resort usually used for making snow are being pointed toward the fire.
Conditions in the area are warm and dry but not extreme for fire danger.
"We're at the very brink as I understand it," John Yakligian, a board member and a staffer since the camp opened in 1946, told KFSN-TV.
The blaze on Friday burned down Kings Canyon lodge that had been evacuated earlier in the week, the first structure it had claimed since lightning sparked it on July 31. Pieces of foundation, charred metal pipes and a burned-out truck were all that remained. No injuries were reported.
The wildfire had burned across 65 square miles and was just 3 percent contained as it was bearing down on the popular recreation spot Hume Lake in the national park, officials said.
More than 2,500 campers, hikers, employees and residents have been evacuated this week.
A wildfire on the eastern outskirts of the San Francisco Bay Area scorched nearly 4 square miles of dry brush near Livermore. Evacuations have been ordered in the rural area as the fire moves toward Tracy. It was two-thirds contained.
In San Luis Obispo County, about 800 people returned to their homes after firefighters stopped the growth of a wildfire that had charred more than 5 square miles.
Authorities on Friday asked for the public's help in identifying the vehicle that they believe sparked the fire because of a mechanical problem or a dragging chain on U.S. 101 last Sunday.
In Oregon, Gov. Kate Brown is activating an additional 250 Oregon National Guard members to help fight destructive wildfires raging across the state.
Brown's decision on Saturday comes days after she activated an initial 125 guard members, who began training in Salem on Saturday and were scheduled to be dispatched on Wednesday to the front lines.
The governor's office says the next group will begin training next week.
Strong winds carried smoke from the blazes in eastern Oregon and Washington across the Cascade mountain range Saturday, prompting air-quality alerts and an influx of 911 calls across the Willamette Valley.
With the smoke now affecting the most populated areas of the state, health officials are warning people to take precautions. They recommend limiting time outdoors and avoiding strenuous activity.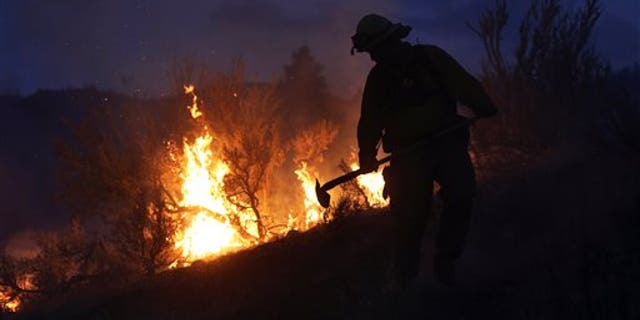 Meanwhile, evacuations have been ordered in northern Idaho as a group of wildfires that has already destroyed 42 homes threatened more residences Friday. Nearly 800 firefighters were trying to beat back the flames that have already scorched 63 square miles of mostly timber.
Idaho had 17 large fires.
In Montana, residents and firefighters alike are welcoming much improved weather conditions that have calmed wildfires burning in the western part of the state.
However, firefighters cautioned that conditions were expected to become more favorable for active fire early this week.
A fire burning on Glacier National Park's southern boundary near the town of Essex stayed relatively in check despite strong winds Friday.
The fire is located in the Great Bear Wilderness about 2 ½ miles south of Essex, where about 100 area residents have been told to be prepared to evacuate.
U.S. Highway 2 was reopened to traffic with pilot car escorts.
The Associated Press contributed to this report.