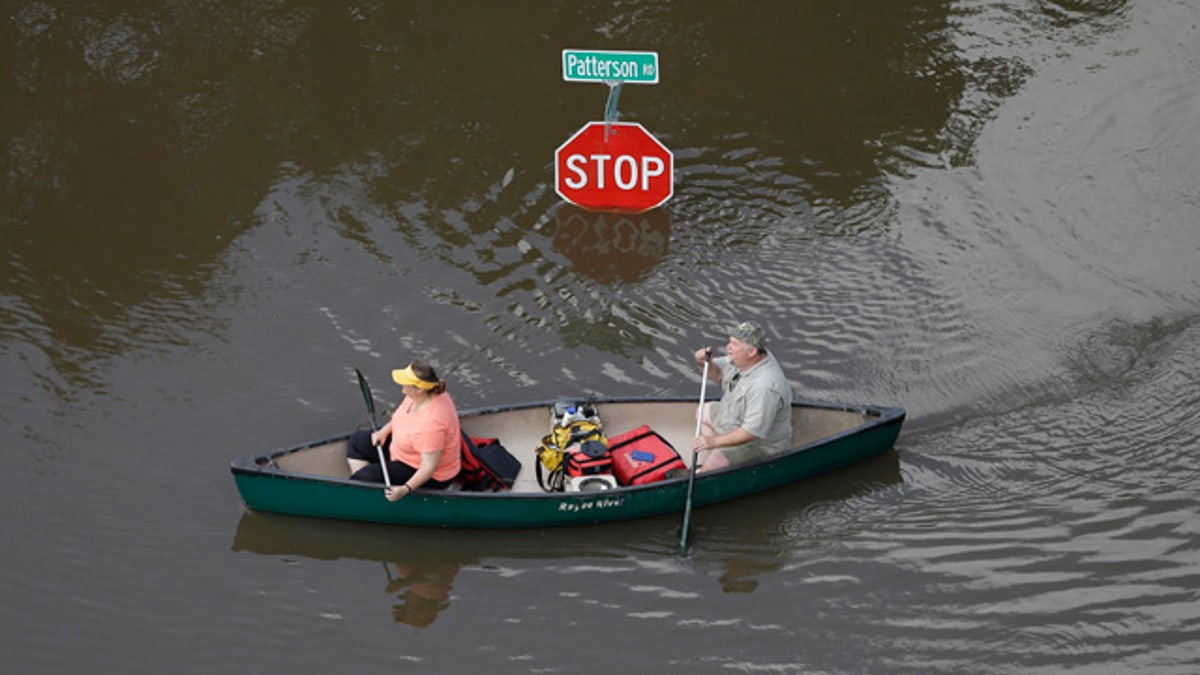 The skies over north Texas were clear Sunday, but authorities issued warnings to some residents about the possibility of fresh flooding in the wake of the state's wettest month on record.
A statement from the office of Dallas County Judge Clay Jenkins late Sunday said officials were monitoring flooding in Dallas, Carrollton and Irving, among other cities.
The statement said some streets in Dallas have been closed and floodwaters in some areas were stranding vehicles. It also said residents of about 20-25 mobile homes in an unincorporated area of the county have been asked to evacuate due to the potential for flooding. The American Red Cross was working to provide shelter for those who need it.
City of Dallas spokeswoman Sana Syed told the Dallas Morning News that the flooding was the result of spillover from three local lakes that had submerged some streets along one fork of the Trinity River. She urged local residents to check the city's official website for information on street closures. City officials have warned that Monday morning rush hour traffic could also be affected by the flooding.
Parts of the state were finally beginning to recover Sunday from weeks of rain and flooding that have made Texas a place of extremes: severe drought conditions earlier in the year that have given way to unprecedented rainfall in some areas. At least 31 people have been killed in storms that began in Texas and Oklahoma over Memorial Day weekend. Twenty-seven of the deaths have been in Texas, and at least 10 people were still missing over the weekend.
More than 10 inches of rain has fallen during the last 30 days across nearly the entire central and eastern portions of the state — from the Texas Panhandle to the Mexico border. Isolated areas have received 15 to more than 20 inches.
"It's looking like there won't be any additional rain this week, and that's good news," said National Weather Service meteorologist Dan Reilly in Houston.
The bad news, forecasters warn, is that the ground remains saturated and rivers and lakes swollen headed into tropical storm season, which begins Monday.
"We are more vulnerable now than we were before the rain," Reilly said.
In the Houston area alone, preliminary damage estimates show the flooding from torrential rains will cost at least $45 million, according to Francisco Sanchez with the Harris County Office of Homeland Security and Emergency Management. There was more than $25 million in damage to public utilities and infrastructure, he said, and the cost to remove storm debris from bayous, flooded neighborhoods and elsewhere is about $15 million. There's another $4.5 million in damage to buildings and equipment.
There are about 1,500 homes in Harris County, including those in Houston, with some level of flood damage, and this number will increase as damage-assessment teams canvass the region, he said.
Hays County spokeswoman Laureen Chernow said officials there have recorded at least $32.7 million in damage to public infrastructure following record flooding that overflowed the banks of the Blanco River. Many roads have been closed and two bridges destroyed, Chernow said.
"There are a couple of pillars standing in the riverbed," she said. "It's going to take years to rebuild this whole area."
The flooding in Hays and Blanco counties alone has claimed 10 lives.
Search crews are continuing to make their way down the Blanco River — at least 25 miles of the 55-mile stretch contained within Hays County have been searched this week. That process has slowed as workers make their way downriver and run into increasingly larger piles of debris, Chernow said.
Authorities on Sunday in Victoria, in South Texas, said more than 160 homes had been flooded or threatened by rising water but that no injuries were reported.
The National Weather Service reports the Guadalupe River crested at 30.19 feet Saturday in Victoria and remained in a major flood stage Sunday. River levels were expected to drop to a minor flood stage by next weekend.
Veronica Beyer, spokeswoman for the Texas Department of Transportation, told The Associated Press that preliminary assessments show there's about $27 million in damage to the state transportation system.
"But clearly we expect that number to go up as the water goes down," she said.
Beyer said about 155 state roads across Texas are still closed due to damage or because they remain under water. Since May 4, when steady rains began to hammer the state, about two-thirds of Texas counties have sustained damage to roads and bridges, she said.
The Associated Press contributed to this report.