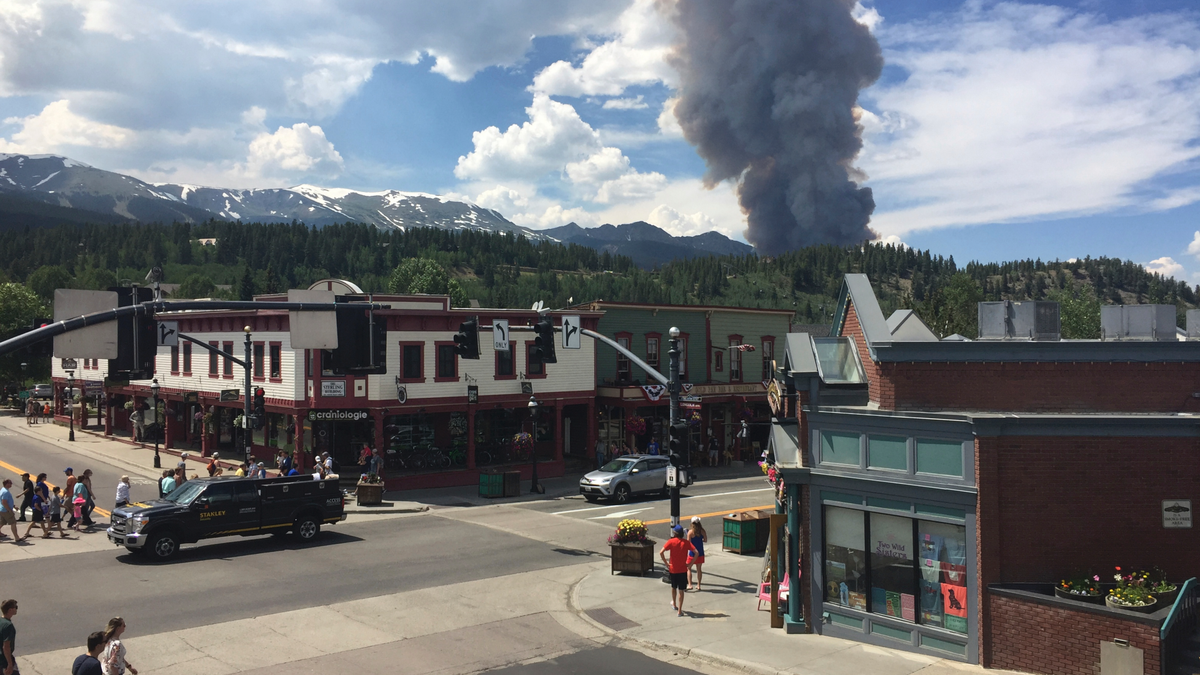 DENVER – Hundreds of people spent another night away from their homes as firefighters scrambled to beat back a small wildfire near Colorado's Breckenridge Ski Resort and the nearby historic town.
The fire has scorched less than a quarter of a square mile (.65 sq. kilometers) but has forced the evacuation of nearly 500 homes, many of which are pricey ski properties. No houses have burned, and investigators do not know what sparked the blaze that a mountain biker reported Wednesday.
"We're re-evaluating and evaluating our evacuation decisions," Summit County Undersheriff Joel Cochran said at a community meeting Thursday night. "This is not an easy decision. This is a complicated fire."
It is one of several burning in Colorado and around the U.S. West.
Crews near Breckenridge dropped slurry from the air and built containment lines on the ground about 2 miles (3 kilometers) north of the resort to prevent the fire from reaching a large subdivision Thursday. Insurance companies also paid to send contracted fire engines to the area to try to protect homes.
Those who evacuated, including vacationers, were briefly allowed back to pick up items they were not able to grab before being told to leave as the fire blew up. The blaze quickly sent up a column of smoke visible from Interstate 70, Colorado's main east-west highway, and the 19th-century Victorian buildings in the town of Breckenridge, a onetime gold-mining camp.
Residents and tourists in town have been warned to be ready to leave in case the fire spreads toward it. The base of the resort, which includes hotels, restaurants and businesses, was not evacuated.
Nebraska resident Sheila Calhorn was among those who had their vacations interrupted by the fire near the Colorado Trail, a nearly 500-mile (805-kilometer) hiking and biking route through the mountains.
"We were down in Breckenridge and we looked outside, and people were all staring into the sky, and you could see smoke just billowing up," she told the Summit Daily News in Frisco .
"This was supposed to be a stress-relieving vacation," she said.
The fire, which was burning beetle-killed trees in the White River National Forest, comes as fires ripped through parts of the Western United States.
A blaze in the Little Rocky Mountains of Montana grew to 13 square miles (33 square kilometers) and threatened a small town. Officials bolstered crews and equipment to protect buildings Friday after about 40 residents were urged to leave the historic mining town of Landusky.
In New Mexico, a wildfire in steep terrain forced the closure of a popular viewing spot at the top of a mountain range bordering Albuquerque, the largest city in the state. Authorities blocked a road that leads to Sandia Crest and have evacuated the viewing area, but no buildings were at risk.
Next door in Arizona, firefighters planned to set fires Friday to prevent a nearly 40-square-mile (104-square-kilometer) wildfire in the mountains overlooking Tucson from reaching an evacuated summer-retreat community.
Firefighters in Wyoming worked Thursday to protect cabins threatened by a rapidly growing wildfire. The fire near Rob Roy Reservoir in Medicine Bow National Forest tripled in size in a day reaching about 2 square miles (5 square kilometers).
___
Associated Press writer Thomas Peipert contributed to this report.