Court hears argument in Wal-Mart sex bias claim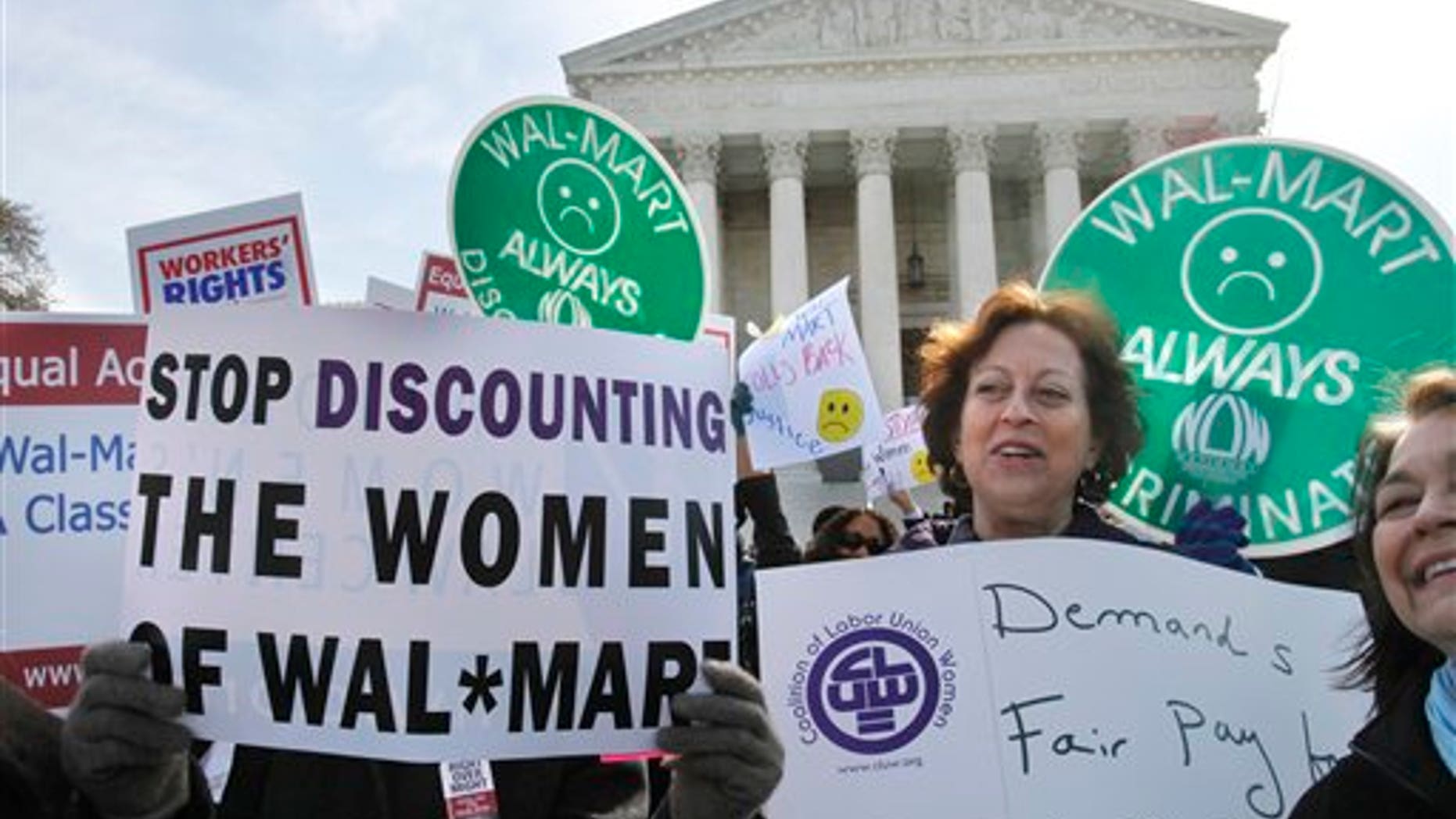 WASHINGTON – The Supreme Court on Tuesday questioned a massive sex discrimination lawsuit on behalf of at least 500,000 women claiming that Wal-Mart favors men over women in pay and promotions.
The justices suggested that they are troubled by lower court decisions allowing the class-action lawsuit to proceed against the world's largest retailer.
Justice Anthony Kennedy, often a key vote on the high court, said he is unsure "what the unlawful policy is" that Wal-Mart engaged in to deprive women of pay increases and promotions comparable to men.
Billions of dollars are at stake in the case. Class actions create pressure on businesses to settle claims and create the potential for large judgments.
Wal-Mart denies it discriminates against its female employees.
But Joseph Sellers, the lawyer for the women, said that lower courts were persuaded by statistical and other evidence put forth so far in the 10-year-old lawsuit.
Sellers said a strong corporate culture at Wal-Mart's Bentonville, Ark., headquarters that stereotyped women as less aggressive than men translated into individual pay and promotions decisions at the more than 3,400 Wal-Mart and Sam's Clubs stores across the country.
"The decisions are informed by the values the company provides," Sellers said.
Justice Antonin Scalia said he felt "whipsawed" by Sellers' description. "Well, which is it?" Scalia asked. Either individual managers are on their own, "or else a strong corporate culture tells them what to do," he said.
Theodore Boutrous Jr., representing Wal-Mart, said that the class-action nature of the case deprives the company of its legal rights because it is being forced to defend the treatment of women employees regardless of the jobs they hold, or where they work in the Wal-Mart chain.
"There is absolutely no way there can be a fair process here," Boutrous said.
He pointed to a group of at least 544 women who serve as store managers who "are alleged to be both discriminators and victims."
Justice Ruth Bader Ginsburg said that at this stage of the lawsuit, the issue is not proving discrimination, but showing enough evidence to go forward. "We're talking about getting a foot in the door," Ginsburg said, a standard she called not hard to meet.
The 78-year-old justice, who made her name by bringing discrimination claims, said it was possible that Wal-Mart could refute the claims at a trial.
But several of her colleagues appeared to agree with Boutrous that even subjecting Wal-Mart to a trial would be unfair.
A decision should come by summer.
The case is Wal-Mart Stores Inc. v. Dukes, 10-277.