Couple says 'I Do' in parking lot after bomb scare clears courthouse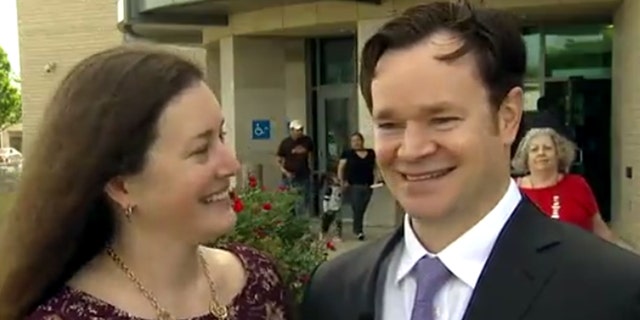 NEWYou can now listen to Fox News articles!
Not even a bomb scare could keep this Texas couple from saying "I Do" on their wedding day.
Andrea and Matthew Smith exchanged vows in the parking lot of a sub-courthouse in Arlington after it was evacuated Wednesday over a suspicious package.
"We look at life as we roll with the punches," Andrea Smith told Fox 4 News. "So this just this just adds to our story. Making memories."
The couple was scheduled to be married by a justice of the peace inside the building, but when they arrived on April 11, which Andrea said was their "three-year anniversary," they noticed people streaming out its doors.
"We didn't know if they were jurors or if they were employees. We didn't know if it was a bomb threat or a fire. We didn't know," Matthew Smith told Fox 4 News. "We just thought we'd stay here until midnight and kind of see what happens."
A green suitcase that was placed behind a trash can on the property was determined by police to be no threat, but they didn't want to take any chances following a string of recent package bombings in Austin.
The couple ended up getting married under a tree outside, and the bonus, according to Andrea, was that "all of the people who were out here in the parking lot became our family and friends and witnesses.
"It was great seeing two people having so much fun with a very unique situation," Justice of the Peace Judge Mary Curnutt told Fox 4 News. "And I think they actually enjoyed it more than they would have in a very quiet courtroom."