Convicted Pennsylvania church official may get house arrest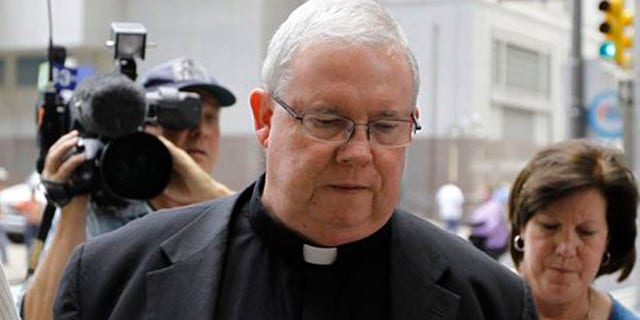 NEWYou can now listen to Fox News articles!
PHILADELPHIA – A judge indicated Tuesday she might release a convicted Roman Catholic monsignor to await sentencing if the Vatican will agree not to harbor him in the event he flees to Rome.
Monsignor William Lynn, the first U.S. church official prosecuted for his handling of child-abuse complaints, was convicted last week of one felony child endangerment count for his role in the cover-up of complaints at the Philadelphia archdiocese.
Common Pleas Judge M. Teresa Sarmina considered his request Tuesday for home detention while he awaits sentencing but ordered him to remain jailed, pending a July 5 court date when she will reconsider the request.
Lynn, 61, faces about 3-1/2 to seven years in prison when he is sentenced Aug. 13. His lawyers insist he is not a flight risk and want him released on house arrest until then. He surrendered his passport to the court Tuesday.
"He doesn't want to go to France. He doesn't want to go to Spain. He doesn't want to go to the Vatican ... He just wants to go back to St. Joe's Parish in Pennsylvania," defense lawyer Tom Bergstrom said after the hearing.
But prosecutors urged the judge to keep Lynn in jail, offering up a news story that said that 35 Roman Catholic priests have fled during criminal cases. Most apparently fled before trial, often to their native country, Sarmina noted.
The jury convicted Lynn of endangering a victim of now-defrocked priest Edward Avery, who is now in prison after admitting he sexually assaulted an altar boy in church in 1999. Lynn knew Avery had been credibly accused of abuse years earlier. As secretary for clergy, Lynn had him sent for sexual-offender treatment, but knew he was later sent to live in a parish.
Lynn appeared in court Tuesday, wearing a black shirt and trousers but not the religious collar he sported for the three-month trial. He offered his relatives a slight smile, but otherwise did not show any emotion.
Defense lawyer Jeffrey M. Lindy called it preposterous to think the Vatican would harbor Lynn, given the near-silence from the church since his arrest last year, when he was put on leave and lost his post running a large Downingtown parish.
"He hasn't heard from the archdiocese, let alone the Vatican, so how is it possible that anybody in the Vatican would help him out?" Lindy said.
The archdiocese has paid for Lynn's defense, however.
Lynn's lawyers propose that he live with a member of Lynn's extended family in northeast Philadelphia while on house arrest.
Sarmina had revoked his bail after the verdict Friday and sent him to jail. She warned Lynn on Tuesday that he would give up his appeal rights if he flees. The monsignor pledged not to fight extradition from the Vatican or anywhere else.
The judge said she also would double his bail to $100,000 if she releases him.
Defense lawyers hope to overturn Lynn's conviction on appeal.
The jury acquitted Lynn of two other charges, a second endangerment charge and conspiracy. He worked at archdiocesan headquarters from 1991 to 2004, most of it under Cardinal Anthony Bevilacqua.
In Missouri, another church official has been charged. Bishop Robert Finn of the Diocese of Kansas City-St. Joseph is scheduled to be tried on misdemeanor failure to report suspected child abuse in the case of pornographic photos of children found on a priest's laptop.