Confederate statues in North Carolina must come down, protesters say
One month after the Charlottesville attack, the fate over confederate statues continues to draw controversy in North Carolina.
On Monday, dozens of people showed up in Wilmington, N.C. to rally for the removal of all Confederate monuments in the city.
"The wealth of the confederacy was built on the backs of human slavery," said Sonya Patrick, the rally organizer, according to WWAY 3.
The protest comes in the wake of the violence in Charlottesville, Va., which prompted North Carolina Gov. Roy Cooper to demand on Aug. 15 that Confederate monuments be taken down throughout the state.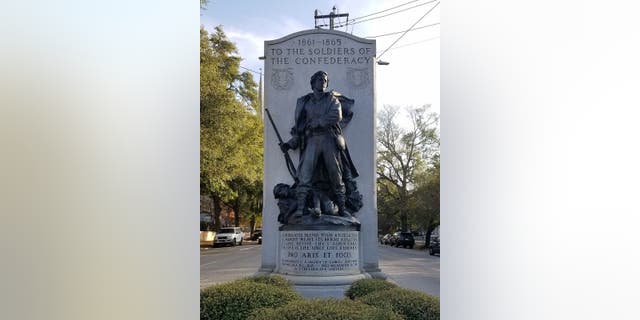 Cooper, a Democrat, asked the legislature to repeal a 2015 law that prevents the removal or relocation of the monuments and asked the Department of Natural and Cultural Resources to find potential alternative locations for them.
Civil War re-enactors have decried efforts to remove the statues. But protesters in Durham took matters into their own hands last month by toppling a large Confederate statue and posting the video online, which prompted the arrest of four people on felony charges.
WHICH CONFEDERATE STATUES WERE REMOVED? A RUNNING LIST
On Monday, rally attendees said they felt the statues represent pain and oppression rather than history and heritage.
"Would you want a Hitler monument to stay?" asked Patrick. "I think it is a moral issue, and I would think that person would have little regard for humanity because the worst form of humanity was slavery in this country."
The group silently reflected on the violence in Charlottesville, which led to the death of a woman protesting against white supremacy.
"I feel like as a white person, I need to stand up, show up, be there, to move America forward," Sandra Leigh told WECT.
Patrick also said the statues are traffic hazards and need to be put in more appropriate locations.
"If the Daughters of the Confederacy, if they had a lot or somewhere they want to take those, that would be great --  or maybe Fort Fisher," Patrick said, "But not where I spend my tax dollars."
HOW DO YOU MOVE CONFEDERATE MONUMENTS? VERY CAREFULLY
Leigh said the monuments have no place in Wilmington and should be melted down and turned into new statues to honor the "true heroes of this country."
Weeks ago, vandals defaced some of the city's monuments.