Christmas Tree for U.S. Capitol on Way From California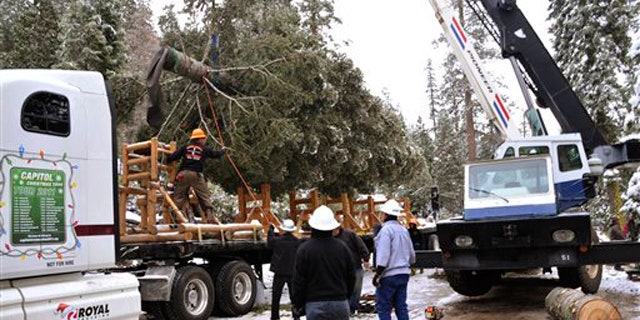 A 65-foot white fir tree selected as the U.S. Capitol Christmas tree was cut down and removed from a picturesque setting in the Sierra Nevada mountains on Saturday, then loaded on a truck for a 4,500-mile journey from Northern California to Washington, D.C.
When crews arrived at the tree Saturday morning they found it covered in snow, said Jeff Crider, a spokesman for U.S Capitol Christmas Tree Tour, a nonprofit project overseen by the U.S. Forest Service.
The Stanislaus National Forest tree was selected based on its shape and fullness and color, officials said.
Work crews will box it up on Sunday, with a portion encased in Plexiglas so that people can view it during its upcoming nationwide tour. A bladder bag attached to its base will be filled with water on a daily basis to keep the tree fresh, Crider said.
The tree is scheduled to arrive in Washington, D.C. on Nov. 28, with a lighting ceremony at the front of the U.S. Capitol on Dec. 6.
It will be decorated by 5,000 ornaments handmade by California residents, and House Speaker John Boehner and a child from California will light it.