Cashier who stole $13 million at work gets 8 years in prison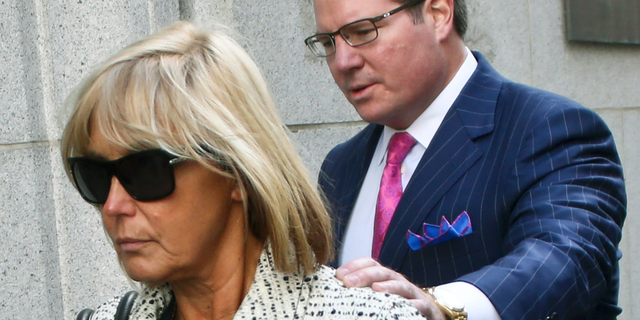 PITTSBURGH – A cashier convicted of stealing nearly $13 million from the monuments and engraving firm where she worked has been sentenced to just over eight years in prison.
Cynthia Mills, who's 56 years old, took the money from Matthews International Corp. from 1999 to 2015. She pleaded guilty in March to mail fraud, wire fraud, tax evasion and money laundering.
The case is the largest embezzlement ever prosecuted in the 25 counties comprising the Western District of Pennsylvania, Assistant U.S. Attorney Shardul Desai told the judge. Investigators were unable to find bank records before 1999 to determine whether Mills stole even more money since she started working at the Pittsburgh-based company in 1981, Desai said.
Mills' attorney, Phil DiLucente, told the judge the thefts weren't driven by greed but by Mills' addiction to gambling at the Rivers Casino in Pittsburgh and The Meadows Racetrack & Casino in nearby Washington County, where he said the bulk of the money was lost.
As part of Mills' plea deal, which included the eight-year, four-month sentence imposed Thursday, Mills agreed to forfeit three homes, a yacht, two other boats, at least eight cars and other items including jewelry and expensive designer handbags bought with the stolen money.
But Desai told the judge the casinos weren't even open when Mills began stealing the money: Rivers Casino opened in 2009, and The Meadows casino opened in 2007.
"This theft didn't start with gambling," Desai said. "This theft started with greed."
Mills' original plea deal called for 7 1/2 years in prison, but Desai held out for more when prosecutors learned just days before her originally scheduled sentencing last month that she had hidden 14 pieces of jewelry and two Louis Vuitton handbags instead of forfeiting them.
Mills told the judge, "I stand before you a broken woman." She then blamed her crimes on being "unappreciated daily by my superiors" at Matthews.
A company representative didn't address the court, but Desai argued Mills was fairly compensated and was rewarded with raises and promotions to an important position of trust.
"She utilized that trust to deceive them," Desai said.
As cashier, Mills' job was to deposit checks made out to Matthews and to make wire transfers to pay the company's vendors. While she did that, she also moved money from company accounts into her own bank accounts, then covered up the thefts by forging bank statements and creating fake invoices, Desai said.
Mills' now-estranged husband, Gary Mills, has been charged with filing false joint income tax returns for 2012, 2013 and 2014. Prosecutors contend the tax returns failed to account for money his wife stole during those years.
But Gary Mills' attorney said he didn't know his wife was stealing from Matthews because she was funneling some money through her father's bank account to hide the thefts. She also showed her husband hundreds of gambling winning casino receipts making it appear she legally won a significant amount of money.