Car flees after hitting 2 children riding bikes in California
Authorities in Northern California are looking for a driver captured on surveillance video last month striking two children riding their bikes -- and then driving away.
San Jose Police said the incident took place Aug. 27, when a 12-year-old girl and 13-year-old boy were riding their bikes home and a car ran a stop sign, striking both of them.
"I'm in my garage with the doors closed and you could hear the screeching, and you could hear the sound of a crash," neighbor Wallas Cordozo told KTVU. "I actually thought it was two cars, that's what it sounded like to me."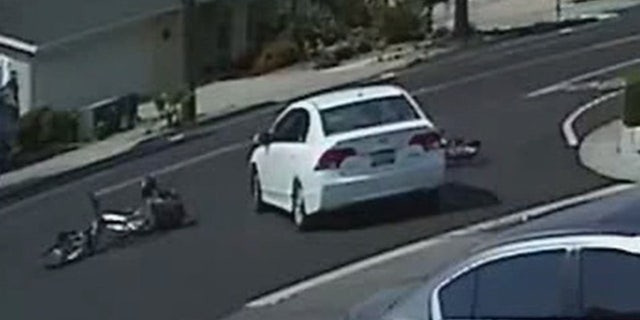 After sending the girl to the ground and boy flying on the hood of the car, police said the driver backed up, stopped briefly and fled with two passengers.
WOMAN GIVES BIRTH TO TWINS HOURS AFTER TERRIFYING CRASH IN NEW MEXICO THAT LEFT 8 DEAD
The girl, who asked to not be identified, told KTVU that a passenger in the Honda waved and said "sorry" as the car sped away from the scene. San Jose police said the three people in the Honda would face charges for felony hit and run.
"Confess. Come forward. Face the consequences. Do the right thing," the girl's mother told KTVU.