California shooting: Second video shows suspect punching officer prior to gunfire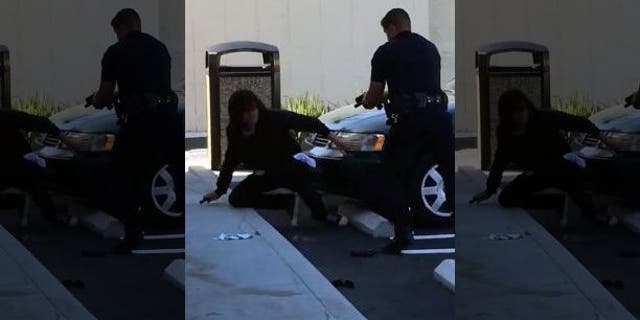 A second video emerged Saturday from Friday's police-involved fatal shooting outside a convenience store in Southern California.
The new video, posted on Facebook and YouTube on Saturday, appears to show the still-unidentified suspect throwing punches at a police officer during a physical confrontation, prior to the gunfire.
The video shows the officer appearing to shoot the suspect with a stun gun after the suspect refused to comply with an order to sit down. Seemingly unfazed by the stun gun, the suspect then charges at the officer and appears to repeatedly punch him before being wrestled to the ground.
While on the ground, the officer can be heard shouting, "Let go of my gun!" although it doesn't appear that the officer ever lost control of his weapon during the scuffle.
The deadly shooting occurred Friday morning outside a 7-Eleven store in Huntington Beach, in Orange County, south of Los Angeles. The store is located across the street from a high school, the Orange County Register reported.
The clip shows the suspect grabbing something from the officer's belt while struggling on the ground, followed by the officer drawing his gun and backing away.
A previous video shows the suspect jumping to his feet and being almost immediately shot. The officer fires six rounds before shouting, "Get on the ground!," followed by a seventh round that sends the suspect stumbling backward and collapsing against a wall.
The officer can be heard speaking into his radio, saying, "The suspect is down."
Huntington Beach police Chief Robert Handy told reporters Friday that the case was "clearly an assault on an officer." The chief defended an officer's right to use deadly force if the officer believes his life is in danger.
"I don't know what preceded that assault -- we don't know that yet -- but clearly this person attacked our police officer, and I don't think that there's any way an officer is expected to not defend themself, and that includes a lethal force at times," Handy said.
Police offered few details regarding the initial encounter, but said the shooting was still under investigation. The name of the suspect has not been released.
Separately on Saturday, a police officer in La Verne, Calif., shot and wounded a suspect who refused to drop what appeared to be a weapon, police said. That suspect also injured a second officer who arrived at the scene, police said.
The Associated Press contributed to this report.