California campus begins to heal as questions swirl after stabbing attack
School is back in session, and students say the healing has begun, but questions continued to swirl Monday in the wake of an 18-year-old loner's stabbing attack at University of California-Merced.
Details have trickled out about the attack last Wednesday by Faisal Mohammad, including FoxNews.com's exclusive report Friday that a manifesto he carried included numerous reminders to pray to Allah and a pledge to behead one victim. Local authorities have ended their investigation, though the body of the freshman, who was killed by campus police, remained unclaimed, no one from his family has spoken publicly and the role his Muslim faith may have played in the attack remains murky.
"I met with the FBI Saturday night and turned over copies of all evidence we've collected to that agency and the UC Merced police department," said Merced County Sheriff Vern Warnke. "As far as any further investigation into any outside influence, the FBI will be handling that from now on."
"As far as any further investigation into any outside influence, the FBI will be handling that from now on."
None of Mohammad's four victims died in the attack. Two students, a female staff member and Byron Price, a 31-year-old construction worker who was credited with slowing Mohammad's onslaught, were injured as the computer science and engineering major slashed away with a 10-inch hunting knife, grinning demonically, according to witnesses. Only the staffer, who was stabbed outside the classroom as Mohammad fled, remains hospitalized, according to school spokeswoman Brenda Ortiz.
A backpack carried by Mohammad, who was shot and killed by campus police on a nearby bridge, contained zip-tie handcuffs and duct tape. Authorities later found two pages of handwritten notes on him, detailing his plans in oddly numbered order, according to investigators.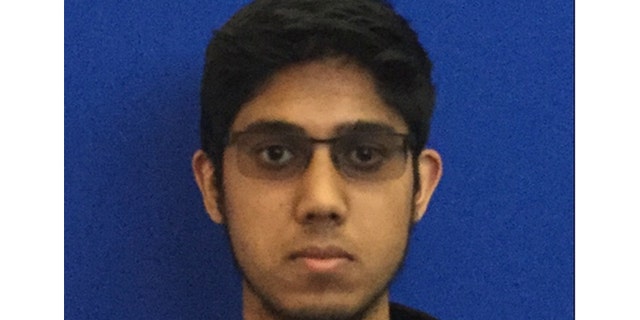 "No. 27 was to 'make sure people are tied down,' No. 28 was "sit down and praise Allah,'" Warnke said. "I remember seeing four or five times, scribbled on the side of the two-page manifesto, where he wrote something like 'praise Allah.'
"There was a gruesome statement he made about wanting to cut someone's head off," Warnke added.
Despite the religious references, law enforcement believes Mohammad was not a radicalized jihadist or that he attacked for any other reason than being kicked out of a study group, Warnke said. The explanation jibed with what the father of one student with friends in the study group told FoxNews.com.
A girl in the study group, whose boyfriend also was in it, rejected Mohammad's repeated advances. When the boyfriend became annoyed at Mohammad's persistence, he kicked him out, the student's father said.
Another student told FoxNews.com Mohammad was an extreme introvert who spoke to no one, rarely left his dorm room except to attend class and prayed five times a day.
Warnke said authorities have spoken with the parents of Mohammad, who was from Santa Clara, but did not say where they are. He said they have arranged to have a funeral home pick up their son's body.
School officials are still investigating the incident, including formulating a report on the use of deadly force by a campus police officer, who is reportedly a former sheriff's deputy.
"We have excellent plans in place for security, but there is a lot we can learn from this incident," said Ortiz. "We are still in investigation mod, but at some point will have a debriefing to review how we responded and if anything should change."