Calif. couple charged with molesting at least 10 children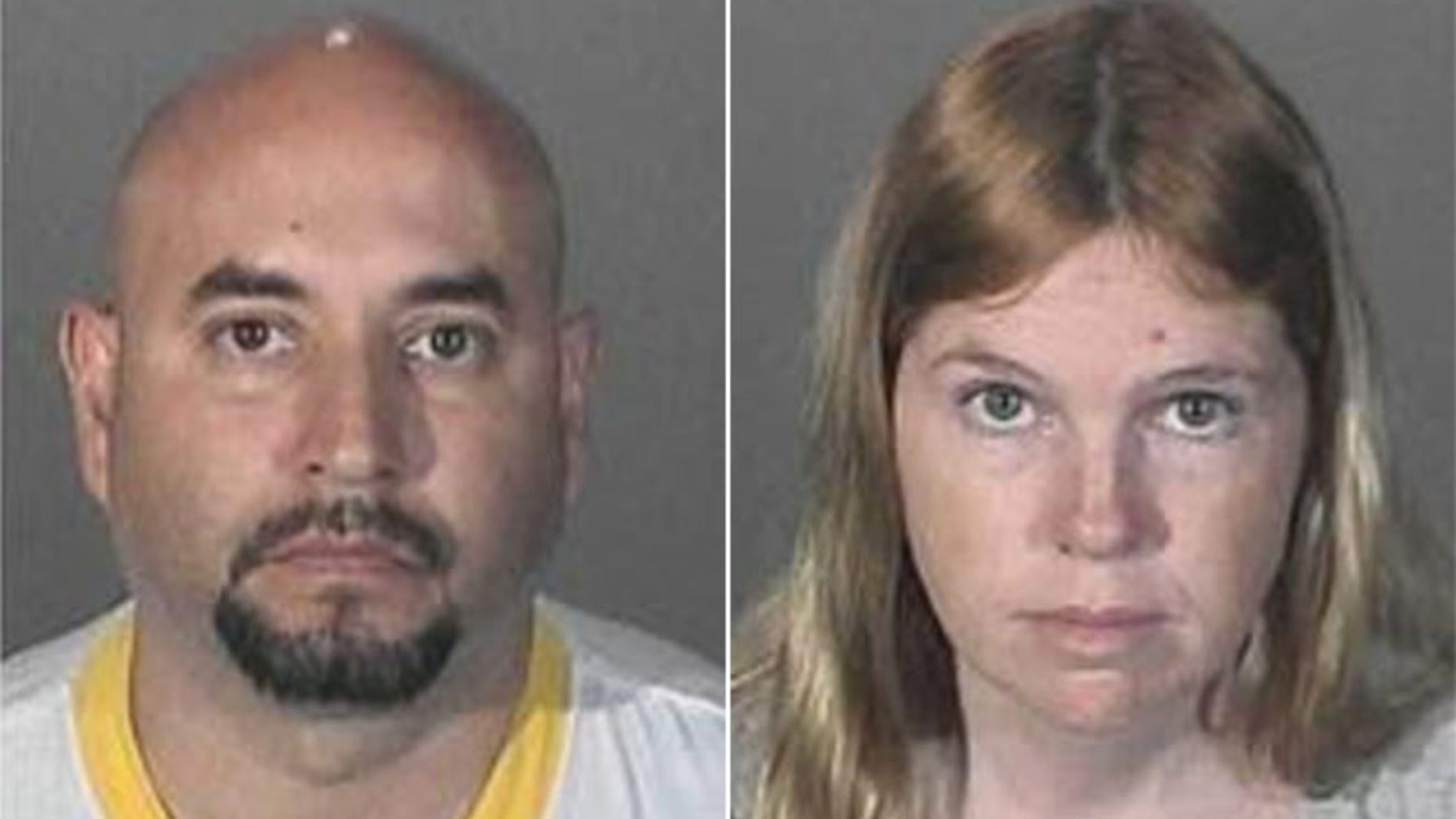 A Santa Clarita couple has been charged with molesting at least ten children, both boys and girls aged 3 to 17, and police fear there may be many more.
After an extensive investigation by the Sheriff's Department Special Victims Bureau, the suspects, Francisco Avendaño, 42, and his girlfriend, Jacqueline Wadsworth, 32, were arrested March 31 at their home in Santa Clarita, about 34 miles northwest of Los Angeles.
The Los Angeles County District Attorney's Office charged the couple with 12 counts of "lewd acts with a child." Both Avendaño and Wadsworth currently are in custody, with bail set at $2,020,000 and $220,000 respectively. They will appear in a San Fernando court, represented by their public defenders, on Friday.
"Based on information developed over the course of this investigation, detectives believe that there are other children that may have potentially been sexually assaulted by these suspects during the past 10 years," said Sgt. Brian Hudson of the Los Angeles County Sheriff's Department Special Victims Bureau.
"The suspects had access to the children because they were kids in the neighborhood and children of friends. We are concerned there may be additional children who have been abused that we are not aware of yet."
Detectives launched an investigation in March 2016 after the mother of a 12-year-old boy reported he'd been molested by the couple the previous December. The boy told police there were other children with him in the home at the time.
During the course of a decade, the suspects lived in three different locations in Santa Clarita including Newhall, Canyon Country and Castaic, and police believe children were assaulted in each of their homes. Hudson said it was difficult at this time to determine how many other victims might be out there.
"Based on interviews with the victims and witnesses, there were other children around when the abuse took place, and we believe there could be other victims that have not come forward," Hudson said.
The couple allegedly got private access to the children by playing games with them, including "7 Minutes In Heaven," Hudson said. In that game, two people go into a private area, such as a room or closet, to do whatever they want to each other for 7 minutes. In this case, police said the suspects allegedly took the children separately into another room and that's where the abuse took place.
It took years for the alleged abuse to be reported. Often children don't report sex abuse, Hudson said, because suspects threaten the children, promising to hurt them or their family members if they come forward. Also, victims are ashamed and may, at some point, only disclose the abuse in therapy sessions or with a parent. Child predators also are masters at grooming both their child victims and the children's parents, Hudson said, allowing them to continue their behavior.
Avendaño, a clerical staff employee at a Santa Clarita medical facility, has a number of vehicle code violations and property crimes on his record, but he has not spent time in prison, Hudson said, while his girlfriend, who is unemployed, has no criminal record.
Police searched the couple's home March 31, leading to their arrest. Formal charges were filed April 4, and an amended complaint filed April 11. The 12-count indictment does not disclose the full names of the alleged minor victims, calling them only by their first names, including Katherine O, Austin C, Jasmine O, Jose O, Jasmine R, Xochitl S, Maria S and Pedro P.
"We want to find any other children out there who have been victimized, identify them and assist them with getting justice," Hudson said. "Often times, victims of abuse can get on the road to closure by addressing their case, getting the resources they need, and holding the people accountable for what they have done."
The public can report any potential related sexual assaults by the alleged perpetrators by calling (877) 710-5273, or contacting "Crime Stoppers" at (800) 222-TIPS (8477) or through their website http://lacrimestoppers.org, Hudson said.
If found guilty of the charges, a spokesman for the Los Angeles District Attorney said Wadsworth faces a maximum sentence of 10 years, 8 months in state prison and Avendaño faces 135 years to life. They also face sex offender registration requirements and must submit to a blood test to determine whether they have AIDS.
Wadsworth's attorney, public defender Leslie Warren, was in court but unavailable for comment. A message left with the public defender about the case against Avendaño was not immediately returned.