Border Patrol stopping migrants before they reach ports of entry
EL PASO, Texas – U.S. Customs and Border Protection is stopping migrants at international bridges – before they reach ports of entry – in a move designed to expedite the border-crossing process.
The federal agency said it's taking a proactive approach to ensure arriving travelers have valid documents. The move comes as some ports of entry filled up and became so overwhelmed that it sometimes took days to process the migrants.
"When our ports of entry reach capacity, when their ability to manage all of their missions — counter-narcotics, national security, facilitation of lawful trade — is challenged by the time and the space to process people that are arriving without documents, from time to time we have to manage the queues and address that processing based on that capacity," said Roger Maier, U.S. Customs & Border Protection public affairs specialist.
But some critics called the move excessive and unfair.
The Border Network for Human Rights said the agency's tactic is blocking legitimate asylum seekers from reaching their point of entry.
"They were turning back people at the middle of the bridge before they reached…the installations of the immigration officers to formally ask for asylum or petition for asylum," said Fernando Garcia, Border Network for Human Rights executive director. "So, that was very problematic because we had, like, probably in one week close to 10 cases brought to us."
"They are looking for the American Dream, as other immigrants from Europe did in the 1800's and 1900's to Ellis Island. This is the new Ellis Island. This border represents the hope for many of those immigrants. I don't know why we have to treat them differently."
This enforcement started in early May, just a few weeks after President Trump instituted a "zero-tolerance" policy at the border to try and cut down on the number of illegal border crossers.
"The only response of this administration is to deport them all and to build walls—that is their immigration reform," Garcia said. "We believe that that is not the American way of doing it…I don't know why the administration is having these policies that are destroying families."
But, Maier said, port of entry facilities were not designed to be overrun with people seeking asylum.
"We are also charged with keeping the flow of legitimate trade and travel," Maier said. "Balancing these demands, keeping illicit goods and people out of the country, and managing the influx of Central Americans seeking asylum (along with everything else we do) requires a careful balance of our resources and space."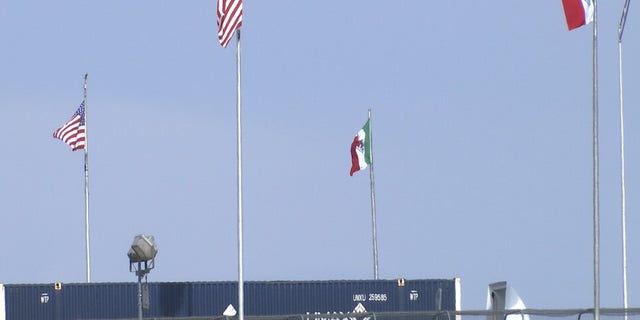 U.S. Customs and Border Protection officers are placed on all three international bridges in El Paso and other areas along the border, according to UPI.
Garcia said the officers should be used to process asylum petitions instead of being placed on bridges across the border.
"That is a very disturbing excuse that they don't have manpower, that they don't have resources," Garcia said. "I think it's disturbing what the administration is doing, turning away asylum seekers."
U.S. Customs and Border Protection said the placing of officers on bridges happened before, in 2016, when there was a surge of Haitians and others at border ports.