Best Field Trips of the Fall: Cool suggestions for fabulous autumn weekends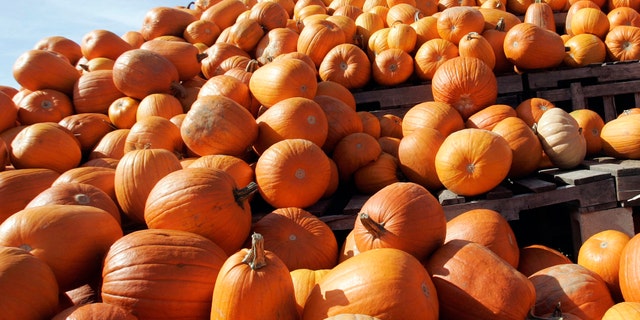 NEWYou can now listen to Fox News articles!
Whether your family likes leaf-peeping, taking cardio-boosting hikes, or firing up the oven to roast seeds and bake pies, fall begs us to put down the cellphone and pick up a rake, apple-picker, or just maybe a pumpkin-carving tool.
Most of all, it's about family.
Here are some amazing fall activities guaranteed to keep your entire gang active, engaged and energized.
Visit a Farm
Smolak Farms in North Andover, Massachusetts, is a fall playground for area families with a petting zoo, pumpkin patch, apple orchards, cider, doughnut made hourly, and hayrides to tour the farm, among other fun activities.
"Smolak Farm started out as an apple stand on the side of the road, and now here we are," Mike Smolak told LifeZette. His farm welcomed more than 14,000 visitors during one weekend this month.
Smolak's farm was started by his grandparents, who emigrated from Eastern Europe in 1927.
"They were in search of the American dream, and here, with the farm, they found it," Smolak said.
"Years ago, I came back to the farm for a few weeks to help my parents straighten things out," he said with a laugh. "Forty-one years later, I'm still trying to straighten things out!"
"There's no reaching for the phone here — except to take a picture of the kids or grandkids picking a pumpkin, maybe," Smolak said. "In the corporate world, people are forced to engage in team building. Here, we are offering family building, using the agricultural world!"
Take in a Renaissance 'Faire'
Renaissance fairs (or faires, if you use the Old English spelling) usually include costumed entertainers, musical and theatrical acts, jousting demonstrations, art and handicrafts for sale, perhaps a battle for "the queen's honor," and festival food.
Many Renaissance fairs are set during the reign of Queen Elizabeth I of England, and some are set earlier, during the reign of her father, Henry VIII.
Have a plate of fried dough and some grog, and expose the kids to a bit of history.
Michigan, Maryland, and New York are just three states that boast huge Renaissance fairs. Websites like renfaire.org list fairs state by state.
Go for a Hayride
Many farms offer hayrides, where families jump aboard and allow a tractor or a horse or two to pull them around a farm, ending up at a pumpkin patch.
Remind the kids that long ago not everyone had a car to jet around in. Every part of life was conducted at a much slower pace.
Be A-Maze-ing
Wander through a corn maze with your kids. Getting lost can be really fun. Except when you get really lost.
Several people have called 911 when stuck in the world's largest corn maze located at Cool Patch Pumpkins in Dixon, California.
"We have a good working relationship with the owner of the corn maze, so our dispatch finds him and he goes out and finds them," Deputy Daryl Snedeker of the Solange County Sheriff's Department told ABC News.
A maze can offer both physical and mental exercise for the puzzle-inclined.
Go Harvesting
Is there anything better than a pie or a crisp you've made from the apples you and your kids have picked? After you've picked the apples, wash, peel, slice and put into a pie crust.
Smolak Farms offers recipes on its website for many mouth-watering recipes starring the apple.
Carve Out Family Time
Pumpkin carving is a great way to harness creativity, and the seeds can be collected and washed for baking.
Kits with stencil patterns can be bought at drugstores for little money, or, try free-styling and create a goblin all your own.
Watch the knives, though — doctorgrabow.com advocates using pumpkin carving knives.
"Although the small saw knives in Pumpkin Carving Kits can cause injury, they are safer! They cause fewer and less severe injuries in comparison to kitchen knives which almost always cause cut nerves and tendons."
Don't 'Leaf' Me Alone!
Don't forget the time-honored activity of jumping in a pile of leaves. But like the Peanuts gang taught us, don't do it with a wet lollipop.
Having the kids help rake leaves into piles teaches persistence, and is pretty good exercise, too. Create a kids' raking schedule for a quick lesson in planning out cooperative teamwork.
Prep for Halloween
Knotts Berry Farm in southern California turns into "Knotts Scary" Farm Sept. 24 – Oct. 31, with 11 haunted attractions and more than 1,000 monsters, ghouls, and ghosts roaming the park and lurking everywhere.
For younger kids, the destination offers the Knotts Spooky Farm, a daytime event that is billed as a "non-scary celebration of cheer rather than fear" with shows and activities, according to its website. This offering is geared for kids ages 3-11.
Whatever the fall activity, fresh air and exercise is always a good fall family game plan.
"Every season has its magic," Smolak said. "We're enjoying the farm now, and starting to look forward to Christmas, when we sell our Christmas trees, and families come out all over again. This year, we are having the big dogs — Newfoundlands — pull Christmas trees to customers' cars in sleds and toboggans. We are always thinking of ways to foster a family's special times together."
More from Lifezette.com:
Infertile? Check with Mom: Her biological clock could provide clues to your fertility
Kids Hooked on Hookah: Flavored smoking hides the dangers of nicotine
Unexpected Blessings: One family's profound journey