Baltimore police officer dies responding to possible burglary; search underway for 'armed and dangerous' suspects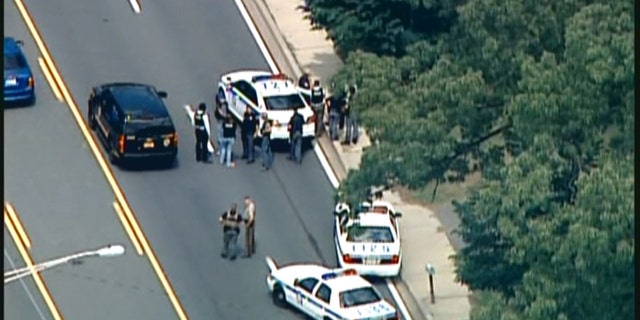 A Baltimore County, Maryland police officer died Monday after responding to a possible burglary, and officials say four suspects — believed to be "armed and dangerous" — remain at large.
Baltimore County Police Chief Terrence Sheridan said at a news conference Monday evening that around 2 p.m., a citizen dialed 911 to report a possible burglary with four suspects.
OFFICERS KILLED IN THE LINE OF DUTY IN 2018
The deceased officer, who has not yet been identified, responded to the scene in Perry Hall, where she was fatally injured. The four-year veteran of the force, whose life was "unfortunately cut short," was transported to a nearby hospital and prounced dead at 2:50 p.m.
Witnesses in the neighborhood reported hearing a pop sound and seeing the officer run over by a Jeep.
Tony Kurek told The Associated Press that his son, who was in the family's yard, saw the officer with her gun drawn and confronting the suspects in the vehicle.
"The next thing he heard was a pop, and he saw the Jeep take off and run right over her," he said.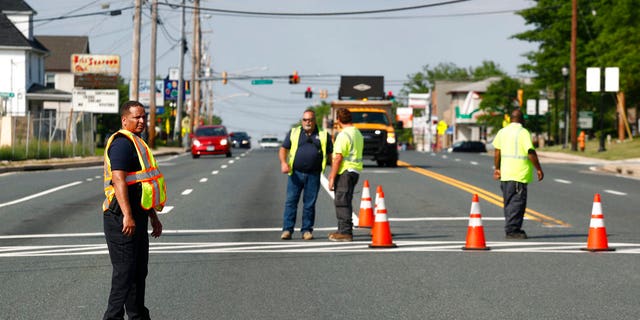 The police chief said that Americans are "seeing something in this country we've never seen before."
"Officers who have died at the hands of gunshots is up," Sheridan said. "This is a bad time in the United States for law enforcement."
"We are deeply saddened to learn of the passing of a Baltimore County Police Officer after she was shot in the line of duty today," Maryland Gov. Larry Hogan tweeted following early reports of the incident. "Our prayers go out to this brave officer's family, @BACOPoliceFire, and the Baltimore County community."
Three elementary schools in the area remain on alert status, and county officials advise that local residents in the area shelter in place. It's unclear whether the suspects are traveling by vehicle or on foot.
The Associated Press contributed to this report.