Balloon fiesta grounds pilots a day after power line crashes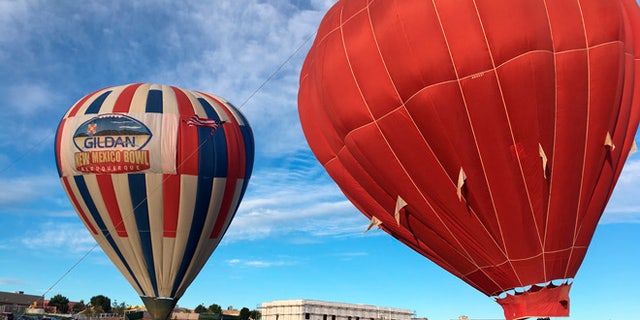 ALBUQUERQUE, N.M. – High winds forced Albuquerque balloon fiesta officials to ground pilots Monday, a day after two balloons hit power lines, knocking out electricity to hundreds of residents and with one sparking an explosion.
The National Weather Service said parts of New Mexico would be under a wind advisory throughout the day.
On Sunday, the "Outlander" alien-themed balloon hit a line and knocked out power for about 1,200 residents. The crash sparked a small explosion. Public Service Co. of New Mexico crews had to cut the gondola from the balloon to rescue the pilot and passengers.
"I thought it was just going to go up in flames, but it didn't. Thank God," witness Allen Escobar told KOB-TV in Albuquerque (https://goo.gl/t3dQPs).
No one was injured. The only damage appeared to be a hole in the balloon, officials said.
Just south of that crash, officials say, a balloon landed on another power line and one person was injured during a rescue. A photo released by Albuquerque police showed a balloon hanging from a power line.
The 45th Albuquerque International Balloon Fiesta began Saturday and is expected to draw close to a million visitors to central New Mexico. The event ends Sunday.
In 2013, the New Mexico Sunrise balloon hit a power line in Rio Rancho, injuring the 66-year-old crew chief and two passengers.
And in 2004, the "Smokey Bear" balloon struck a 50,000-watt radio tower. Two young passengers and the 69-year-old pilot were forced to climb down 60 stories to safety as a breathless audience cheered on below. The three were not physically injured.