Authorities: Calif. man facing charge of starting AZ fire, crews brace for strong winds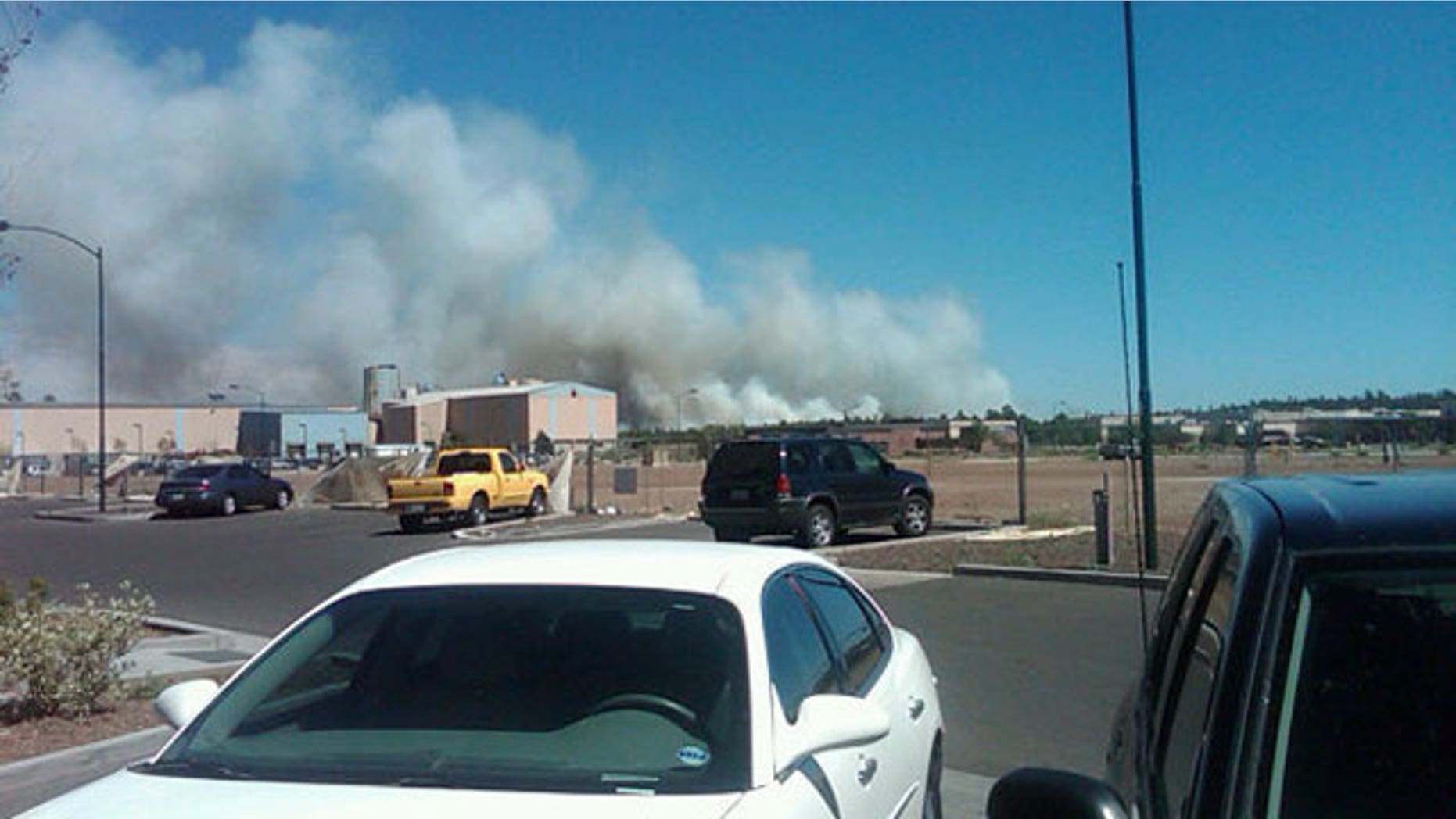 FLAGSTAFF, Ariz. – FLAGSTAFF, Ariz. (AP) — Authorities say they have arrested a California man and charged him with starting a 350-acre wildfire burning near downtown Flagstaff that prompted evacuations of homes and a hotel.
Flagstaff city spokeswoman Kimberly Ott says 54-year-old Randall Wayne Nicholson is facing a charge of burning of a wildland, a misdemeanor. Ott says no hometown was listed for him.
Ott says investigators believe Nicholson was camping in the area where the fire started and built a small fire Saturday for either cooking or making coffee. Ott says Nicholson is believed to have dumped hot coals from his campfire underneath an open grill on the ground.
Nicholson is being held on a $2,500 bond.
THIS IS A BREAKING NEWS UPDATE. Check back soon for further information. AP's earlier story is below.
FLAGSTAFF, Ariz. (AP) — Firefighters braced Sunday for windy conditions as they battled a 350-acre wildfire burning near downtown Flagstaff that prompted evacuations of homes and a hotel, officials said.
Crews were able to establish a perimeter around the fire, mop up some hot spots and protect structures overnight, but Coconino County spokeswoman Joanne Keene said fire officials have not declared any part of the blaze contained.
"The winds are expected to pick up and the latest I've heard is about 30 mph so we're concerned about that," she said.
The fire broke out Saturday afternoon near the popular Little America Hotel and sent smoke through parts of the city and caused traffic to back up on Interstate 40. The blaze quickly worked its way up the hill and threatened homes in two neighborhoods.
The hotel was briefly evacuated. Evacuation orders for 170 homes remained in place Sunday and the Fox Glenn Park and a portion of the Flagstaff urban trail were closed Sunday as a precaution, Keene said.
Authorities said no homes or buildings had been burned.
More than a dozen families checked into a temporary shelter at a middle school, American Red Cross spokeswoman Kelli Young said. Sixty animals from the Coconino Humane Society were moved to another shelter north of town.
Authorities questioned a man who started a campfire in the area where the fire is believed to have been started. There was no evidence tying the man to the fire, but police said they haven't ruled him out.
Keene said crews planned to continue building containment lines around the fire Sunday. Heavy tankers and three aircraft were on standby in case ground crews needed help, she said.
"We're watching it and we're hoping for the best," Keene said.
Fires also had crews busy Sunday near Williams, Ariz., and in Colorado and New Mexico.
Rick Ochoa of the National Interagency Fire Center in Idaho said officials had anticipated a much bigger fire season in the northwestern part of the country, but a series of moisture-bearing storms in the region lessened the fire activity at higher elevations. He said the opposite has been true in the Southwest.
"The Southwest had a wet winter and then the spring turned dry. Because we've had all of these storms up in the northwest, that's brought a lot more wind to the Southwest, so the combination of a dry and windy spring has increased the fire potential quite a bit in the Southwest," he said.
Ochoa said Arizona, New Mexico and Colorado will have to be careful over the next month, at least until the monsoon season brings more moisture to the region.