Austin shooting suspect Stephen Broderick is caught, reports say
Stephen Broderick taken into custody
Police in Texas have arrested the former sheriff's detective accused of shooting and killing three people Sunday in Austin, reports say.
Stephen Broderick, a former Travis County Sheriff's Office detective who had been charged with raping a 16-year-old girl last summer, was taken into custody Monday morning after two callers reported seeing a suspicious person walking along the side of U.S. 290, FOX7 Austin reports.
This is a breaking news update. Previous story below...
A massive multi-agency manhunt including the FBI and U.S. Marshals continued Monday morning stemming from a shooting on Sunday in Austin, Texas, and an armed former sheriff's detective is wanted for killing at least three people near an apartment complex.
Austin police said the victims were two Hispanic females and one Black male.
The suspect was identified as Stephen Nicholas Broderick, a former Travis County Sheriff's Office detective who was charged with raping a 16-year-old girl last summer, officials said.
Austin's KXAN, citing an arrest affidavit, reported last June that the ex-detective was on administrative leave following an arrest for allegations of sexual assault.
U.S. Marshals arrested Broderick on June 6, three days after the teen accused him of assaulting her in a home in Elgin, Texas, the Austin American-Statesman reported.
Broderick reportedly spent 16 days in jail before he posted a reduced bail amount of $50,000. Court records reviewed by the paper indicate his wife filed for divorce and obtained an order of protection after his arrest which was a year after he received a promotion by the Travis County Sheriffs Law Enforcement Association.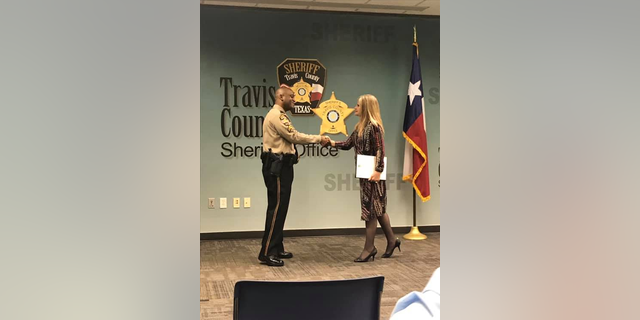 WHO IS INDIANAPOLIS FEDEX SHOOTER BRANDON HOLE?
The Austin Police Department said the suspect is considered armed and dangerous.
FBI agents on the scene were classifying the hunt as a "fugitive search."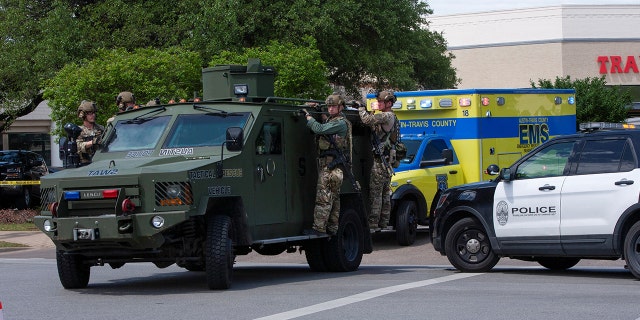 "We are concerned he might possibly take a hostage," interim Austin Police Chief Joseph Chacon said during a news conference earlier Sunday afternoon. Chacon went on to say he Broderick might be sheltered somewhere waiting for law enforcement to leave.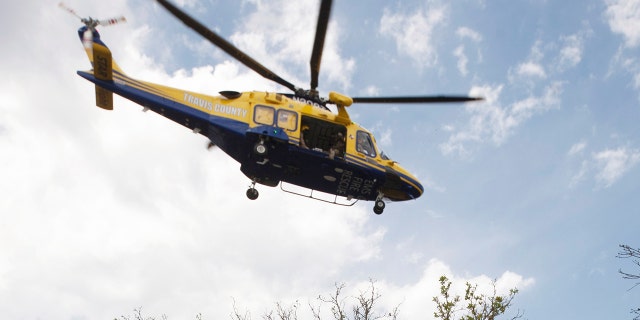 'IT HURTS US ALL': VIGIL HELD FOR EMPLOYEES SLAIN DURING FEDEX SHOOTING
Authorities say Broderick knew the victims but didn't elaborate. He also said a child was involved but that the child has been located and is safe.
Brenda Torres said she was driving by when she saw a little boy flag down a car and a Black man lying facedown on the ground.
"I saw the little boy point down the street," Torres said. "There was someone lying on the ground. I thought someone had just fallen down or something. As my light turns green and I'm driving, I see cop car after cop car after cop car rushing toward where I just was."
EMS spokeswoman Capt. Christa Stedman said the first 911 call came in at 11:44 a.m. and that three adults were fatally shot. She said she did not know the exact location where they were killed but that EMS responded to an area that included a strip mall and several retail stores with a large apartment complex behind it.
"#ATCEMS has 15 response assets on-scene. No reports of other patients at this time. All assets staged [and] prepared to enter into the immediate incident location," Austin-Travis County EMS wrote on Twitter earlier.
SEE PHOTOS:
Images from the scene showed a large presence of emergency responders, including dozens of police cars. There were also several ambulances and two SWAT trucks at the scene, and two police helicopters as well as a drone overhead.
The area includes a strip mall containing several retail stores and large apartment complexes situated near wooded rolling hills.
CLICK HERE TO GET THE FOX NEWS APP
Josh Katzowitz, who had been shopping at the nearby Trader Joe's, said police and ambulances came "pouring in" to the area as he was leaving. He didn't hear any shooting.
"The cops had their guns out," he said. "Some had pistols, some had rifles and they were strapping on bulletproof vests. There were all of a sudden ambulances, sirens and police cars There were cops coming from everywhere."
Police said a portion of a nearby highway would be shut down in both directions.
The Associated Press contributed to this report.