At Least 19 Dead in TX, OK Flooding; Pataki Throwing His Hat in the Ring for 2016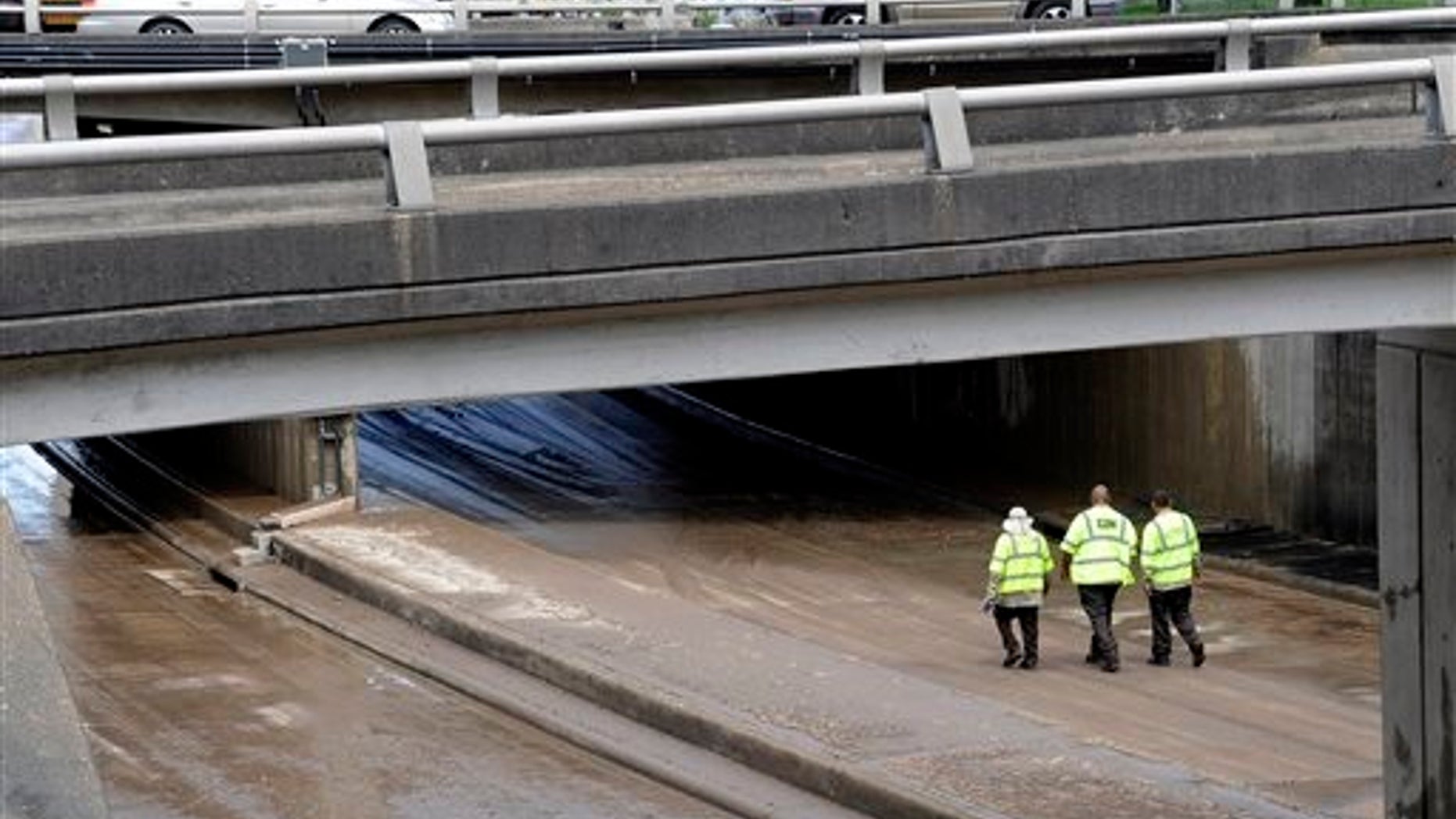 Texas and Oklahoma on high alert at this hour as more thunderstorms and rain are forecast through the end of the week. Days of rains and flash flooding have made a mess in Houston, Austin and other parts of Texas and parts of Oklahoma. 15 have died in Texas, and another 4 in Oklahoma. Some are still missing. As many as 1400 homes have been damaged, and at least 2500 cars. Will Carr reporting from Houston where parts of the city are expected to be flooded by the San Jacinto River. Evacuations are in effect. We'll also get an update on potential storms from Rick Reichmuth and Maria Molina.
President Obama is visiting The National Hurricane Center today and will again sound the alarm on global warming and climate change. Yesterday forecasters predictied 6-11 storms this Hurricane Season.
Los Angeles dealing with another oil mess. Just days after a pipeline spill dumped 100,000 barrels of oil on a beach near Santa Barbara, oil tar balls are washing up on several L.A.-area beaches. They've also found more of the oil spilled off the coast that could wash ashore soon. Jonathan Hunt reporting.
Former New York Governor George Pataki (out of office since 2006) will announce he's seeking the GOP nomination for President today at 11am at an event in Exeter, New Hampshire. We'll take his speech live.
Yesterday evening, former Pennsylvania Senator Rick Santorum announced he's running for President at an event in PA.
In a speech he sounded themes of income inequality which could be a big issue for 2016, "Working families don't need another president tied to big government or big money."
There's new 2016 polling out from the respected Quinnipiac University today. It shows no clear front-runner. Ben Carson, Marco Rubio, Scott Walker, and Jeb Bush all get 10%. Rand Paul gets 7%. Ted Cruz gets 6%, and Donald Trump gets 5%. Chris Christie gets 4%. Carly Fiorina and John Kasich both get 2%.
Interestingly only Rubio and Paul get anywhere close to Hillary Clinton in head to head matchups.
Whoops. The Defense Department accidentally shipped live anthrax virus to labs in nine states and a base in South Korea. Officials are recommending that four people working in three labs get preventative treatment for Anthrax exposure.. just in case.
The world of soccer is reeling today after 7 of its top officials were arrested on corruption charges. 14 men are named in indictments. It's believed bribes helped choose several cities for World Cup games. Russian President Vladimir Putin says it's a plot by the West to take the World Cup from Moscow and other parts of Russia in 2018. So far, FIFA's President hasn't been charged.