Astros great Berkman riles Houston mayor after making ad blasting LGBT law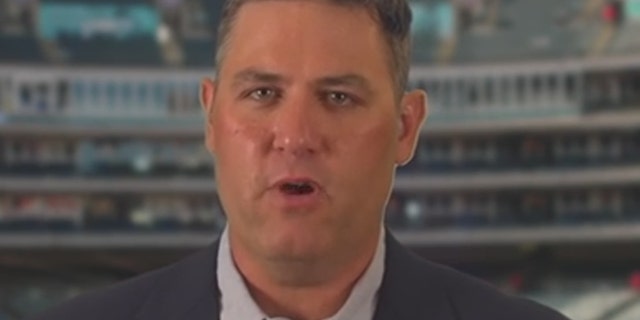 NEWYou can now listen to Fox News articles!
Just as the Houston Astros are making their first post-season appearance in a decade, one of the franchise's all-time top players has made an ad blasting the city's mayor over a proposal headed for the November ballot that would allow transgender people to use the public restroom of their choice.
Lance Berkman, who slugged 366 home runs for the Astros, Rangers, Cardinals and Yankees during a 15-year career, filmed a commercial for a political action committee working to defeat the Houston Equal Rights Ordinance when it comes up for a vote on Nov. 3. HERO would ban discrimination on a multitude of fronts, including sex, race, color and ethnicity. Those opposed to the law, however, have homed in on the protections it affords people who may identify as a different gender than the one they were assigned at birth.
"No men in women's bathrooms. No boys in girls' showers or locker rooms"
"I played professional baseball for 15 years, but my family is more important," the six-time All-Star says in the spot. "My wife and I have four daughters. Proposition 1 would allow troubled men who claim to be women to enter women's bathrooms, showers and locker rooms. It's better to prevent this danger by closing women's restrooms to men, rather than waiting for a crime to happen. Join me to stop the violation of privacy and discrimination against women.
"Vote 'No' on Proposition 1. No men in women's bathrooms. No boys in girls' showers or locker rooms."
The fate of the current Astros team, tied two games apiece with the Kansas City Royals in the American League semifinals, will be decided before voters cast their ballots. But the voice of Berkman, who was born in Waco and attended college in Houston and played for the Astros from 1999-2010, lends some local celebrity clout to his side of the cause.
Houston Mayor Annise Parker has been the primary force pushing back against Berkman and the Campaign for Houston PAC. Parker took to Twitter in early October to personally deride Berkman for participating in the commercials.
"When Lance Berkman went from NYC to STL to play ball did he do it to escape NYCs scary nondiscrimination law?" one tweet from Parker asked.
"Then Lance Berkman went to Dallas. Oops. Dallas amended its Charter to clarify gender identity protections. Can you spell hypocrite?" another mocked.
Parker, who is openly gay, has served as Houston's mayor since 2010 and has skirted controversy in the past in the name of LGBT rights. She tried, in 2014, to subpoena sermons from local priests who railed against the proposed HERO ordinance. The subpoena was eventually narrowed, but it still drew the ire of then-Texas Attorney General Greg Abbott, who called it "a direct assault on the religious liberty guaranteed by the First Amendment."
During a March profile in the Washington Post, Parker said she was "a gay and lesbian activist in my college days, so that's always been part of my acknowledgment of the world."
Campaign for Houston PAC spokesman Jared Woodfill told KHOU that Parker should apologize for her tweets about Berkman.
"She is using her high office to intimidate people that would stand against an ordinance that she supports," Woodfill said.
Parker posted a more refined position on her Facebook page.
"That someone who made his name in our city would inject himself into this debate by taking to the airwaves to discredit an effort to ban discrimination in all forms did upset me," Parker wrote. "This ordinance protects all Houstonians and his remarks diminished it to something trivial."