Arizona Teacher's Letter Reignites Immigration Debate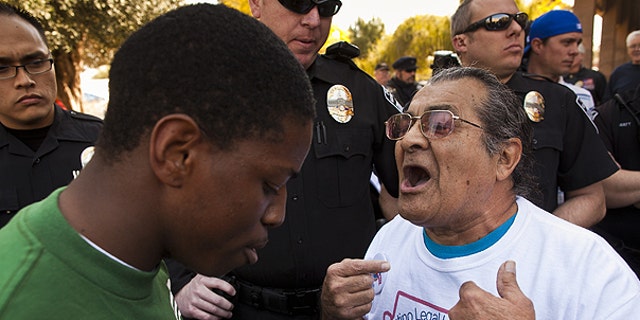 A substitute teacher's letter to Arizona lawmakers has reignited the state's immigration debate after he wrote that his Hispanic students hate America and just want to be gang members, MyFoxPhoenix.com reported Tuesday.
The letter by substitute teacher Tony Hill was read aloud Thursday as the state Senate considered one of five bills on illegal immigration. Hill wrote that a majority of eight-grade students who he taught recently at an unnamed Glendale school refused to say the Pledge of Allegiance and declared that "We are Mexicans and Americans stole our land."
Hill went on to write: "I have found that (in) substitute teaching in these areas most of the Hispanic students do not want to be educated but rather (want to) be gang members and gangsters. They hate America and are determined to reclaim this area for Mexico."
Democratic lawmakers have questioned the veracity of the letter, which was addressed to Senate President Russell Pearce and was circulated among Republican senators. Democrats called the writing offensive and questioned whether Hill was actually a substitute teacher.
Hill got his substitute teacher certificate from the state on Oct. 14, Arizona Department of Education spokesman Andrew LeFevre said Tuesday.
But officials with five regular public school districts that serve the Glendale area told The Associated Press that they had no record of an Anthony Hill or a Tony Hill working as a substitute teacher there in recent years. It's not known whether Hill taught at charter schools.
"It is hard to believe we would have a class that would behave in this manner, 8th graders. Show me an 8th grade class that behaves like this," Democratic Senator Steve Gallardo told MyFoxPhoenix. "Anyone who would have read this would have said it is nonsense."
"Until he is able to come out and tell us exactly where he taught, I am assuming it is false," said Democratic Sen. Steve Gallardo of Phoenix, who is named in the letter.
Hill wrote that the students' regular teacher left instructions for students to finish writing Gallardo to thank him for his position on immigrant rights. The letter also said most of the students mentioned in their letters to Gallardo that they were illegal immigrants and that white Americans were racists.
Republican State Senator Lori Klein read the bill during last week's hearing on immigration bills.
Several gasps could be heard in the Senate chamber after Klein finished, and Gallardo responded by defending children in two heavily Hispanic school districts where he's served as a school board member.
"They do not have dreams to be gang members," Gallardo told senators last week. "These are good kids."
The legislation, which dealt with health care, government benefits and everyday activities like driving, failed in Thursday's votes. On Tuesday, Gallardo said he believes Pearce distributed the letter in hopes of winning votes for the immigration bills.
"A teacher has a First Amendment right to express themselves, and we have an obligation to our citizens to keep them informed on what is happening in our schools," Pearce wrote, noting that Hill told him he stands by the letter.
Senator Klein said she will not apologize for reading the letter.
"If they are not there to be educated and just want to make political statements we have a problem," she told MyFoxPhoenix.
Klein said she doesn't believe all Mexican American students want to be gangsters, but that she thought the letter was based on Hill's experience.
Hill could not be reached by MyFoxPhoenix or the Associated Press for comment.
The Associated Press contributed to this report.
Click here for more on this story and to read Hill's letter at MyFoxPhoenix.com.