Arizona officials seize massive marijuana stash hidden in bell pepper load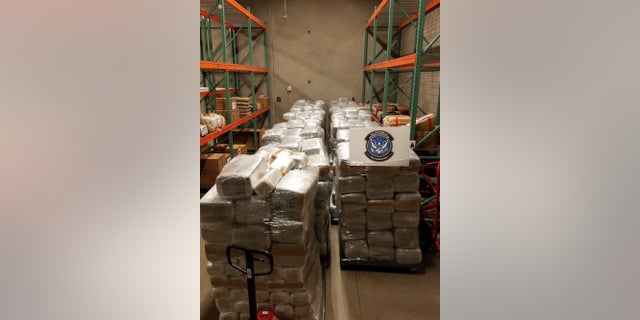 U.S. Customs and Border Protection officials discovered 13,700 pounds of marijuana hidden among bell peppers in a semi-tractor trailer at the U.S.-Mexico border on Saturday.
The marijuana, believed to be worth an estimated $6.8 million, was uncovered after the trailer truck underwent an inspection at the Mariposa Commercial Facility in Nogales, Arizona.
In a separate incident in Nogales on May 13, officers discovered more than 34 pounds of cocaine in the back seat of a truck. The drug was worth an estimated $386,000, officials said. Officers arrested the driver, a 29-year-old Mexican man.

DRUG BUST NETTING 7.9 TONS OF COCAINE DUBBED 'ONE OF THE LARGEST IN HISTORY'
The driver of the big rig holding the marijuana, described by officials as a 46-year-old Mexican man, was also arrested according to the Tucson Sentinel.

DUTCH POLICE DISCOVER LARGE QUANTITY OF SYNTHETIC DRUGS
The two men, drugs and vehicles are in the custody of the U.S. Immigration and Customs Enforcement's Homeland Security Investigations.
The Associated Press contributed to this report.