Arizona man impersonated cop, pulled drivers over, police say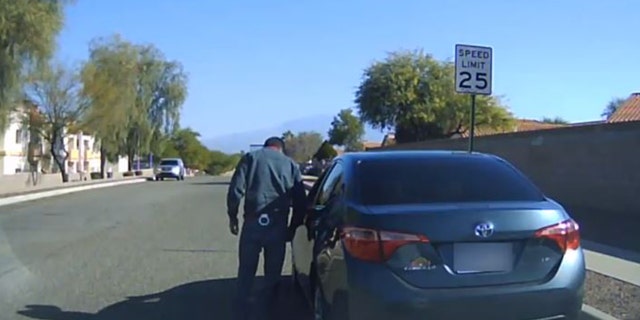 An Arizona man was arrested last week after he was caught impersonating a police officer and fooling drivers into pulling over and being searched, police said.
In a Facebook post Wednesday, the Tucson Police Department said officers responded to a "suspicious activity call" Dec. 19 where the suspect "stopped and searched three victims and handcuffed one of them."
The suspect, whose identity was withheld as authorities seek more victims, presented himself as an undercover cop and now faces charges of kidnapping and impersonating an officer, the statement said. Additional charges are pending, according to the statement.
Authorities said the man disguised his 4-door white sedan to mimic a police car, adding a visor that flashed red and blue lights as well as a dashboard camera.
In a video, the suspect is seen making several stops, searching people and even handcuffing someone.
In addition, the suspect had a "handheld scanner on his belt, a radio earpiece, and an expandable baton," according to the statement.
The suspect was located in Oro Valley, a town just north of Tucson and was being held at Pima County Jail.
Police were unsure if the suspect was involved in any prior criminal offenses.
The department said it deploys some officers in plainclothes and unmarked vehicles who sometimes conduct traffic stops, and encouraged people to call 911 if they believe they were stopped by an impostor.