Arizona man accused of kidnapping Utah teen and keeping her as his 'pet'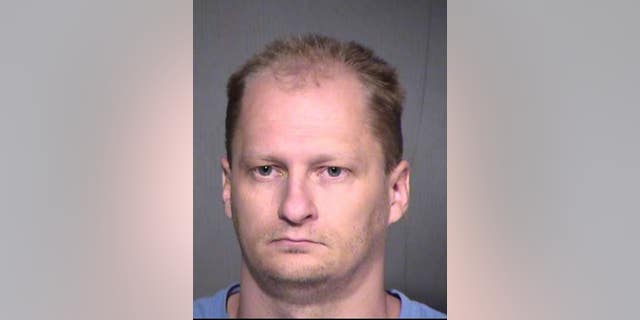 An Arizona man accused of kidnapping a teenager from her Utah home and keeping her as his "pet" was charged Monday with human trafficking.
Raymond Burk, 38, was charged by the Utah Attorney General's Office with "human trafficking of a child and aggravated kidnapping," FOX 13 Now reported. He already faced charges in Arizona.
Burk met the 17-year-old girl online in June 2016 after she "posted messages to an internet application stating she was depressed and wanted someone to pick her up," the station reported, citing a probable cause statement.
GIRL FORCED TO WATCH BOYFRIEND'S BRUTAL KILLING BEFORE SHE WAS MURDERED, TOSSED DOWN MINE SHAFT, PROSECUTORS SAY
"The man [Burk] told the child victim that he would take away her depression and she would be happy with him," statement said. "The man said he would take child victim to his house in Leeds, Utah, and have her home in two days."
The teen told Burk she was only 17 years old, but he said that's "even better." The suspect drove the girl's home in St. George on June 2, 2016 and picked her up.
The girl became nervous after she realized they were driving farther than Leeds.
"After about 45 minutes traveling with Burk, (the girl) became concerned. Leeds, Utah, is only about 30 minutes from St. George," the statement read. "Burk replied 'I lied. I live in Phoenix.'"
Burk told the victim "he was going to keep her as his 'pet' indefinitely." The suspect kept the teen at his home for more than a week, where he hit her after she told him she wanted to go home and sexually abused her. He is also accused of tying her to the bed when he would leave his home.
REPUBLICANS POUR MONEY INTO ARIZONA CONGRESSIONAL RACE TO PREVENT ANOTHER UPSET
"Burk told [the girl] she was not free to leave and should just lie there until he got home from work," the charges stated.
Burk is also accused of forcing the victim to have sex with a drug dealer in order to score marijuana.
"Child victim reported that Burk beat her and sexually assaulted her several more times before she was eventually able to escape. On one occasion, Burk transported child victim to his drug supplier's house and told her to have sex with the drug supplier so that they could get marijuana," the documents stated.
However, the girl was able to escape after she received access to Burk's phone and contacted friends on social media.
Burk was arrested in Arizona for "investigation of five counts of sexual conduct with a minor, one count of aggravated assault and one count of kidnapping," FOX 8 reported.
"The Utah Attorney General's Office is currently coordinating this prosecution with authorities in Arizona," FOX 8 reported, citing court documents.
Prosecutors in Utah wrote the charges are "also appropriate in Utah."