An American handbag company is changing the lives of U.S. military spouses everywhere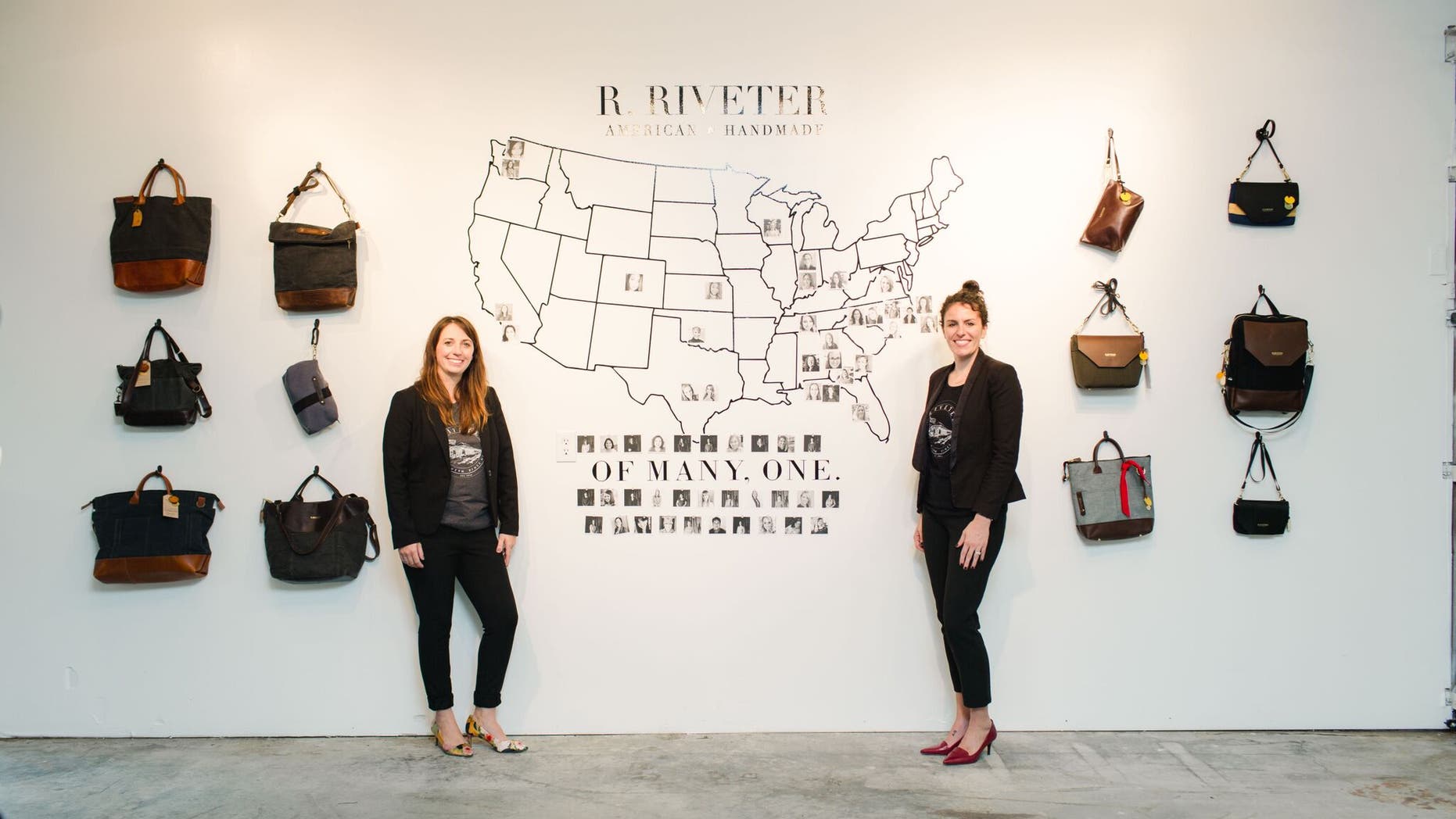 When Lisa Bradley and Cameron Cruse met in 2011, the two military wives shared a vision — to fight unemployment among military spouses by creating jobs themselves.
Nearly eight years later, their handbag company — started with $2,000 — is nothing short of an American success story.
Every stitch sewn into the meticulously-made leather and canvas handbags at R. Riveter provides a paycheck to a military family. The unique business model is aimed at helping the jobless rate among military spouses — more than triple the national average — by allowing employees to work from anywhere.
"We provide flexible, mobile income to military spouses around the country," said Cruse, who started the company with Bradley when both women — each with master's degrees — were struggling to find meaningful work in the small Georgia town where their husbands were stationed. Like other military spouses, Cruse and Bradley uprooted their lives every two years as they followed their husbands from base to base.
Not long after meeting at Camp Merrill Mountain Ranger School in Dahlonega, Ga., Cruse and Bradley founded R. Riveter -- named after Rosie the Riveter, a cultural icon of World War II representing the women who worked in factories and shipyards during the war. The business began as a two-woman show in the attic of Cruse's home, using some leather, canvas and a commercial sewing machine.
The company currently employs roughly 50 military spouses -- known as "riveters" -- and allows them to work from every corner of the country. Each riveter cuts and sews individual parts of the handbags from home and then mails them to the company's headquarters in Southern Pines, N.C., where they are assembled in a 5,000 square-foot warehouse near Fort Bragg. The finished products are finely crafted handbags -- some made from upcycled materials, such as retired uniforms, tents and wool blankets — and sold online and in R. Riveter's local flagship store.
"We had a vision of a decentralized manufacturing network," Bradley told Fox News. "Now we are this national network of military spouses. And the beautiful thing about this manufacturing model is that it's completely made in America."
"I've moved five times since I started the company," said Bradley, who now lives in Columbus, Ohio. "I've definitely put the mobile aspect of the company to the test."
A survey conducted by the U.S. Chamber of Commerce in May 2017 found that military spouses experience higher rates of unemployment than other adults. The survey showed the military spouse unemployment rate at 16 percent — four times the rate for all adult women. The study was based on a survey of 1,273 active duty military members and veterans.
"We wanted so much to be a part of the solution," Cruse noted.
After an appearance in 2016 on ABC's hit series "Shark Tank," billionaire Mark Cuban, owner of the Dallas Mavericks, invested $100,000 in the company, which saw sales increase from $300,000 to $2.4 million.
Now, a third of every dollar spent on the company's merchandise goes to a military family in need — a detail that caught the attention of Karen Pence, wife of Vice President Mike Pence, who visited the North Carolina factory on Nov. 2 and lauded the company for creating a business model that "allows [military] spouses to work for them no matter where they live in the U.S.
Everything about R. Riveter is American — from its workers and materials to the inspiration behind its product names. In July, the company named its new backpack after Margaret Corbin, one of the first women to fight in the American Revolution — and later the first woman to receive a life-long pension from Congress, making her the first female veteran of the United States.
"We couldn't think of a better namesake for the first backpack in our line than Margaret Corbin," said Bradley. "As with all our products, we want the women who carry our bags to feel like they're not only getting a stylish and high-quality accessory, but that they feel inspired and empowered by the stories of the women for whom they are named."
"Our goal is for the legacy Margaret Corbin left behind to inspire bravery, confidence, and adventure in each and every person who carries the Corbin handbag," she said.