Amtrak signal issues create headaches for Boston commuters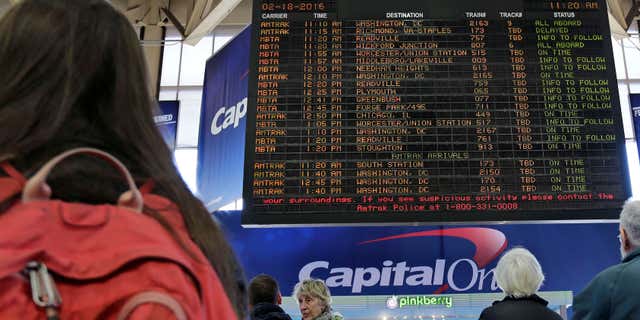 The Massachusetts Bay Transportation Authority (MBTA) warned commuters early Friday to expect further delays and be prepared to take alternate routes after a damaged Amtrak signal snarled train traffic on Thursday.
Passengers on commuter trains from west and south of Boston were forced to get off of trains at outlying stops before South Station and transfer to rapid transit lines or walk the remaining distances to their destinations Thursday. The damaged signal forced Amtrak to operate track switches manually.
Amtrak reported delays of 30 minutes to 2 hours on some trains departing Boston for destinations in the Northeast Corridor, including New York, Philadelphia and Washington. MBTA officials said that Franklin and Providence/Stoughton lines would continue all the way to South Station, but six other lines will fall short of their destination. Officials urged commuters to check the transportation authority's website.
Massachusetts Gov. Charlie Baker was extremely unhappy with the commuter delays, expressing his frustration in his monthly radio spot.
"I'm just waiting for somebody who looks like they deserve to be strangled," Baker, a Republican, said during his "Ask The Governor" segment on WGBH-FM.
Many commuters expressed similar frustrations to The Boston Globe Thursday.
"It's a disgrace," Paula Doran, 50, of West Roxbury, told The Globe. "It's shameful. The weather is beautiful and we're already having issues."
Linda Constantine said she was worried about getting home to Franklin in time to pick up her children.
"I left a little early, because I thought it might be crowded," she said. "But, oh, my God, I didn't expect this."
A spokeswoman for Keolis, which operates the 394-mile commuter rail network under a contract with the MBTA, apologized to passengers while noting the problem was with equipment operated by Amtrak.
Amtrak spokesman Mike Tolbert didn't offer an explanation as to what the problem was with the signal. He said Amtrak was still looking into it.
"We're working as hard and as fast as we can" to resolve the issue, Tolbert said.
Baker said on the radio that a crashed tower caused the signal to short out, according to The Globe.
The Associated Press contributed to this report.