All clear at Statue of Liberty following security scare, evacuation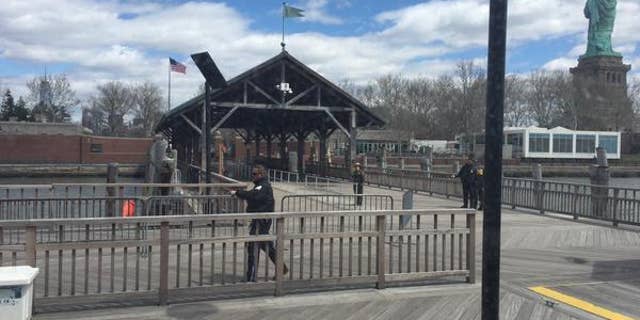 An anonymous caller threated to blow up the Statue of Liberty Friday, triggering an evacuation of the national monument and Liberty Island before police declared the site all clear.
A 911 caller made the threat late Friday morning, "stating they were going to blow up the Statue of Liberty," the National Park Service said in a statement.
Federal police, including two canine units, investigated and the dogs found "an area of interest" in a locker area at the statue's base, the agency said. Law enforcement then decided to evacuate the island.
Nothing harmful was found in the lockers, according to New York Police Department spokesman Steve David, but the bomb squad continued sweeping the area Friday afternoon as a precaution.
John Blount, of Allentown, Pa., was in the statue's crown, chatting with a park ranger.
"All of a sudden he got a call on his phone," Blount told the Associated Press. "He said 'OK', looked up and said, 'It's time to leave.' We had just made it up there."
He said it was a very calm evacuation down. They got on a boat, and "we were just floating around out there for the past hour and a half."
His wife's purse was in a locker; they had to leave without reclaiming their property.
The National Park Service, which oversees the statue and the island, did not respond to phone and email requests for comment.
Tourists at the popular site tweeted photos of throngs of people waiting to board a ferry to leave Liberty Island during the evacuation.
"Liberty Island will reopen to the public tomorrow," National Park Service spokeswoman Mindi Rambo said in a statement.
Click for more from MyFoxNY.com
The Associated Press contributed to this report.