Alaska plane crash was a suicide, family spokeswoman says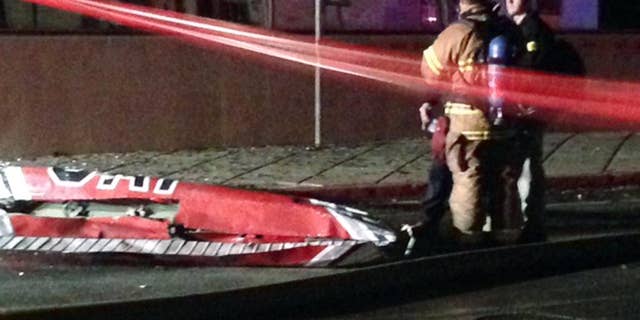 A spokeswoman for the family of a man whose plane clipped one building before crashing into another in Alaska said Friday his death was a suicide.
There's no reason to think that Doug Demarest was trying to harm anyone but himself, Jahna Lindemuth said. Demarest, 42, was flying a plane owned by the Civil Air Patrol Tuesday when he clipped the building in downtown Anchorage that houses the law firm where Lindemuth and Katherine Demarest, his wife, work. The plane crashed into an unoccupied commercial building.
Demarest died at the scene. No one else was hurt. The crash occurred in the morning before businesses opened for the day, in a part of the city surrounded by offices, hotels and restaurants.
Lindemuth is a managing partner at Dorsey & Whitney, where Katherine Demarest also works. Lindemuth declined to say how the family knew it was a suicide and asked that the family's privacy be respected.
Anchorage Dispatch News reported that on Monday emergency personnel were called to the home where the Demarests lived. A recording of the police dispatch indicated the medics were responding to a person threatening suicide, according to KTUU-TV.
Authorities have said that Demarest, who joined the Civil Air Patrol five years ago, was not authorized to fly the aircraft but they've released few other details.
The FBI released a statement Wednesday noting that agency policy prevents it from commenting on an active investigation, including "confirming or denying reports surrounding this case other than to reiterate there is no indication this was a terrorist act."
The Associated Press contributed to this report.