Alabama man celebrates 59th wedding anniversary with tattoo of his wife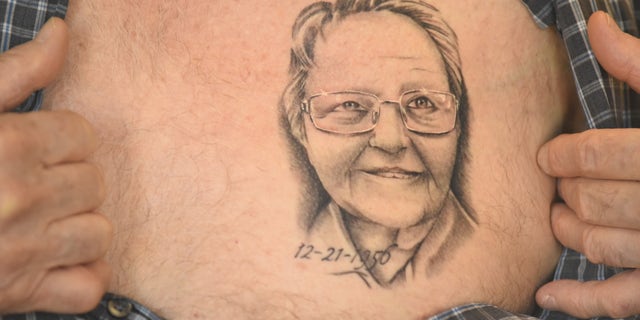 NEWYou can now listen to Fox News articles!
Arthur Burch loves his wife.
He recently marked his 59th wedding anniversary by getting a tattoo of her. The portrait of Patricia Burch is positioned on the left side of his chest, just above the heart, and has the date of their wedding anniversary beneath it: 12-21-56.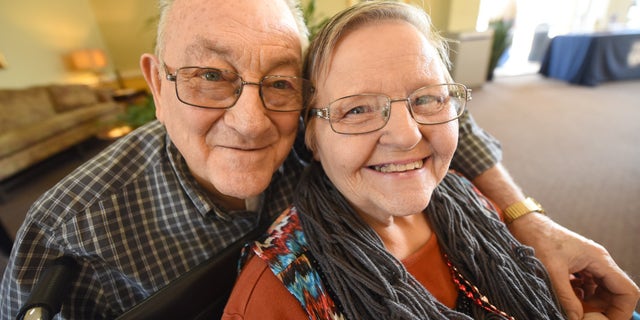 "She was 18 when we got married, and I was 17," Burch said. "She's now 77, and I'm 76."
He visits his wife at Wesley Manor Retirement Center every day at lunch time. Patti Burch, as he has called her for over five decades, has Alzheimer's disease and can no longer live at home with her husband.
"I go every day at noon to feed her lunch. I haven't missed a day since she got there," Burch said. "She may not recognize, or know me, but she's still mine. But some days I can tell she knows me because of the way she grins. When it comes down to it, I love her."
Burch calls it his duty as a husband to take care of his wife.
"We said `til death do us part' and we meant it," Burch said. "I've had five spine surgeries, and she took care of me for three years and eight months. Now it's my turn."
Burch moved to Dothan in late 2007, when he took care of his then recently diagnosed wife with the help of their daughter, Melanie Burch Hadley, who also lives in Dothan.
He remembered the roller rink where he met Patti like it was yesterday.
"She used to do a lot of roller skating, and I used to watch her skate," he said. "Then we just a started talking, and then we started dating."
Around a year later, Arthur and Patti Burch were married by her uncle at his home near Scottsburg, Indiana. The couple has two children, Hadley and Lisa Burch Patton, who still lives in Indiana.
"Both sides of the family said it would never last, but here we are 59 years later," Burch said. "I know nowadays people don't stay married 59 days. But I still love her just as much as I did the day we married."
Burch said they found a strategy that worked for them over the years.
"We never went to bed mad at each other," he said. "We always tried to work things out before we went to sleep, and it seemed to work out best that way. There was some times when we didn't agree, and one of us had to say we were wrong. I guess it worked because we're still together. I still love her today."
Burch smiled last week as local tattoo artist Don Childree finished "touching up" the portrait of Patti, and remarked how he could now go to sleep with his wife again.
"Now I can carry her with me for the rest of my life. We never know nowadays when somebody's time will be up," he said. "She's been through some tough times. She's had open heart surgery, but she's still here with me."
Burch said the touch-up job on the tattoo of his wife last week didn't hurt as it had become his fourth tattoo, and the second one in honor of his wife.
"This one is like tickling me compared to the one I got when I was 13 years old," he said.
At 13, he got a small heart tattoo on the top of his forearm, for which he said he got a "whooping" after it was discovered at home.
Childree applied three of the four tattoos on Burch, including a purple ribbon with the word "Patti" inside it in honor of his wife and all those going through Alzheimer's disease.
The portrait of Patricia became the third tattoo drawn by Childree, who works at Good Luck Tattoo & Body Piercing Parlour on Montgomery Highway.
Last year Childree also tattooed an orange and pink rose on Burch's shoulder with his daughter's initials, "MBH" (Melanie Burch Hadley), underneath it.
Childree first met Burch after doing a tattoo for one of his relatives.
"I've never tattooed someone his age, and I was all for it," Childree said.
For Childree, Arthur's tattoos came with a special relationship-building meaning to them.
"It's more than just a Chinese symbol," Childree said. "I can actually use the talent I have in one sense to help make somebody complete."