A look at the bombing at the Boston Marathon and the search for suspects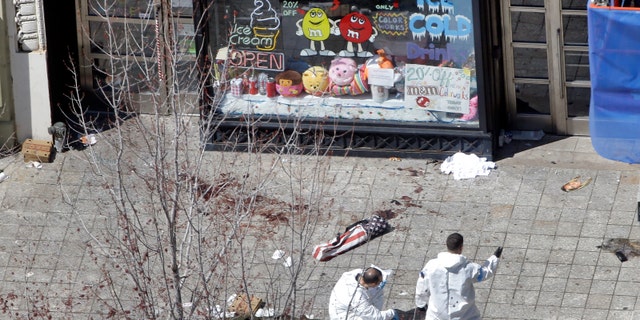 BOSTON – An explosion at the finish line of the Boston Marathon on Monday killed three people and injured dozens more. An at-a-glance look at the facts in the case:
___
THE EXPLOSIONS
Two bombs exploded about 10 seconds and 100 yards apart at about 2:50 p.m. Monday in Boston's Copley Square, near the finish line of the Boston Marathon. Three people were killed, including an 8-year-old boy, and more than 170 were injured. The explosions occurred four hours into the race and two hours after the winners had crossed the finish line, but thousands of runners were still on the course.
___
THE INVESTIGATION
The two bombs were fashioned out of 6-liter kitchen pressure cookers, packed with shrapnel and explosives, and hidden in black duffel bags left on the ground, according to a person briefed on the case who spoke on condition of anonymity to discuss the ongoing investigation. No arrests had been made, and police and federal agents renewed appeals for any video, audio and photos taken by marathon spectators.
___
THE VICTIMS
The 8-year-old boy killed in the bombings, Martin Richard, was remembered by friends and neighbors as a vivacious boy who loved to run, climb and play sports. Also killed was Krystle Campbell, a 29-year-old restaurant manager from Medford, Mass., whose father, William Campbell, said she gone with a friend to watch the race.
____
PRESIDENTIAL RESPONSE
President Barack Obama said that the bombings were an act of terrorism but that investigators do not know whether they were carried out by an international organization, a domestic group or a "malevolent individual." He said: "The American people refuse to be terrorized."
___
SECURITY RESPONSE
The area around Copley Square remained closed Tuesday, and security was tight around Boston, with bomb-sniffing dogs checking Amtrak passengers' luggage at South Station and transit police patrolling with rifles. The Federal Aviation Administration barred low-flying aircraft within 3.5 miles of the site. Other cities also beefed up security in response to the bombing and the Secret Service expanded its security perimeter around the White House.
___
WHAT'S NEXT
The FBI, U.S. attorney's office and other law enforcement officials were tentatively planning their next media briefing around 5 p.m. Tuesday. Obama will be briefed Tuesday on the investigation and the ongoing response efforts from FBI Director Robert Mueller, homeland security assistant Lisa Monaco and other senior members of his team.