73-year-old man gets life term in old grudge killing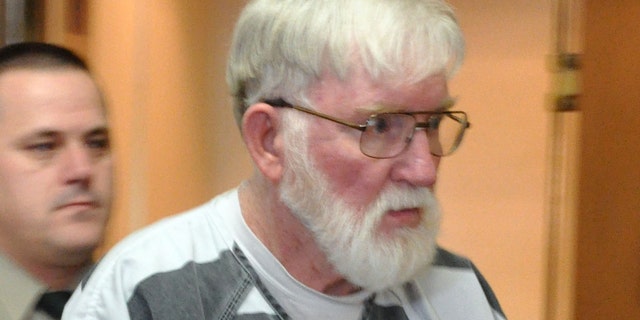 MADISON, S.D. – A jockstrap pulled over a student sports manager's head in a high school locker room more than 50 years ago provoked a 73-year-old South Dakota man to fatally shoot his long-ago classmate, a prosecutor said Friday.
Carl Ericsson of Watertown, who last month pleaded guilty but mentally ill to second-degree murder, was sentenced to life in prison Friday. Ericsson was charged in the Jan. 31 killing of retired Madison High School teacher and track coach Norman Johnson, who was shot twice in the face as he answered his front door.
Kenneth Meyer, the Lake County state's attorney, said Ericsson has indicated that the decades-old locker room incident led to the shooting. Johnson was a high school sports star and Ericsson was a student manager.
Beth Ribstein, Johnson's daughter, said her dad hadn't spoken to Ericsson for years and it was puzzling that he held onto the grudge for so long.
"It was just goofing off in a locker room," Ribstein, 50, said Friday after the sentencing.
Ericsson "hasn't been right for many years," Ribstein said, adding that he was envious of her father's success and standing in the community.
"He was just jealous of Dad his whole life," she said.
Ericsson had pleaded not guilty to a first-degree murder charge in February and requested a jury trial. But Meyer and defense attorney Scott Bratland announced May 1 that a deal had been reached. The first-degree murder charge could have carried the death penalty if prosecutors had chosen to pursue it.
At his arraignment hearing last month, Ericsson told Judge Vince Foley that he rang the doorbell at Johnson's house then asked his old classmate to verify his identity before shooting him with a .45-caliber pistol.
Both Ribstein and Johnson's older daughter, Terri Wiblemo, read statements during the sentencing hearing.
Wiblemo took the witness stand and immediately stared into Ericsson's eyes, opening with, "I'm speaking to you, Carl." She noted that Sunday is Father's Day, and her dad each year looked forward to enjoying his favorite meal of fried chicken, potato salad and rhubarb pie.
"We miss my dad very much," said Wiblemo, 52.
After high school, Johnson played football for Augustana College in Sioux Falls and earned a bachelor's degree in education from General Beadle State Teachers College. He later received a master's degree from South Dakota State University and returned to Madison High to teach and coach for more than 30 years.
Wiblemo told Ericsson that her dad impacted so many people's lives in a positive way.
"But I don't know that you would understand that kind of goodness," she said.
Ribstein told Ericsson that more than 600 people attended her Johnson's funeral -- including a member of Ericsson's family -- and that her father was well-liked and respected by all.
"I can't blame you for being jealous of Dad," she said.
Ribstein told Ericsson how much Johnson loved his daughters, his grandchildren and his pets, and noted that Ericsson, too, was a dog owner.
"The night you shot him, his dog didn't want to leave his side," she said.
Ericsson, in brief comments made after Johnson's daughters spoke, said he would like to tell Johnson's widow, Barb, that he was very sorry for what he had done.
"I just wish I could turn the calendar back," he said.
Ericsson didn't address the grudge on Friday. At his May arraignment, Ericsson told the judge: "I guess it was from something that happened over 50 years ago. It was apparently in my subconscious."
To support Ericsson's May plea, Bratland had submitted an affidavit from psychiatrist Robert Giebink that said Ericsson has a long history of anxiety problems and suffers from "severe and recurrent depression that is, for the most part, treatment resistant."
Giebink said Ericsson was significantly depressed and suicidal when they first met in January.
"Thinking was irrational. Judgment was impaired," Giebink wrote. "He made the comment that he wished each night that he would not wake up in the morning."