3 killed in crashes after heavy rain washes away Wisconsin highway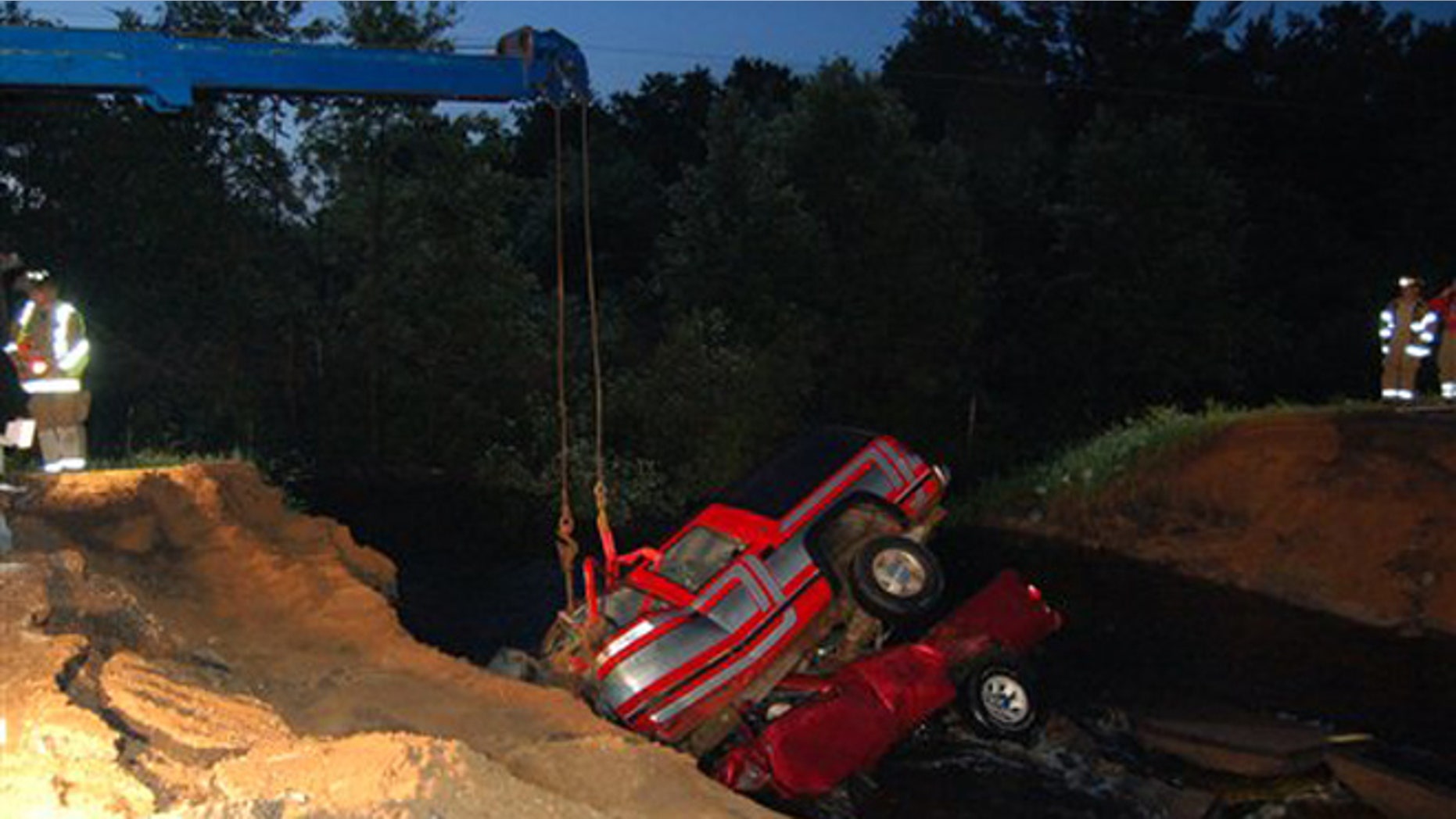 WILLARD, Wis. – Heavy rainfall washed away a 50-foot stretch of highway in central Wisconsin and three people were killed when their vehicles plunged into the resulting ravine and the raging water below, authorities said Thursday.
The crashes occurred in the tiny town of Willard, about 50 miles southeast of Eau Claire. A motorist discovered the vehicles Thursday about 1:30 a.m., Clark County Chief Deputy Jim Backus said.
The vehicles fell 12 to 15 feet, ending up partially submerged in a river below that swelled as high as 10 feet in places, Backus said.
A pickup truck carrying Thomas J. Jurceka, 56, and Susan Jurceka, 57, both of Milwaukee, crashed first. A second vehicle driven by Mary A. Malinowski, 24, of Thorp followed some time later and landed on top of the truck. All three were pronounced dead at the scene.
"I was the first one there. It was just a horrible feeling because it was helpless," Backus said. "You had the water, the road was actually still collapsing on the vehicles and around the vehicles. Just a helpless feeling."
The National Weather Service said the area had received only 1 to 3 inches of rain Wednesday night, but meteorologist Todd Shea added that the area had been saturated from heavy rain in previous days. He said about 4 inches had fallen over the past seven days, leading to saturated soil that couldn't absorb much more rain.
"The 1 to 3 inches likely ran off more than it would have in a normal situation," he said.
The rain swept away an entire segment of highway, leaving a steep muddy crevasse.
The drivers probably had little warning that the road had disappeared, and there was no sign they had tried to slow down or stop.
Backus said that when he arrived to the scene, knowing what to expect, even he had trouble discerning where the road ended and where the ravine began.
The tragedy "could have been a lot worse," he said.
It's not clear when the crashes happened so investigators don't know if it was raining at the time, Backus said.
The washout occurred about 200 miles south of Duluth, Minn., where heavy rainfall on Tuesday and Wednesday created flooding that killed a dozen barnyard animals at a zoo and allowed a polar bear and two harbor seals to temporarily escape their enclosures. An 8-year-old boy also suffered scrapes and bruises when he was swept about six blocks.
The area where the Wisconsin highway washed out is expected to get a brief chance to dry out, Shea said. Forecasts call for a risk of thunderstorms in the region late Friday and early Saturday, but the weather service was still trying to predict the path the storms might take.
Even if there are storms, rainfall would likely be less than an inch, Shea said.
Backus said officials were confused over how the washout occurred. He said when there was significant flooding in the fall of 2010, other parts of the highway were damaged but the area that was affected Thursday emerged unscathed. This time, the only damage was in the one area.
"The highway department is really scratching their heads," he said.