25 hurt in collapse of concrete awning at NC school, official says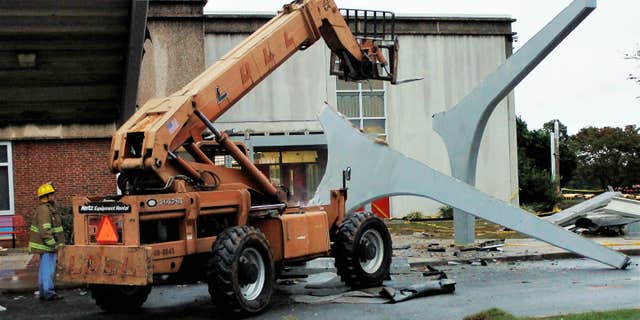 At least 25 people were injured on Saturday night when a concrete canopy collapsed on a group of band students who had gathered outside a North Carolina high school shortly before a competition.
Dr. Howard Bell of the Iredell Emergency Medical Services confirmed the injury total to reporters after the awning collapse outside the entrance to North Iredell High School in Olin. At least one student was taken to a Winston-Salem hospital with potentially life-threatening injuries, authorities said without elaborating.
"Our thoughts and prayers are with our students, and we understand that some of the parents may have been injured as well," Iredell-Statesville Schools Superintendent Brady Johnson said.
Iredell-Statesville Schools spokesman Susie Wiberg said the students were standing under awning as a band competition was about to begin inside the school. Wiberg said a box truck hit one of the canopy supports and the awning then fell, hitting the students underneath it. A drive leads up to the canopied entrance.
Wiberg said emergency personnel rushed to the school, located in rural Iredell County near a major north-south route, Interstate 77.
"The EMS folks got there pretty quickly," Wiberg said. "They were wonderful."
South Iredell High School band member Richard Campbell told WBTV in Charlotte that he witnessed the canopy collapse and the aftermath.
"I was standing toward the building and I heard it snap," Campbell said. "And I ran out toward the grass and saw people trapped underneath there."
Jim Hausman, father of a student who was near the collapsed awning, told The Statesville Record & Landmark the truck driver "obviously wasn't watching where he was going."
According to the newspaper, Iredell-Statesville Schools Superintendent Brady Johnson said there will be extra guidance counselors made available for students next week.
The band competition was canceled.
Emergency personnel remained on the scene late Saturday, dismantling the damaged section of canopy. Band members could be seen inside a high school stairwell staring out of a window and looking down at the debris.
Other band members, some dressed in red T-shirts and others in black polo shirts, were spotted walking between the school building and the adjacent library. Students talked among themselves and with state Highway Patrol troopers.
Hours after the accident, the truck remained parked in front of the high school as a Highway Patrol enforcement team inspected it for possible mechanical problems, authorities said. The only evidence of damage to the truck was a mangled section of trim on the top of the cargo section on the right side. The area around the canopy and drive was cordoned off by yellow tape.
Click for more from the Statesville Record & Landmark.
The Associated Press contributed to this report.