2 Oklahoma inmates escape after overpowering guards, stealing van, authorities say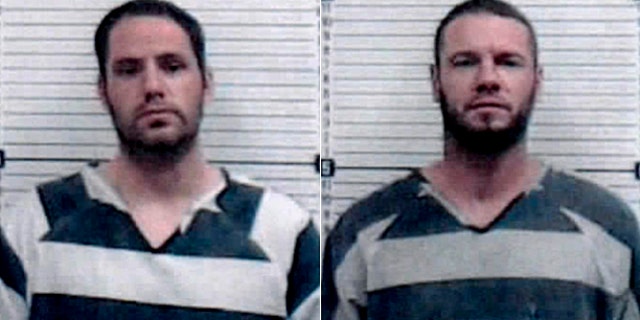 A manhunt is under way in northwestern Oklahoma for two escaped inmates who overtook officers and stole a transport van Tuesday morning, authorities said.

Cops said Andrew Jason Foy and Darren Walp overpowered two transport officers from Inmate Services Corporation at about 3:30 a.m. Tuesday morning, speeding off in the guards' transport van on U.S. 412 north of Fairview. Authorities don't know where the pair was headed.
Officials later recovered the van in Ringwood, Okla., but the suspects stole another vehicle, a 2006 maroon Dodge Ram pickup truck, from an oil field service company, authorities said. They are still on the run.
ESCAPED INMATE MAY HAVE USED WIRECUTTERS DELIVERED BY DRONE
Fox affiliate KOKI-TV reported that officials found a police belt with an empty holster inside the van. Police said the inmates may be armed.
Foy, 32, is described as 6 feet tall with blue eyes and a medium build. He has a tattoo arm band on his upper right arm. He was heading to Laramie County Sheriff's Department in Wyoming when he escaped.
Walp, 37, is described as having a medium build. His final destination was slated to be Seward County Sheriff's Department in Kansas.
It was not immediately clear what crimes the inmates were convicted of committing. Anyone with information is asked to call the Major County Sheriff's Office at 580-227-4471.