2 Kentucky boys charged after bringing guns to elementary school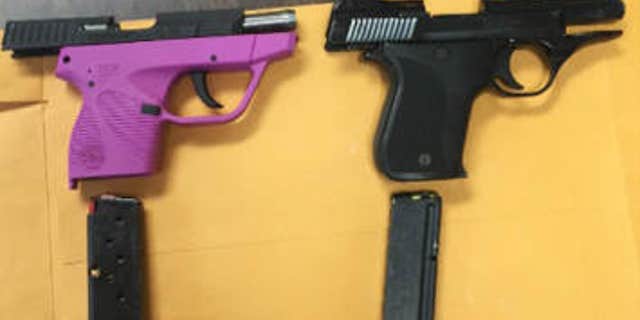 A first-grade student and his brother in kindergarten brought two handguns to school, one of them loaded, on a bus to a Kentucky elementary school Thursday after apparently mistaken them for toys, authorities said.
Police said no one was hurt and the firearms were seized when the boys reached school.
The boys, ages 6 and 7, had a gun each in their school backpacks and showed them to other students on the bus to Dewitt Elementary School in Flat Lick, Kentucky State Police Trooper Shane Jacobs said Tuesday. Jacobs said one student alerted a teacher and the school was placed on lockdown briefly.
"We never felt that the kids' intent was to hurt anyone at the school," Jacobs said by phone. "We feel the kids didn't know that they were actually a firearm. They thought they were toy guns."
Each boy has been charged with possession of a firearm on school property, Jacobs said.
"Due to the seriousness of a firearm being brought to a school, state police felt like charges had to be filed," he told The Associated Press.
Local prosecutor Jackie Steele said the boys' cases were expected to be handled as juvenile court matters. Investigators are still trying to determine how the boys obtained the guns.
The boys' parents face charges in the case, as does the school bus driver, Jacobs said.
The parents have been charged with endangering the welfare of a minor, police said. They were released, but the boys were placed with grandparents, police said.
The bus driver was arrested at the elementary school and charged with facilitation to unlawfully possess a weapon on school property, state police said. The driver was told by a student about the guns on the bus but failed to alert school staff or stop the vehicle to check for weapons, police said. He was being held in a jail Thursday.
The boys were questioned by investigators but did not understand the seriousness of the incident.
In a letter to the parents of children at the school, Knox County schools Superintendent Kelly Sprinkles said the school staff acted quickly once they were alerted.
"At no time do we feel that students were in danger, Sprinkles said. "This was a violation of state law; therefore the students involved will be subject to school board policy and appropriate laws that govern weapons on school property."
The superintendent urged parents to discuss the incident with their children, to check their kids' backpacks regularly and to emphasize that it's illegal to bring weapons to school.
The Associated Press contributed to this report