2 Dead, Dozens Injured as School Buses Crash on Mo. Highway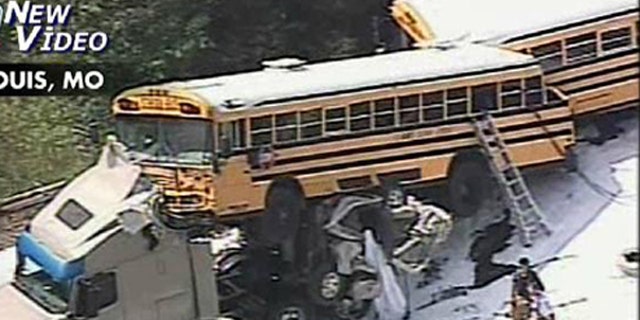 GRAY SUMMIT, Mo. -- Two buses carrying high school band students to an amusement park Thursday slammed into a freeway wreck that happened right in front of them, crushing a pickup truck and killing its driver and one of the students. Dozens of other students were treated for injuries.
The wreck near Gray Summit, about 40 miles west of St. Louis, happened when the pickup truck rear-ended a semi cab that had slowed down because it was nearing a construction zone, state police said. The first bus, which was carrying female band members from John F. Hodge High in St. James, slammed into the back of the pickup, then was launched on top of it after it was rear-ended by the second bus, State Highway Patrol Cpl. Jeff Wilson said.
At least 42 students were taken to hospitals, most with injuries not considered life-threatening.
The students were on their way to a Six Flags amusement park some 10 miles from the crash site.
"My goodness. You send your children off to Six Flags, you don't expect this to happen," Missouri State Highway Patrol Sgt. Dan Crain said. "Being parents, we cannot imagine how difficult this is."
Joy Tucker, the superintendent of the St. James school system, said the town was devastated.
"It's been a horrible, horrible day in our community, and we'll never get over this."
Ashley Wiehle, a spokeswoman for SSM Cardinal Glennon Children's Medical Center in St. Louis, said 36 children were taken to that hospital, and that each appeared to be in good condition. They were to be examined as a precaution, Wiehle said.
Six more children were taken to St. John's Mercy Medical Center but their injuries and their conditions were not known, hospital spokeswoman Bethany Pope said. One of those victims later was flown by helicopter to Cardinal Glennon because that hospital had a higher-level pediatric trauma unit.
Four other victims were taken with minor injuries to St. Clare Health Center in Fenton, Mo., a spokeswoman said.
Highway Patrol Cpl. Jeff Wilson said the driver of the first bus moved into the passing lane to give a distressed vehicle in the shoulder more room. She was checking her rearview mirror while returning to the right-hand lane when she noticed the first impact but could not stop in time, hitting the pickup. The second bus then rear-ended the first, vaulting the first bus onto the top of the pickup, which was crushed.
The buses were segregated by gender, with girls in the first and boys on the other, Wilson said.
The pickup was barely recognizable in the tangled wreckage. Hours later, crews using a crane gently lifted the buses off of the crushed wreckage in efforts to clear the freeway, its eastbound lanes still closed. Traffic backed up in that direction for as much as 10 miles while they waited to be detoured.
Wilson said it was too soon to say if any of the drivers would face charges.