105-year-old Navy veteran finally gets his college diploma from San Diego State University after 83 years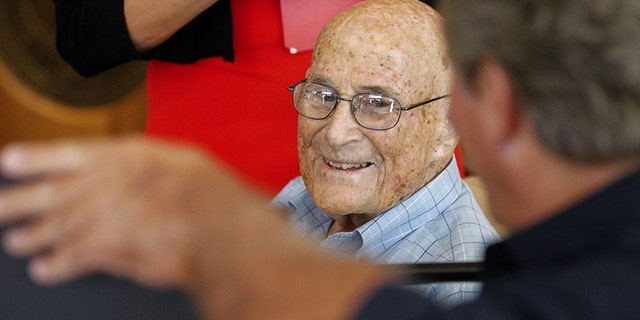 A 105-year-old man waited a while - 83 years to be exact - to receive his diploma from San Diego State University, proving he is a college graduate.
Bill Vogt, 105, received the diploma on Thursday in a small ceremony on the school's campus. San Diego State University President Adela de la Torre handed Vogt his long-awaited diploma, the San Diego Union-Tribune reported.
"I hope I haven't been a disgrace to the school," Vogt told the president.
"Not at all," she replied.
'MISOGYNISTIC' QUOTE PRINTED ON TEXAS SCHOOL WALL GETS BLASTED ONLINE AFTER GOING VIRAL
School officials believed Vogt is the oldest alumni and the only one alive from when the institution was a teachers' college. Vogt started classes in 1931 and commuted to school. He studied business, but it was called "commerce" at the time.
Vogt said he had a great time during his undergraduate studies but admitted he "wasn't a great student." He said he and his fraternity brothers spent much of their time looking for alcohol during the Prohibition era. Instead of studying, the gang was searching for booze, Vogt said.
A professor felt Vogt didn't deserve credit for a class in his last semester which left Vogt a few credits short and unable to graduate. He went back to make up for the credits he needed and finished in the middle of the year but the graduation ceremony was held months after. At the time, he was trying to find work and was unable to pick up his diploma.
The graduate found work and served in the U.S. Navy during World War II and the Korean War. He also worked at the Pentagon before retiring in 1970. He worked as a school administrator after retiring.
BOY, 3, AMONG 25 SHOT IN CHICAGO AT START OF YET ANOTHER VIOLENCE-FUELED WEEKEND
Following his college education, Vogt said he kept up with the school's activities and cheered for the university's sports teams. He decided to join the alumni association in May after being drawn to a free wooden diploma frame for members. School officials searched in records and discovered Vogt had completed his studies to earn a bachelor of arts degree. The school made the diploma to mimic the ones that were handed out in 1935.
"I'm going to hang it on the wall with pride," he said. "I went to a fine school."
Vogt's son said his father is a "lucky" and "careful" guy who is aware of current events, including knowing who Taylor Swift is.